The most comprehensive guide on eBay to help you find the right roof rack for your vehicle, a guide showing exactly which parts you need for a car, van or MPV.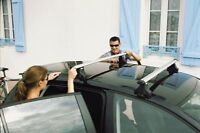 Which Roofrack or Roof Bars?
Finding the right type of roof rack for your vehicle always used to be a simple task with only a few type of guttered type roof racks available. However since the automotive and automotive accessory industry has increased in size over the last 50 years, there have become many more vehicles on the roads and many different types of roof rack and roof bar system available.
1) If you have a set of fitted Roof Rails as on an estate or people carrier then your cross bars simply clamp onto these. The only option you need worry about is their distance apart which is typically 75cm which the distance that most roof boxes are designed to fit to, it is worth measuring this distance before your purchase a roof box.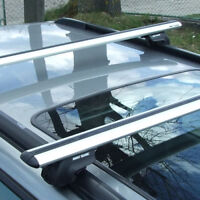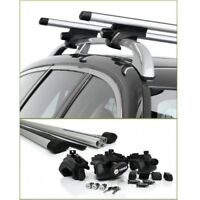 2) If you have a Vauxhall, Ford or a very recent car you may have roof pockets / Fix Points. If you have a plastic strip running about 15-20cm in from the side of the car look along it and see if there are any obvious flaps moulded into it. If you lift these flaps and see a threaded stud or a bracket then you have
Fix Points.
A modern quality roof bar system is then able to clamp onto these points making fitment all but invisible.

3) Finally and most common if you have neither of the above then you must fit the bars by
Clamping into the Door Opening
(Shown in the image below). Now again some people think that once they have a fitting kit for a 2002 Honda Accord then this same fitting kit will still be applicable to a 2006 Mk5 VW Golf. How wrong you would be in this assumption, Thule and Mont Blanc to date have in excess of 500 different fitting kits tailored to fit a wide selection of the vehicles currently on sale. If you have a standard UK specification car produced in the last 10 years then you stand a good chance that Thule or Mont Blanc will produce a
Rapid System Fitting kit
to suit it.

We stock the vast majority of Thule kits produced and are able to supply most from stock. We are a recommended Thule stockist and can help you with your purchase and ensure you are supplied the correct bar system to suit your vehicle. If you can't find your vehicle listed then contact us through ebay or by using sales@carracks.co.uk to e-mail us. (01353 789 600).
Finally remember your roof bars are just the first step - its what you do with them next that counts and where they will earn their keep.
Generally
Thule Roof Bars and Roof Racks
and
Mont Blanc roof bar
lifetimes are more than the 5 years they are guaranteed for if you purchase wisely.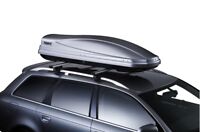 Roof Box fitment or...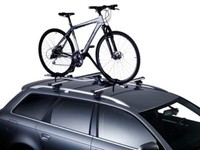 Bike Rack Fitment or...