Find the right loft hatch for your home
Loft hatches are often overlooked, yet the right hatch can help gain easier access to your loft space as well as help save money on your heating bills through improved draught reduction and insulation. This guide is written to help you find the right loft hatch.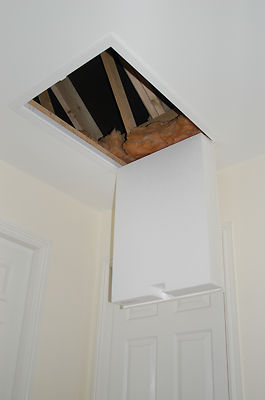 Hinged or Push up?
A hinged loft hatch is more practical, as shown in the photo to the left, the door drops down and is hinged at one end. A hinged loft trap is easier to open and the best option if you have a loft ladder.

A push up loft hatch comprises of a separate door and frame. The door is pushed up out of the way when opening. Push up hatches aren't recommended for use with loft ladders and don't provide as effective draught seals due to the lid sitting in the frame rather than being help in place.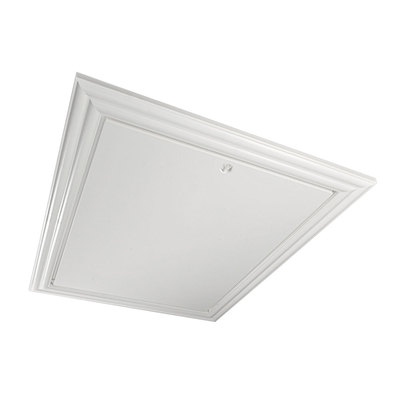 Your loft is well insulated, what about your loft hatch?
The loft hatch is often overlooked when people think of insulation and draught reduction. Yet due to its surface area a leaky, uninsulated loft hatch can have the same effect as a 4 inch square hole in your property drawing warm air out of your house and transferring cold air from the loft. This situation can be made even worse if your loft is well insulated as it means the loft hatch can be a weak spot.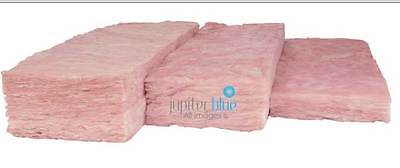 How much insulation?
The effectiveness of insulation is expressed by the U value. The lower the U value the better the insulation. To give an idea, the current building regulations (at time of writing in Dec 2014) require loft hatches to have a U value of 0.35 or less (lower is better). The most highly insulated loft hatches currently available have U values as low as 0.15. However if tempted by one of these, please do check the depth of your joists as these models have insulation up to 150mm deep which may not be right for your needs.
Draught proofing
In addition to insulation, look for a loft hatch with seals around all closing surfaces and around the frame. These help keep warm air in your house and cold air in your loft.
How to get the correct size loft hatch
Measure the distance between the timbers lining your loft opening.
Mass produced loft hatches are made to fit between 600mm joist centres (the standard required by UK building regulations). As a result, you'll find most loft hatches are a width of around 560mm. The lengths vary, but in general to fit 680-760mm.

If your loft opening is non-standard you could consider a made to measure loft hatch.