Ford Capri Mk3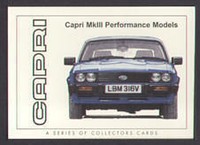 This is one of many illustrated classic car guides I've created for the community. I hope you enjoy it and if you would like to find out more about the classic Ford Capri Mk3 car art featured in this guide please click here.
The third-generation Capri which arrived in March 1978 was mechanically similar to equivalent Capri 2s, but used a revised body with new grille, bumpers and front valance incorporating airdam, together with four headlamps and extended bonnet leading edge. The UK range at launch was as follows: 1300L/GL, 1600L/GL, 1600S, 2.0GL, S or ghia and 3.0S or Ghia.
Capri 3000S 1978-1981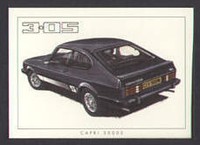 The third-generation Capris were introduced at the Geneva Show in March 1978, allegedly with 150 revisions, but in practice little different from their predecessors. The new extended bonnet gave the headlamps a sort of eyebrow effect. The S models ran on Ghia wheels but gained a soft plastic rear spoiler and prominent S side striping. Desirable extras from the options list were Recaro seats (75.84), headlamp washers (56.14) and a high quality steel sunroof (£146).
Capri 2.8 Injection 1981-1984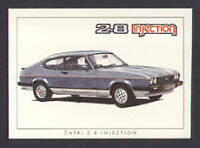 Ford created a sensation with the Capri2.8i - the first UK-market version to use the Cologne V6 engine, the first to have fuel injection (160bhp), and the first to have its chassis redeveloped by Rod Mansfield's SVE department. Priced originally at £7995, it was an immediate success, with a genuine 129mph and 0-60 in a sizzling 7.9s. This became the definitive sporting Capri, and by the time the final 280 version had been sold in 1987, over 25,000 had been produced.
Capri Zakspeed Turbo 1981-1982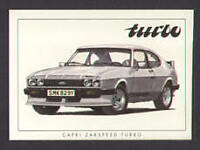 From July 1981 the German market took another step forward with the launch of the Zakspeed-engineered Capri Turbo. It was a strange mixture of 2.8-litre carburettor-fed Granada engine with a KKK turbocharger, 2.8 injection running gear and X-Pack body panels, and was clearly designed to cash in on the success of the fabulous Zakspeed racers. Only around 200 were built and officially it was only ever available in Germany, through RS dealerships.
Capri 2.8T Tickford 1983-1986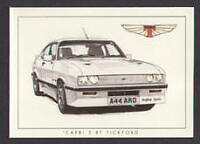 Ford backed limited production of what probably rates as the most dramatic of converted Capris, the 2.8T Tickford. A conversion based on the 2.8i, but with a 205bhp turbocharged 2.8-litre engine, the model was easily recognised by its extrovert body kit, which included spoilers and side skirts, together with its distinctive blanked-off front grille. Tickford reckoned on producing around 250-400 cars, but with prices starting at £14,985 it was hardly surprising that only 83 cars entered production, the last in 1987.
Capri 2.8 Injection Special 1984-1986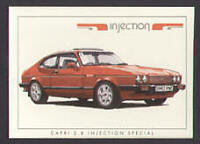 In October 1984 the Capri range was rationalised to just 2 models, the limited edition Laser and the Injection Special. The Capri 2.8 Injection Special was launched to coincide with the London Motor Show, its main features over and above the standard 2.8i being leather trim, spoked RS wheels, rear seat belts and a limited-slip differential. Minor colour coding was also applied - the grille, the bonnet lip extension and the headlamp bezels now finished in body colour, although the rear spoilers and mirrors remained matt black.
Capri 280 Brooklands 1986
A final run of 2.8-litre injected models badged as the Capri 280, were introduced in March 1987. Painted in Brooklands dark green, with red and white coachlines, they were tastefully trimmed in leather and fitted with 7J X 15-in alloy wheels. Costing £11,999 each, just 1,038 280s were built making them instant classics. It represented a dignified end for Ford's sport coupe, which had seen continuous production for the 18 years from November 1968 until December 1986 and notched up a total of nearly 1.9 million copies.
Thank you for reading my guide and I hope you found it interesting!