Hi and welcome to my guide not only am i a RADLEY seller but an avid RADLEY fan so i know how upset i would be to pay a lot of money for a RADLEY item that turned out to be fake so i hope these few tips will be of some help to you all
ALL genuine RADLEY bags will have a tab logo inside the bag this is a square piece of leather with a metal RADLEY Scottie with the word RADLEY embossed under it
Newer style tab
Older style bags will just have a leather tab with the word RADLEY embossed under it. only the more up to date bags will have the metal logo. the logo is usally in the main conpartment of the bag on the back wall ask your seller for a picture of this
Older style tab
Any RADLEY bag or small leather goods that has the applique RADLEY scottie dog on the front should NOT have the word RADLEY enbossed on the dog the word RADLEY will be embossed else where on the item the only time RADLEY emboss it on the dog will be the swing dog tag /charm that hangs from the bag

Genuine bag with applique dog on the front without the word RADLEY on the dog
( Bag no long on sale from 2003)

Genuine purse with dog on the front without the word RADLEY on the dog

FAKE PURSE WITH THE WORDS ON THE DOG
It is fair to say that 99 percent of RADLEY bags are lined in needle cord that 9 times out of 10 will match the swing dog tag / charm but there are bags that dont have the needle cord lining for example this summer seasons palm trees Bag pictured below also the dotty dog bags do not have needle cord lining
(the one with the spotty swing tag)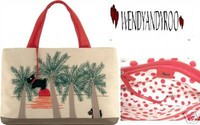 genuine RADLEY bag that does not have the needle cord lining
It is also fair to say if you have a RADLEY small leather goods item purse / wallet ect the lining will be the same colour as the applique dog for example if your pures is black and has a blue dog on the front the lining will be blue but again there are exceptions like in the case of the passport holder pictured below this is the same colour through out and the lining it not the same as the dog on the front .
Genuine RADLEY passport holder inside and out to show there are exceptions
RADLEY to date do not make a plain crome /steel dog tag they only make the chrome tags with the coloured enamel fronts the same style as the key rings
RADLEY have just relased for Autumn 2006/Winter 2007 a new chome dog tag in the same style as the enamel fronted tag only it is infilled with coloured leather instead of enamel and is the larger 5.5cm size

Genuine metal charms/tags
RADLEY sales tags do NOT have a picture of a red dog on them..!! A RADLEY bag sales tag will be white with the word RADLEY printed in black capitals some times the tag may have a scrolled R
Small leather good will come with a square card with the word RADLEY again in black capitals printed around the edge and a black RADLEY Scottie dog in the center with a red collar on but never a red dog..!!

Genuine RADLEY sales tags
FAKE sales tag
eBay are very good at removing fake RADLEYS but quite often the fake seller will list them on short listings 1/3 days so by the time they are reported the listing has ended