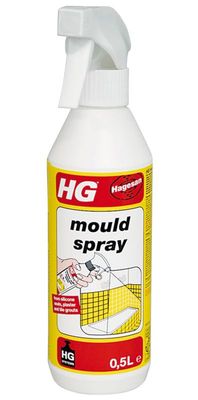 HG Mould Spray is an extremely effective cleaning agent that has been designed to quickly and safely remove fungus and fungus deposits that build up within bathrooms, showers and kitchens. Works in seconds.
Roy's Product Review:
This was bought as a last resort before having to remove all the old grouting in between our bathroom tiles. Me and my partner have not long moved into a property that has no heaters in our bathroom at the moment and ventilation is not good either so over the years the bathroom has got thick black mould in between all the tiles, I have tried a lot of other products that promise results but have failed at removing any of it. This spray truly is amazing, a few sprays and its cleared it all. it looks like I've put up new tiles. Slight downside is our bathroom has floor to ceiling tiles so it will take me a few days to complete as this product smells very strong even with window and doors open, but still so worth it. I've decided to upload a picture of our tiles. in the top corner you can see slightly what it was like and the rest has been sprayed with this product.