Whether you play field or indoor hockey, you need to wear the right shoes to protect your feet while playing. There are multiple types of hockey shoes available to choose from including cleats, turf shoes, and specific hockey shoes. Learn how to buy the right hockey shoes to ensure that your feet remain comfortable and supported throughout the game.
Hockey Shoe Types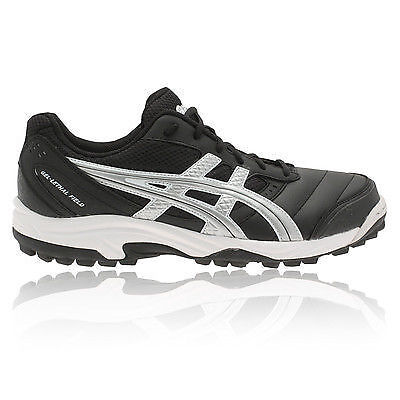 Hockey shoes include regular cleats and turf shoes, but most amateur hockey player use turf shoes for playing. Regular turf hockey shoes feature a trainer-like exterior with ankle support, and a variety of features such as gait control, different systems for controlling how the foot falls, and different grips, depending on the manufacturer. Cleats are generally only for field hockey, and feature plastic or metal studs on the bottom of the shoe to help with grip when running over grass and sod. These are ideal for players who want the most grip possible on the field, but are more expensive than regular turf shoes.
Hockey Shoe Brands
Several popular brands of sport apparel sell hockey shoes but budget brands are also available. Adidas hockey shoes are one of the most popular options with hockey players. Asics, Slazenger AstroTurf, Kookaburra, Grays, TK, and Gryphon are other popular brands that offer both men's and women's hockey shoes. Brand is usually a personal preference and you should choose one by considering your budget and the shoes' comfort and style.
Hockey Shoe Sizes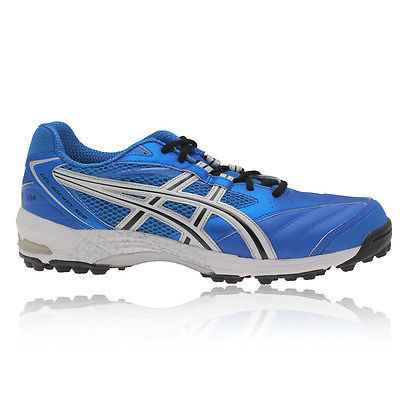 It is important to buy hockey shoes based on the size and fit rather than based on the tag size. Hockey shoes, like other types of sports shoes, come in a variety of sizes, and sizing is not always true across brands. Instead, measure the length and width of your feet to get a better idea of which size is best for you. Check your measurements with each brand because sizes vary from brand to brand and you might be a size 5 in one and a size 6 in the next. Tracing your foot, or getting it wet and leaving an imprint on paper is also a good way to see which type of control system you need. For example, if you have flat feet, then you need shoes with motion control, but if you have a high arch, then you need soft midsoles and cushioned soles, and so on. Finally, if you overpronate, or your feet roll outwards when you run, then you need gait control.