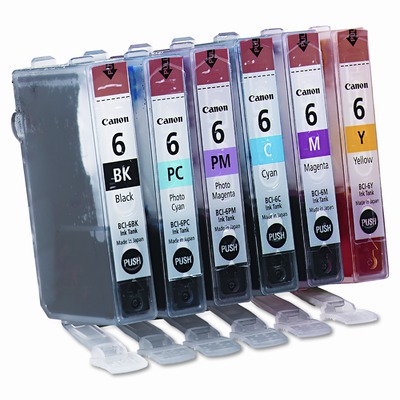 Even in today's world of omnipresent smart phones, printers are considered a work staple in most businesses and offices. In many offices, whether at a place of business or in a home, one finds a Canon printer. While modern technology increasingly gives one the ability to view documents and presentations online, it is still often necessary to have a hard copy of important documents. This can be true for various reasons: one person may find that hard copy is less strain on the eyes, while another likes to jot notes on the paper, and still another prefers the security of a hard copy as backup in the event of one's hard drive crashing.
In order to utilise a Canon printer, one must first purchase the appropriate ink cartridges: for users who are confused by the multitude of varying ink cartridges available, this is no easy task. Fortunately, with just a bit of knowledge about Canon printers as well as ink cartridges, their features, and where to buy them, shopping for compatible cartridges for a Canon printer is a snap. The user is all set to shop on eBay, where he or she will easily find the exact cartridge needed.
Types of Canon Printers
The first step to buying the right ink cartridge is knowing what kind of printer one has. A majority of Canon printers function not only as printing machines but also as copiers and scanners. Others boast not only copying, scanning, and printing abilities, but fax capabilities as well. Additionally, some Canon printers are specialized, made just to print and scan colour photos. These photo printers are often available in a small, compact size. A user has who mostly needs to print out black-and-white documents will not have much of a need to buy colour cartridges, even if the unit is capable of colour printing. Conversely, a user who frequently must print documents in colour must purchase colour ink cartridges.
There are dozens of different Canon printer models, so in order to purchase the right ink cartridge, the user must check the model of his or her printer and write it down before looking for cartridges. Oftentimes, one ink cartridge is compatible with several different Canon printer models, but the user should be certain to read the information on the cartridge box to insure that it is compatible.
Types of Ink Cartridges
There are several facts to keep in mind when considering the varying kinds of ink cartridges: not only the colour, but the brand of cartridge and the difference between toner cartridges and regular ink. Knowing these small but vital differences makes shopping for printer ink an easier and more pleasant experience.
Generic vs. Name Brand
When buying ink cartridges, the user has a choice to make: whether to buy ink that is made by the printer manufacturer, that is, 'name brand' cartridges such as Canon, or to buy a third-party, or generic, ink cartridge. Generic ink cartridges are often perfectly compatible with Canon printers, but cost less.
Colour
There are two types of ink cartridges the user can purchase: a cartridge that contains black ink only or a colour cartridge that houses each of the three primary colours (cyan, magenta, and yellow). Additionally, the shopper can choose between a tri-colour cartridge, which contains all three colours, or an ink tank that is made up of one of the three colours.
Toner vs. Ink
Since most Canon printers are inkjet printers, meaning that they need ink cartridges to work, generally the user need not worry about whether to buy toner. However, if one owns a laser printer, then it is necessary to understand the difference between toner and ink. In short, toner is a fine powder and is used in laser printers, while ink cartridges are filled with liquid ink and are used in inkjet printers.
Ink Cartridge Features
When shopping for ink cartridges, the consumer will notice that not every pack of ink comes in the same size; moreover, they are often made differently and with slightly different materials. Additionally, specialty ink are available. While they can be more costly and are generally optional, rather than necessary, it is wise to be able to differentiate between the 'plain' ink and the specialty cartridges.
Size
Most ink cartridges are available in a normal, standardised size, but there are also extra-large cartridges available. Larger cartridges are often correspondingly more expensive; their advantage is that they last longer than the smaller, standardised size of ink cartridge. The size of the cartridge does not change its compatibility to any given printer.
Features
Depending on whether it is colour or black ink, Canon ink cartridges utilise specific technology and unique added features to make ink longer-lasting, higher-quality, and more useful to the user. These features may not be available on all ink cartridges, particularly if the user is buying generic ink rather than name-brand. Different 'series' of ink tanks have different advantages, but if one wants to buy cartridges that go above and beyond normal ink, the features below are what one should look out for.
Colour Ink
Many Canon ink cartridges are made with FINE (Full Photolithographic Inkjet Nozzle Engineering), technology: this allows the ink to be printed out in very sharp, fine, contrasted detail for beautiful photos. Other Canon ink tanks contain a ChromaLife100 system, which, when used with Canon photo paper, promises to create beautiful photos that will last a long time. Still other Canon cartridges have technology that alert the user when the ink gets low and how much ink is remaining. These features are easily found either on the box or in the information on an online page, and it is up to the shopper to determine what kind is best for his or her printing needs.
Black/Grey Ink
Many black and grey ink tanks are designed to dry instantly when done printing, allowing photos to be immediately framed or used without smearing. Some of these Canon cartridges also contain a smart LED that alerts the user when the inks are properly installed. Similar to some of the Canon colour ink cartridges, black and grey inks can contain a system, in this case the updated ChromaLife100+, that helps photos to look better and last longer when used with Canon photo paper.
Saving Money on Ink Cartridges
Besides buying generic-brand ink cartridges, there are numerous ways to save money when purchasing printer ink. First, the user should also keep in mind that black-and-white inks are often much less expensive than are colour cartridges, so it is wise to print in black-and-white often, and conserve colour ink. One can also save money by refilling, either bringing in one's ink cartridges to be refilled or doing it oneself. Either approach costs much less than buying a whole new cartridge, especially since cartridges that are kept in good condition can be refilled 4-6 times. The user must keep in mind, however, that the cost of refilling ink varies from vendor to vendor, and some stores only refill certain ink cartridges from certain models. If the user wants to refill an ink cartridge without going to a store, ink refill kits are available for purchase to let consumers put new ink into an old cartridge by their own hand.
Another tip for saving money on ink cartridges is to buy remanufactured cartridges. A remanufactured cartridge is one that has been previously recycled and refilled before being sold to the consumer. Often found online rather than in stores, these remanufactured inks can be 30-60 per cent cheaper than brand-new ones. The user can contribute to remanufactured cartridges by recycling old ones that he or she does not want to refill; large-chain office-supply vendors often give a few dollars in store credit to customers who turn in ink cartridges for refill.
A final way to save money on ink cartridges is simply to conserve the ink that is already owned. This can be done by setting the printer quality to 'draft' when the user does not want or need a perfect, sharp printed copy. Using the 'draft' setting allows the printer to use less ink, and thus the user's need to buy new ink is less frequent.
How to Buy Compatible Ink Cartridges for Your Canon Printer on eBay
To start buying compatible ink cartridges for your Canon printer on eBay, you must first go to the eBay home page. Next, start searching for your item by typing keywords into the search bar, such as 'compatible canon ink cartridges'. From there, you can narrow down the list of results on the page by selecting to search by a number of variables, including colour, price, type, condition, and more.
You may safely purchase items on eBay without worrying about losing money or buying from someone untrustworthy. One safeguard is eBay's PayPal system, which insures easy and safe transactions of money between buyers and sellers and, through it all, protects your personal information. eBay also has a 'Top-Rated Seller' programme by which sellers who have consistently received positive feedback from previous buyers, sold a certain amount of merchandise, and made a certain amount of money receive a 'Top-Rated Seller' badge that is displayed on their page and on the pages of the products they sell. To be sure that you are purchasing from a reliable seller, buy from a Top-Rated seller. You are sure to get your money's worth.
Conclusion
Buying the right ink cartridge is all about knowing one's printer: if one knows what model of Canon printer one has, then purchasing the right ink tank simply becomes a matter of finding ink that is compatible with that model. On eBay, the consumer can easily search for cartridges that are compatible with a certain model by either including the model number in the search engine or by simply reading the information about the ink cartridge on a seller's product page on eBay. This allows the user to quickly learn how to find exactly the right product.
Armed with that knowledge, one may then set out to buy cartridges with more features; bolder users may even wish to start experimenting with refilling ink cartridges themselves instead of playing it safe by buying new ones. Whatever the consumer chooses to buy, he or she can purchase anything that is needed from the comfort of one's own home by shopping on eBay.