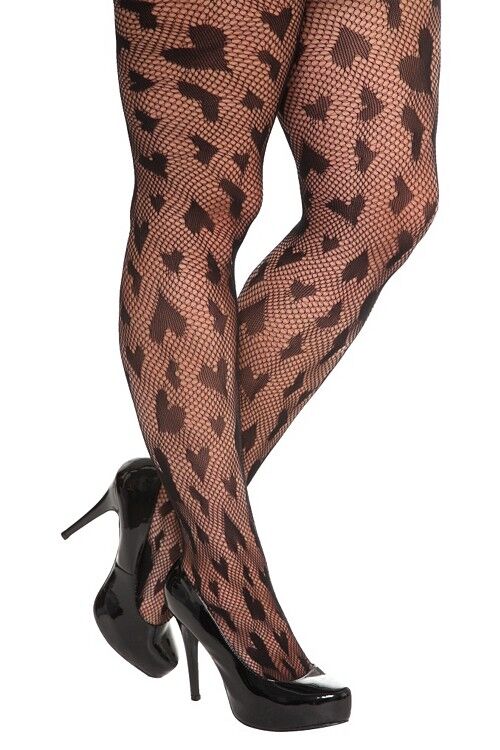 When it comes to buying plus-sized tights, a woman is well advised to arm herself with a little knowledge and understanding of what is available in the marketplace. From support tights to control tights to footless tights, there is a vast range of colours, styles, patterns, and thicknesses a buyer can choose from when selecting plus-sized tights. Sheer tights are designed to offer minimal coverage, and semi-opaque tights offer more thickness, while opaque tights provide the most thickness and warmth for the wearer. Plus-sized tights are meant to be comfortable and do the job they were designed for. In order to ensure this, a buyer needs to find tights that fit correctly. Women have a wide selection of brands to choose from, and the brands vary in price range and quality.
Plus-sized tights are sold at supermarkets, department stores, selected clothing stores, and specialty lingerie stores. A buyer looking for plus-sized tights online can find a great selection at eBay. The website offers a large selection of plus-sized tights of varying colours, sizes, and brands to suit any budget.
Types of Plus-Sized Tights
Plus-sized tights are not only designed as a fashionable item of clothing, but they also keep legs warm when the weather gets cooler. Manufacturers have begun to realise that plus-sized women also want tights that offer support and comfort. Women also appreciate the slimming control properties of tights to create that sexy, curvy body shape.
Plus-Sized Footless Tights
Plus-sized footless tights come in a wide range of colours and thicknesses. Footless tights offer a more feminine look than leggings. Being cut off at the ankle means they can be worn with open-toed shoes or with flats or high heels for a sexy and sleek look under a skirt, dress, or oversized top. Many women like to wear footless tights in warmer weather, teamed with cute summer three-quarter length tops.
Plus-Sized Support Tights
Some women, especially those who spend long hours standing on their feet all day, want tights that offer support for the legs. Plus-sized support tights are designed to help keep blood pumping through the legs, offering support for women with varicose veins or those who simply suffer from aching legs. When it comes to support tights, buyers should look for tights with high Lycra content. Lycra is a very elasticised fabric that helps to provide adequate leg support. Support tights are usually made from a combination of Lycra and cotton or Lycra and nylon.
Plus-Sized Control Tights
The introduction of plus-sized control tights has enabled fuller figured women to get that curvy and sexy body shape they have desired. Women are able to buy control tights that focus on creating a flatter tummy, curvy hips, perkier buttocks, or slimmer thighs. Control tights feature extra-thick elasticised fabric over these trouble areas, enabling the wearer to achieve a slimmer silhouette. Control tights may be worn under trousers, skirts, or dresses.
Thicknesses of Plus-Sized Tights
Tights come in a range of thicknesses, defined as a denier number. Denier refers to the thickness, or weight, of the individual yarn used as well as the thickness to which the yarn is knitted together. Tights may be described as sheer, semi-opaque, or opaque.
Sheer Plus-Sized Tights
Sheer plus-sized tights are sometimes referred to as stockings or pantyhose. They are thin see-through tights. They come in a range of colours, the most common being black or flesh coloured. These tights are most commonly made from nylon. Sheer tights can range in thickness from 3 denier, which is very sheer, almost invisible when worn, right up to 30 denier. Tights with 15 denier are considered to be standard thickness for sheer tights. Tights that are over 40 denier are considered to be semi-opaque.
Semi-Opaque Plus-Sized Tights
Semi-opaque tights offer moderate leg coverage. Tights that are between 30 and 100 denier are considered semi-opaque. Many women like to wear semi-opaque tights as they look attractive with short skirts or dresses. They are able to cover up leg blemishes, bruises, or varicose veins, but do not have the same look or feel as thicker opaque tights.
Opaque Plus-Sized Tights
Tights that are 100 denier or above are considered to be opaque. Plus-sized opaque tights are not see through. Opaque tights are very warm, ideal for wearing in cold winter weather. Commonly made from nylon, cotton, or wool, tights with some level of Lycra are popular because they are more durable, stretchier, and offer greater levels of comfort and warmth.
Opaque tights, especially in dark black, grey, or brown colours, can make a woman's legs look slimmer. For this reason, dark coloured opaque tights are often worn by fuller figured women.
Popular Brands of Plus-Sized Tights
Women have a wide range of choices when it comes to buying plus-sized tights. Some brands, such as Pretty Polly, Cette, and Aristoc, specialise in making tights for the plus-sized woman. These brands usually offer a larger range of control or support tights in a wider range of plus sizes. Women looking for top quality tights may like to try brands such as Wolford, Aristoc, or Voodoo. For women who want a good pair of plus-sized tights but are limited by budget, brands like Evans, BHS, or Dorothy Perkins are great options.
Get the Right Sized Tights For the Perfect Look
Getting the right sized tights is vital for the wearer's comfort. Tights that are too large are likely to slip down, gathering around the ankles. Tights that are too small are likely to require constant hoisting up by the wearer. When buying patterned plus-sized tights, support tights, or control tights, one should always get an accurate fit. Patterned tights are designed to look uniform. Therefore, a woman does not want her patterned tights to be too large or too small as this can warp the pattern shapes over her legs. Support tights that are too loose do not offer any support, rendering them useless, and if they are too tight, they can be very uncomfortable. Control tights designed to slim the tummy, buttocks, or thighs work best when correctly fitted.
The following table provides an approximate sizing guide for plus-sized tights. Women should measure their weight in kilograms and their height in centimetres. From these two measurements, they can then determine the size of tights they need. Women who are at the upper end of a particular size category may consider going up a size.
| Weight (Kg) | 65-70 | 70-75 | 75-80 | 80-85 | 85-90 | 90-95 | 95-100 | 100-105 |
| --- | --- | --- | --- | --- | --- | --- | --- | --- |
| Height 150-155 cm | M | M | n/a | n/a | n/a | n/a | n/a | n/a |
| Height 155-160 cm | M | L | L | XL | XL | 2XL | n/a | n/a |
| Height 160-165 cm | L | L | L | XL | XL | 2XL | 2XL | 3XL |
| Height 165-170 cm | L | L | L | XL | XL | 2XL | 3XL | 3XL |
| Height 170-175 cm | L | L | XL | XL | 2XL | 2XL | 3XL | n/a |
| Height 175-180 cm | L | n/a | n/a | n/a | n/a | n/a | n/a | n/a |
The above table provides approximate measurements only. Sizing may vary between brands, so it is advisable that buyers refer to the specific measurements for a particular brand of tights they are interested in purchasing.
Buying Plus-Sized Tights on eBay
To begin searching for plus-sized tights on eBay, you simply need to type "plus-sized tights" into the search bar on eBay's homepage. You can then view the numerous listings of tights on sale at the website. Women who already know what type of tights they are looking for may search using more specific phrases, such as women's black XXL tights or women's tights 80 denier. Alternatively, you can try the useful search categories that eBay provides. By using these category options, you can refine the search based on style, size, condition, price range, brand, colour, or material.
You may choose to purchase tights only from eBay's roster of top-rated sellers in order to ensure a worry-free experience on the website. Reading up on a seller's feedback from previous buyers can provide insight into the track record of the seller. Top-rated sellers are easily identified by the badge located next to an item listing.
Conclusion
Buying tights for the fuller figured woman need not be daunting or difficult. The great advancements in fabric technologies and the many brands specifically designing tights to cater to plus-sized women have made it easy for a plus-sized woman to find the tights that she wants. It only takes a little advance preparation and an understanding of what is available in the market when it comes to choosing the right plus-sized tights. Tights come in different types and thicknesses. Support tights and control tights are ideal for shaping the figure, while footless tights are great for any time of the year. From sheer tights to semi-opaque and opaque tights, buyers can choose from a plethora of colours, patterns, styles, and brands. Depending on her budget, a woman can find top quality tights from brands such as Wolford or Levante or less expensive options from brands like Cette, Kayser, or Pretty Polly.
The online auction site eBay provides buyers with a wide range of plus-sized tights, in addition to offering the ability to search for products from the comfort of one's home.