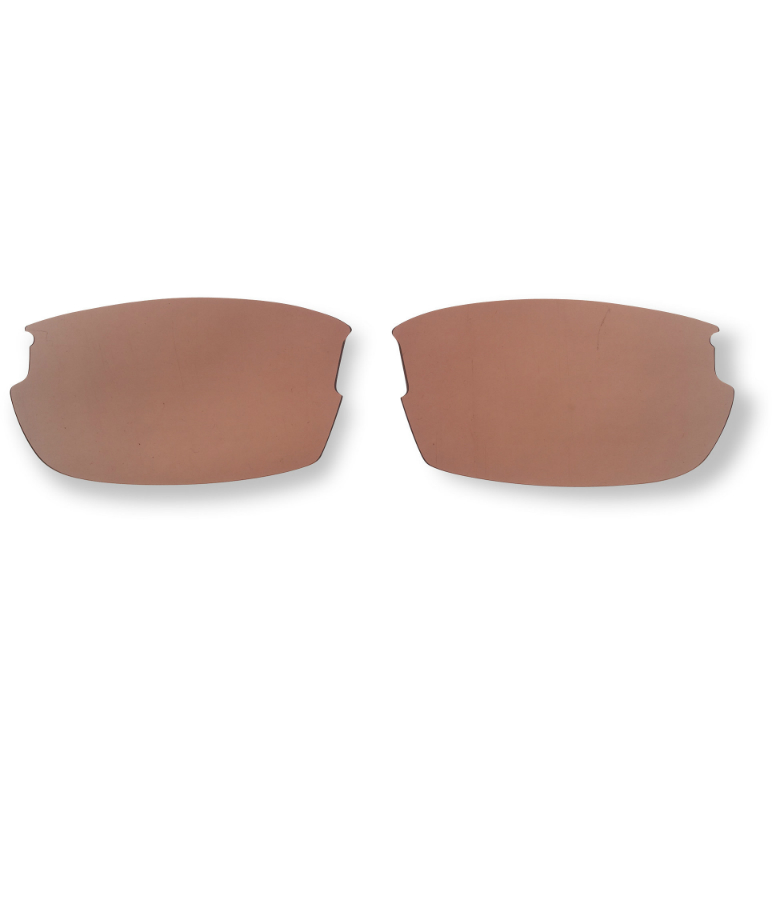 Replacement lenses can save buyers time and money by helping them avoid the need for a new pair of glasses. Some glasses are designed for interchangeable lenses, and can be fitted with a variety of products to suit individual circumstances. There are a few things to consider to be sure lenses will fit properly in an existing pair of glasses, and several options for the types of use and protection are provided. For example, dark-coloured lenses are better for bright days, while light-coloured lenses are more suitable for cloudy weather. UV protection is important for protecting a wearer's eyes from harm, and polarisation adds additional protection from the glare produced on water and other reflective surfaces. Consider colour, materials, UV protection, and polarisation while shopping.
Replacement lenses for sunglasses can be purchased from sunglass retailers, brand outlet stores, and online sellers like those on eBay. Shop around to find the best prices on lenses, and do some research to be sure they are appropriate for a pair of glasses. Buyers can find many options for replacement lenses, whether they're used to maintain the usefulness of a damaged pair or provide new options for the next day spent outdoors.
Replacement and Interchangeable Lenses
Although many sunglasses are specifically designed to have replaceable lenses, it is possible to buy new lenses for almost any type of sunglasses. In general, if the lenses can be removed, then they can also be replaced.
Replacement Lenses
To be sure lenses will fit properly in a pair of glasses, buy items designed for the specific model. Most name brand glasses have a part number or name on the inside of one of the bands, and this can be used to search for replacement lenses. If a number is not available, try taking the glasses to a sunglass retailer to see if the store can help identify and locate replacement lenses. Be aware that it can be difficult or impossible to obtain lenses for generic glasses.
Interchangeable Lenses
The same rules apply to glasses designed with interchangeable lenses. Search for new items by the model number of the glasses. These lenses are more readily available, however, and in some cases it is possible to clip lenses onto a pair of glasses for which they were not designed.
Choosing Lenses
Buyers have several options available while shopping for replacement lenses, including materials, colours, and levels of protection they provide. Consider the full range of products to find suitable lenses for a wearer.
UV Protection
UV (ultraviolet) rays from the sun can damage the cornea of the eye, potentially causing cataracts and photokeratitis. The most important function of a pair of sunglasses is to block these rays from reaching the eyes. To be sure eyes are protected from ultraviolet rays, look for lenses that offer 100 per cent UV protection. Wraparound sunglasses offer increased eye protection from peripheral light, so seek these out when possible.
Mirrored Lenses
Mirrored lenses are designed to reduce light intake on sunny days, typically by three to five per cent more than standard lenses. Mirrored lenses also have a distinct style, and are especially popular on aviator sunglasses. Look for scratch-resistant mirrored lenses that can keep their sheen for the best visual appearance.
Polarised Lenses
Light waves normally travel outward from a source in all directions, but when light hits a reflective surface, its waves align themselves on a single, horizontal axis. This is called light polarisation, and it produces intense, glaring light. Besides being harmful to the eyes, polarised light also makes it difficult to see clearly. Normal sunglasses would need to be very dark to guard against polarised light, and would also make it difficult for wearers to perceive surrounding objects and environments clearly.
Polarised sunglass lenses have a special film on them to protect wearers from the bright light produced on reflective surfaces like water or the tops of vehicles, while allowing non-polarised light to enter.
Materials
Replacement sunglass lenses can be made from either plastic or metal. Each of these has its benefits and drawbacks, so choose the ones that are most suitable for the activities or preferences of the wearer.
Glass
Glass lenses are clear and resist scratches, though they are liable to break if dropped onto a hard surface. Some manufacturers give their glass lenses a chemical treatment that resists shattering, though this also increases cost. Even standard glass lenses are generally more expensive than plastic ones, and they are also heavier. Wearers who are performing physical activities or planning to wear their glasses for long periods of time may wish to choose plastic lenses.
Plastic
Plastic lenses have slightly less clarity than glass ones, and are more susceptible to scratching. However, they are lighter than glass, and can also be much more affordable. They are less likely to break on impact, as well.
Lens Colours
The colour of sunglass lenses affects how clearly objects can be seen through them, the amount of light they let in, and the visual appearance of the glasses. Learn about the different shades and colours of lenses to find the best replacements for a pair of sunglasses. Keep in mind that UV rays are also present in overcast conditions, and sunglasses should still be worn to protect the eyes. Light-coloured lenses provide protection from UV rays on cloudy days without darkening vision. The following chart offers information about some of the most common lens colours.
| Colour | Description |
| --- | --- |
| Grey, Green, and Brown | Lenses with dark tints like greens, greys, and browns can significantly reduce the amount of light let into a wearer's eyes, making them ideal for sunny days. Unlike yellow and red tints, these glasses do not heavily distort perceived colour. |
| Rose, Vermilion, and Copper | Red and copper tinted lenses allow more light to enter than greys, browns, and greens. They are ideal for overcast days, and add warmth to perceived colours. These lenses can also enhance visual contrast and improve depth-of-field vision, especially for objects set against blue or green backgrounds. |
| Amber, Gold, and Yellow | Yellow tints are ideal for cloudy weather, as they do not inhibit the light intake as much as other lenses. Like glasses with a red or copper tint, yellow and gold lenses can also improve depth perception. |
Other lens colours are available, and vary in their performance. In general, darker tints are more suitable for bright days, while light colours offer protection on cloudy days, potentially improving visual clarity, as well.
How to Buy Replacement Lenses for Sunglasses on eBay
Replacement lenses for sunglasses can be purchased from sellers on eBay. Shop for these items by entering keywords into the search field on the homepage. For example, to see listings for replacement lenses for Oakley brand sunglasses, type "oakley replacement lenses" into the field. Search results can be narrowed by using additional keywords, or clicking on any of the category options that appear in search results pages.
Take the time to look over item listings before committing to a purchase. Note the price of the item, and include shipping charges into your estimate of the final cost. Check a seller's accepted payment methods, and determine which shipping methods are offered. View all available photographs of the lenses, and read the item description provided by the seller to be clear on the specific item being sold. If you would like additional photos or information, contact the seller.
Review seller profiles to find dependable eBay users. Sellers have a positive feedback rating that reflects the satisfaction of buyers within the past 12 months. Consider this information in relation to the number of completed transactions to find experienced sellers with a strong history. Additional information about sellers can be seen by clicking on their names in item listings. In their full profile, you can view individual comments left by previous buyers, and see links to the original item listings. Leave feedback for the seller once you have received your replacement lenses. This helps sellers improve their performance, and also informs future buyers about your experience with an eBay seller.
Conclusion
Replacement lenses can be purchased for nearly any model of glasses available. Though some products are specifically designed with interchangeable lenses, it is also possible to fit standard sunglasses with new lenses. These products are created in a wide range of colours and properties. Look for lenses that provide 100 per cent UV protection to ensure safety. Harmful UV rays are still present on cloudy days, so consider light-coloured lenses for protection that will not compromise visual clarity. Polarised lenses provide additional protection from the glare produced on reflective surfaces.
Replacement sunglass lenses can be purchased from sunglass retailers, brand name outlet stores, and online sellers. Marketplaces like eBay offer a high number of products for buyers to choose from, and have listings posted by both private and commercial sellers. Shop around to find the best prices on replacement lenses, and verify compatibility by checking model numbers. Find replacement lenses to prevent the need for a new pair of glasses and create opportunities for alternate styles and forms of protection.