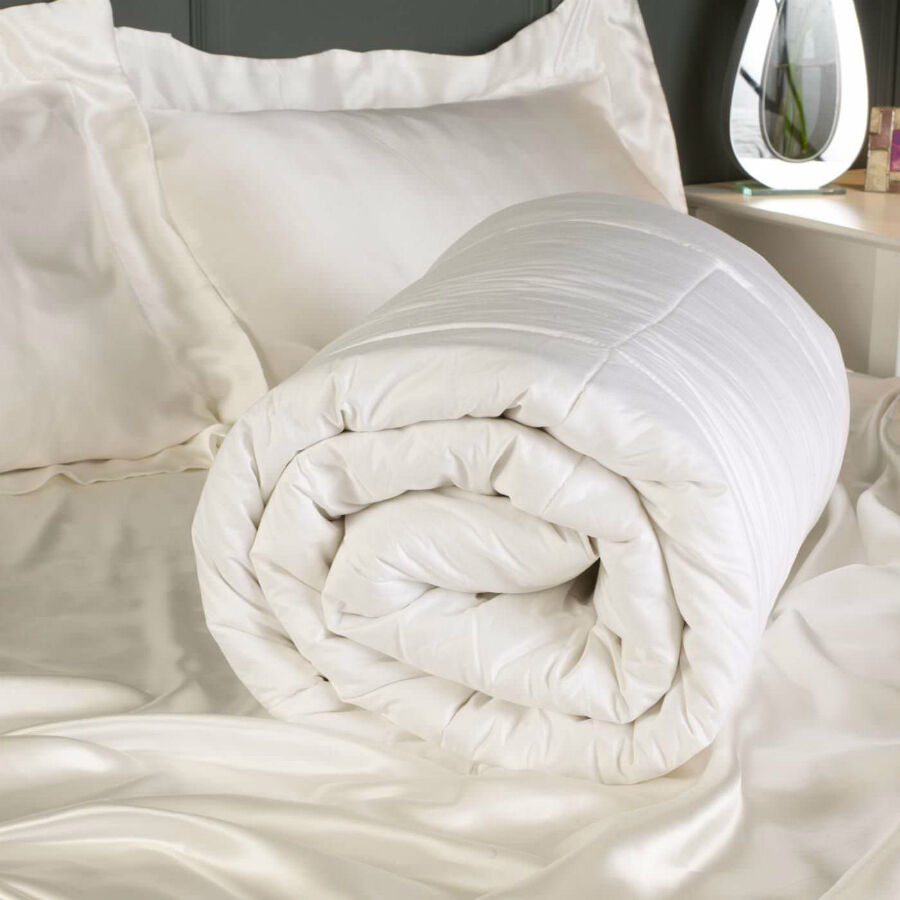 Nothing can bring much needed warmth and comfort to a bed quite like a duvet. A long, wide, and flat sack that serves as a blanket of sorts, a duvet is typically stuffed with down, silk fibre, or synthetic fibres. A duvet is often covered by a duvet cover, which keeps it clean and adds a decorative element. Duvets provide sleepers with a lightweight and soft way to stay warm at night.
Perhaps no duvet delivers the feel of luxury and comfort like a silk duvet. A silk duvet can have an exterior which is made of silk or a silk blend, or it can be a duvet that is stuffed with silk fibre or a mix of silk fibre and other fibres. Some duvets combine both features. By and large, a silk duvet uses lightweight, allergen-free silk in its stuffing to provide healthy and consistent warmth.
When buying a silk duvet, it is helpful to have a thorough understanding of the attributes and advantages of a silk duvet. It can also help a potential buyer to know how he or she may purchase a silk duvet online at the auction site eBay.
The Advantages of a Silk Duvet
Silk bedding and duvets offer a wide array of advantages to consumers. Among their more compelling selling points includes hypoallergenic properties, which can bring enhanced health and comfort to a consumer's bed.
Hypoallergenic Properties
Silk tends to be more hypoallergenic than other fibres and is more resistant to dust mites than many other types of fibres. As a natural protein, silk does not attract dust mites in the way other fibres and materials might, and this makes a silk duvet a much healthier choice for consumers with allergy issues. Beds that use silk bedding are typically much lower in the allergens that can aggravate night-time breathing and cause respiratory issues or even antagonise or create skin conditions such as eczema.
Extremely Lightweight
Silk duvets are also very lightweight in their construction while still maintaining an ability to deliver warmth. This lightweight build makes a silk duvet more breathable, allowing excess heat to dissipate during the night. Many sleepers who use heavy comforters can wake up drenched in sweat in the middle of the night. A silk duvet lets that excess warmth escape during the night, allowing a sleeper to maintain a more even body temperature during sleep.
Enhanced Softness to the Touch
Silk fibres are long and fine, thereby delivering an exceedingly soft surface for the skin to rest against. Silk material also tends to drape over a sleeper's form instead of smothering it or clinging to it, and this gives users of a silk duvet a much more sensitive cocoon in which to sleep.
Understanding Tog Ratings with Silk Duvets
A tog rating is a number that defines how warm a duvet is. A lower tog rating means that a duvet is appropriate for summer months, while a higher tog rating means that a duvet can warm a sleeper during the cold winter months. All-in-one silk duvets can combine both summer and autumn togs, allowing consumers to leverage the lighter one in the summer and then combine it with the autumn one in the winter for added warmth.
Given the lightweight and special breathability of silk duvets, they often have their own tog ratings that vary from traditional quilts or covers. The following chart provides a general idea of the type of tog ratings consumers can find in silk duvets for each season and also references the weight for each size of silk duvet.
Size

Season

Silk Weight

Tog Rating

Combined Tog Rating

Single

Summer

Autumn

0.64 Kg

1.16 Kg

2 - 4

9 - 11

13.5 - 15

Double

Summer

Autumn

0.88 Kg

1.6 Kg

2 - 4

9 - 11

13.5 - 15

King

Summer

Autumn

1.1 Kg

2 Kg

2 - 4

9 - 11

13.5 - 15

Super King

Summer

Autumn

1.26 Kg

2.28 Kg

2 - 4

9 - 11

13.5 - 15
These tog ratings are only a general frame of reference. A potential buyer should also consult with the vendor from whom he or she plans to purchase a silk duvet to determine if a duvet's tog rating is appropriate for the needs. Factors such as humidity and damp can affect how a sleeper experiences temperature, so location and weather should be taken into consideration as well.
Finding the Right Size Silk Duvet
When shopping for a silk duvet, consumers should look for a duvet that works with the size of the bed. Duvets are typically sold in sizes that directly correspond to bed sizes such as single, double, king, and super king. The dimensions of a duvet are usually larger than the bed itself as a duvet should cover the entire surface of a bed and still have some drape on the sides. The chart below elucidates typical measurements for each of the duvet sizes.
| Single | Double | King | Super King |
| --- | --- | --- | --- |
| 135 cm x 200 cm | 200 cm x 200 cm | 230 cm x 220 cm | 260 cm x 220 cm |
| 4 ft. 5 in. x 6 ft. 7 in. | 6 ft. 7 in. x 6 ft. 7 in. | 7 ft. 7 in. x 7 ft. 3 in. | 8 ft. 6 in. x 7 ft. 3 in. |
Consumers may also encounter duvets in the marketplace that were manufactured internationally and, as such, do not correspond to UK bed sizes. In these cases, consumers should make careful note of a duvet's measurements and then cross-reference it with the above chart to get a general idea of its compatibility with UK standards. The chart below summarises how some of the international bed sizes correspond with one another.
Mattress Size

U.S. and Canada

U.K.

Australia

Europe

Twin/Single

39 in. x 75 in.

99 cm x 191 cm

N/A

N/A

35 in. x 79 in.

90 cm x 200 cm

Extra-long Twin

39 in. x 80 in.

99 cm x 203 cm

Dorm size

42 in. x 75 in.

106 cm x 191 cm

Super single

36 in. x 80 in.

91 cm x 203 cm

Single extra-long

39 in. x 79 in.

99 cm x 200 cm

Large single

Double/Full

54 in. x 75 in.

137 cm x 190 cm

N/A

N/A

55 in. x 79 in.

140 cm x 200 cm

Queen

(U.K. King)

60 in. x 80 in.

152 cm x 203 cm

N/A

N/A

63 in. x 79 in.

160 cm x 200 cm

King

(U.K. Super King)

76 in. x 80 in.

193 cm x 203 cm

72 in. x 78 in.

183 cm x 198 cm

71 in. x 79 in.

180 cm x 200 cm

71 in. x 79 in.

180 cm x 200 cm

California King

72 in. x 84 in.

183 cm x 213 cm
Consumers should keep in mind that the above charts are useful as a general reference, and particular duvet sizes should be confirmed at the point of purchase. Sizes can vary from manufacturer to manufacturer; the above are just averages that give an idea of the general standards defining the marketplace.
Shopping for a Silk Duvet
Shoppers who are looking for silk duvets can consider shopping at traditional vendors, such as household goods and linen stores in their region. These options, however, do not tend to carry a wide array of specialty items such as silk duvets, focussing instead on general solutions that have appeal to the average consumer. A product such as a silk duvet may be found with a much larger degree of choices online at auction sites such as eBay.
Buying a Silk Duvet on eBay
To begin a search for a silk duvet on eBay, you can start by entering a general search term such as "silk duvet" in the search bar found at any page on the site. If you already have a specific tog rating or type of silk duvet in mind, use more specific search criteria to narrow your search. The site itself also makes helpful suggestions when you run a search; leveraging these can introduce you to options you might not have considered on your own.
Taking the time to get to know the sellers on eBay is an important part of the purchasing process on the website. Evaluating the sellers with whom you are interested in doing business can ensure that you are not only working with the right kind of seller, but that you are also getting the silk duvet you are looking for. You can evaluate sellers by taking a look at their past auctions. You can also review the feedback they have received from other consumers and consider leaving your own feedback once your transaction is done.
Conclusion
A silk duvet can be the ultimate, luxury touch that takes a bed from being simply comfortable to being fabulous. A silk duvet brings unprecedented lightness of form and cleanliness to a bed, thanks to its hypoallergenic and fine fibres. While some traditional retailers may carry a limited selection of silk duvets, one of the larger catalogue of silk duvets can be found online at the auction site, eBay. This website offers consumers a wide range of choices when it comes to silk duvets. Consumers benefit from the website's user-friendly interface from which they can scan listings and search for items. Once they have found listings that appeal to them, they need only take the time to get to know the sellers to ensure a seamless and productive shopping experience on the site. Thanks to the power of eBay, a consumer can find just the silk duvet he or she needs to transform a bed into one filled with warmth and luxury.