The 1966 World Cup Final programme has probably been reprinted more times than any other programme. Someone familiar with this programme can spot a reprint without looking. The uninitiated, however, can quite easily be caught out. I have seen it happen frequently on eBay.
People often ask about the picture quality of the cigarette adverts. This is not a foolproof method of identifying a reprint as the 1966 reprint (produced shortly after the final) has much better picture quality than later reprints and hence mistakes can be made.
It is the 1966 reprint that catches so many people out. Later reprints can be spotted a mile away, even to the novice.
I will now endeavour to explain the differences between the original and subsequent reprints of this piece of memorabilia.
The Original Programme
The 1966 World Cup Final programme was printed up in two stages. The outer section of the programme was printed first, before the final took place. Once the finalists were known, the inner section was printed. The inner section consists of details of the finalists and previous results in the
tournament. Because the programme was printed in two sections there is a slight discrepancy in paper quality and appearance. If you pinch the programme edge between your fingers and look at the pages sideways on, you will notice that the pages of the central section of the programme are slightly darker than the outer pages. This is a major identifying point and will catch out any reprint. I have included several photos of this. The discrepancy in paper colour is a lot more distinct when looking at a programme personally but these photos will give you an idea of what to look out for. I have used a very expensive camera to take these pictures and have still found it wanting. Having said that, these photos would be difficult for most cameras to deal with and I feel it has done well and gives a good idea of what you should be looking for.
There are also differences in weight between an original and the reprints. The original weighs in at around 130 grammes. The weight of the original is also a major identifying factor as it weighs significantly more than the reprints. If you ever become familiar with these programmes you will learn in time just from the feel of the weight whether you are holding an original or a reprint.
The England v West Germany writing on the cover of the programme has a definite blue tinge to it. All reprints I have come across have the writing in black. This is how I personally try to identify originals/reprints when looking at a photo on eBay for instance. Do be careful, however, as quality of some scanners and cameras can make blue appear black and vice versa. Likewise with the colour of the cover. The original programme has a lighter tinge to the cover than the 1966 reprint. But a scanned image can make the cover of a 1966 reprint appear to be of a similar colour to the original. I generally do not pay attention to the colour of the cover when looking at photos. Bear in mind that it is not always clear whether a programme is an original or a reprint when looking at photos.
Finally there is the picture quality of photos. Obviously the best picture quality lies in the original. The cigarette adverts that everyone goes on about are clear and have two shades to the No. 6 adverts. The cigarette advert on the back cover has a definite red tinge to it while later reprints have more of an orange tinge to it. General picture quality throughout the programme is better than in the reprints. Following photos are of an original programme.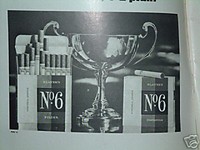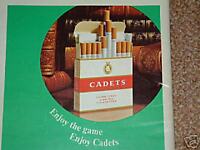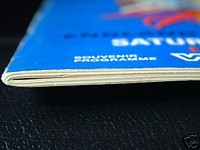 1966 Reprint (produced just after the Final)
You really must watch out for this one as this really does catch people out. The pictures of the cigarette adverts, although not as good in quality as the original, are not that far away in similarity. Hence, people will describe cigarette adverts as a similar quality to that of an original. There are definitely two tones to the No. 6 advert on page 2. The cigarette advert on the back page, although not red, is not exactly orange either so you cannot be surprised if people call it red.
Weight of this programme is 96 grammes, a lot lighter than the 130 grammes I quoted for the original.
England v West Germany writing on the cover is black. Following photos are of a 1966 reprint.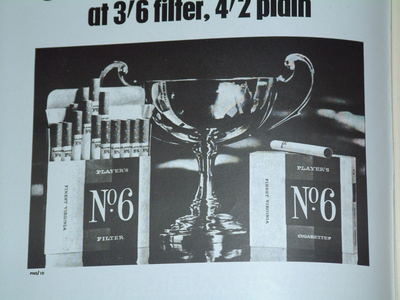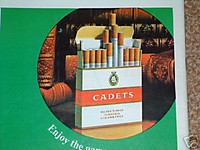 1970 Reprint
I don't know why they bothered with this one. Cover has a lilac tinge – you can't miss it. Picture quality is terrible. There is virtually zero two tone effect on the cigarette advert on page 2. Rear page cigarette advert has an orange tinge. On the cover, there can also be a trace of white around the writing 'Final'.
Weight: 122 grammes. Although a lot closer in weight to the original, poor quality of photos and lilac tinge to cover must make this the easiest reprint to identify. England v West Germany writing on cover is black.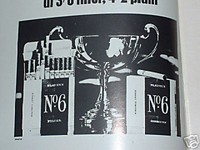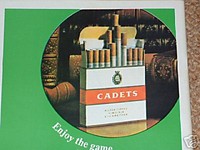 Later Reprints
It does not stop here. There was another reprint produced in 1999. I am still trying to acquire a copy. This one does have the fact that it is a reprint stated in the margin on the back page. This, though, can apparently be removed although will probably leave a tell tale sign. Also, owing to the fact that this programme is only a few years old it will not have the old smell of the earlier reprints already mentioned. It is going to smell new and is therefore also very easy to spot. Quality of pictures is, by all accounts, close to the original so be careful although your nose should spot this one easily enough.
WH Smith recently (about 2 years ago) sold a package that came with a DVD of the 1966 World Cup Final and yet another reprint. This copy however, is slightly smaller in size and again, owing to the newness, is easy to spot.
I believe that there is currently another reprint making the rounds. Don't know anything about this one though, again, will be easy to spot owing to its newness.
Reprints in General
Life really is becoming quite complicated with all these reprints. It is not only the 1966 World Cup Final programme we need to be looking out for. I recently purchased a 1985 ECWC Final programme at a very reasonable price and subsequently realised it was a reprint. The seller did not volunteer the information though he did give a refund. A lot of these reprints are currently going about on eBay. As is the 1958 FA Cup Final reprint. This can be purchased from a dealer for no more than £2 yet one person has been selling them on eBay as originals.
With developments in computer and printer technology, people can produce copies at home. The 1973 ECF programme is particularly one to watch out for. Some of these reprints are very difficult to identify.
I understand that there is a reprint for the 2005 ECF programme which in fact is indistinguishable from the original (there is a difference in the plastic packaging). The original will therefore surely not be increasing in value for a very long time. There are also many programmes that are reprinted with subtle differences. The 2003 UEFA Cup Final for instance or the 1998 ECWC Final. The list is endless. You need to be on a constant lookout.
I hope I have helped and resolved any questions you may have had with regards to the WCF programme. Should you actually happen to have purchased a reprint mistakenly, contact the seller. They will usually offer a refund. Many thanks and good luck with your collection……Giorgio.
Supplement
I have very recently acquired a copy of the 1999 reprint. This programme proves to be very interesting as it weighs in at 128 grammes, only a couple short of the original. Although only 2 grammes, it is a significant amount to discern it from the original if you have accurate scales.
Picture quality is on a par with the reprint produced in 1966 so watch out. As mentioned earlier, on the back page, near the spine at the bottom of the programme is printed, 'Reprinted 1999'. This makes it easily identifiable, though I have heard of some examples having this removed, as mentioned earlier. Tell tale marks should be left behind, however. Again, with a relatively new programme, that old smell is not evident. That, and the fact that the, 'England v West Germany' writing on the cover is in black, makes this another easily identifiable programme.
Having now handled virtually every reprint I am satisfied to say that the common denominator between them is the black England v West Germany writing on the cover. Following pictures are of the 1999 reprint (not available - only 10 photos allowed in guide).
Supplement 2
Many thanks to Mark Watterson (fellow eBayer – username: worldcupwinners1966) for kindly providing information on a couple of other reprints, one produced in 1998, the other in 2000. Picture quality in these reprints is very good. The cigarette adverts are the best of all the reprints. England v West Germany writing, again, is in black. Weight of the 1998 version is 113 grammes.
The 1998 version was issued with an A4 sized book on Sir Alf Ramsey. It also came with a number of other souvenir memorabilia. There is a scuff mark at the top staple. The World Cup logo on page three has been printed upside down. 'Reproduced by kind permission of the Football Association', is at the foot of page three. Pages have a glossy appearance. Although picture quality is very good, scuff mark, paper quality and upside down logo also make this an easy reprint to spot. I understand that the 2000 reprint was issued with a replica 1966 World Cup England shirt which was signed by ten of the players. It also came with a replica ticket and newspaper. Print run was limited to 1000. Weight of this programme is 175 grammes, much heavier than the original. Cover is identical to the 1998 reprint, even including the scuff mark on the top staple. Logo on page three is again printed upside down and there is the reproduced statement at the foot of the page.
Pictures below are of the 1998 reprint (not available).
Please vote on this guide if you found it useful.