How to pair the PS3 Blu Ray Remote Control to your PS3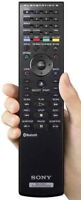 Bought a second hand PS3 Blu Ray remote?
Then you will need to know how to connect it to your PS3 as it uses blue-tooth not infra-red technology (like typical remotes)
Go to your accessories setting
Select register BD REMOTE CONTROL
Insert the 2 AA batteries into your remote
The PS3 will ask you to hold the SELECT and ENTER button on the remote
Do that for about 10 seconds and it'll be linked (confirmation message will appear on screen).
You can use it straight away!