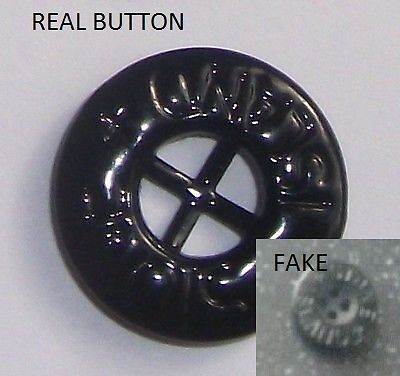 How to spot a fake or at least make you more aware
Fake tell-tails specific to Stone Island garments

There are a few specific details to check when buying a Stone Island item. These are the things the counterfeiters often overlook or just plain get wrong. Please be aware that whilst the items mentioned below are indicative of a fake there is no way we, or you, can ever be 100% sure. As with spotting a forged banknote, for example, much of it comes down to "feel" and spotting the inevitable mistakes the forgers make. Fortunately, with designer clothing, the mistakes are usually a lot easier to spot than with banknotes. You find the quality of fabric on fake Stone Island t shirts, polos all other garments to be cheap and nasty.

Country of Origin

Strange as it may sound there are known to be fake stone island goods produced with no country of origin tags on the garments. This is not only illegal in most countries but also a dead give away you are dealing with a fake. Genuine Stone Island will always bear the country of origin label. Do not be concerned, however, if the country does not state Italy. These days Stone Island is manufactured in a few places including Italy, China, Tunisia, Portugal even Indonesia and Romania. If in doubt, check with an authorized supplier or contact Stone Island direct.

Zips

Genuine Stone Island jackets and other garments using zips are always manufactured with one of several reputable, quality, zip brands. They are made to last, this will be obvious by the look and feel of the zip itself. A couple of zip brands to look out for are lampo, ykk. Other zip brands will crop up as well but use your common sense, if the zip is not top quality chances are high the garment is a fake - walk away.

Buttons

The buttons used to attach the Stone Island badge should be black and a fairly dense small round shape with a bevelled outer with a X Cross middle and not a 4 hole pepper pot. Buttons should always bear the Stone Island name around this bevel — if they do not it's fake, you can find buttons on Stone Island polo shirts, jumpers, jackets and knitwear

Art Number

Stone Island Art Numbers are found on all their garments, these art numbers indicate the season, material of manufacture and various other details. Knowing the Art Number for the specific item you are interested in is a very big help in spotting fakes. There are rare instances where a genuine Stone Island item will have the wrong Art Number on its tags but in general if the Art Number does not match the garment then consider it very suspect and unless everything else feels good about the deal - walk away. See the for more information on how to read and interpret Art Numbers.