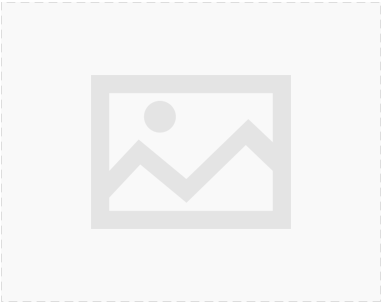 Step By Step Video
Bathroom Wall Panels
couldn't be easier to fit!
For a low maintenance, practical, stylish bathroom, you may wish to consider installing
Ceiling Panels
too.
If you want to make it a Do It Yourself project, we hope this guide will help. By clicking on the link (play icon on picture above), you can watch a step by step installation video which shows everything you need to know to install your
Cladding
and
Trims
.
If you would prefer to have it professionally installed, contact a plumber, joiner, handyman, decorator or similar tradesman, who will be able to complete your project for you.
Below is a step by step guide. If you would like to print it out, copy and paste it into a Word document so you can refer to it during installation.
Which Installation Method?
The panels are tongue and groove and can be installed by using one of these methods:
Adhesive and Pins
Adhesive and Screws
Adhesive and Staples
The majority are installed directly to the plastered wall or ceiling. If using screws there is no need to drill or use plugs. To save time (and mess!) they can also be installed on top of ceramic tiles.
They can also be installed to a timber frame.
Tools You Will Need.
Fine Tooth Saw (14 teeth per inch is ideal) or Jigsaw
Stanley Knife
Tape Measure
Skeleton Gun
Adhesive (MUST BE SOLVENT FREE)
Silicone
Pins, Staples or Screws
Spirit Level
Pencil
Double Sided Tape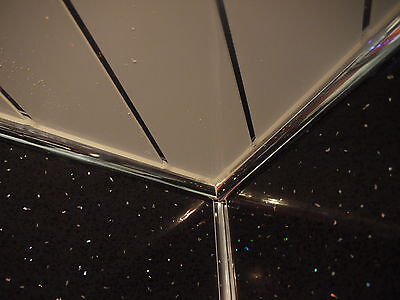 Add a caption
White V Groove With Silver Inset Trimmed With Silver Quadrant
Click to edit caption
Installing Ceiling Panels
TOP TIP: Before you cut any panels to length, measure the width of the ceiling. If you are installing a panel with a silver feature strip, you may need to cut the first and last panel along it's length to achieve a 'balanced' look. This will avoid finishing off with a thin strip when you come to fit the final panel.
Measure the length of your ceiling using the tape measure, and transfer it to the panel, marking a straight line across it with the pencil. Cut to size with the saw or jigsaw.
Remove any protective film from the front of the panel.
Run a generous amount of adhesive on the back of the panel, and secure to your ceiling using the screws, staples or pins through the tongue of the panel approximately every 30cm.
Repeat the process for each panel, pushing them firmly together using the tongue and groove profile for a neat finish.
TOP TIP: The Coving is easier to fit by removing the lip from the back with a Stanley Knife and discard it. Fix to the ceiling and wall directly, using a combination of silicone and double sided tape (run a bead of silicone along the wall , and position the double sided tape to the edge of the trim that will stick to the ceiling). The double sided tape holds the trim in place while the silicone sets.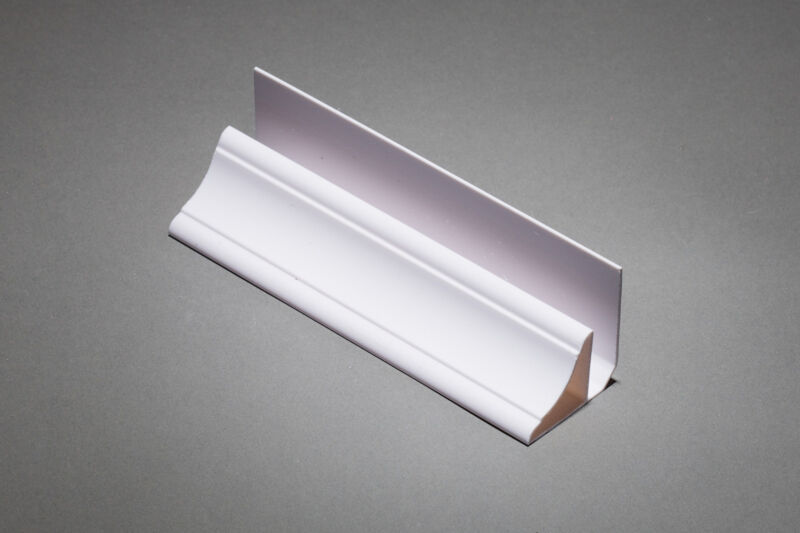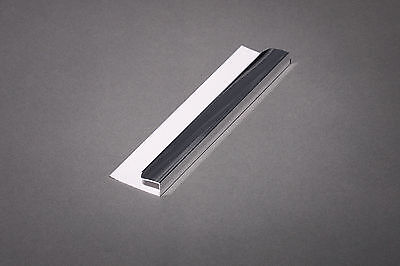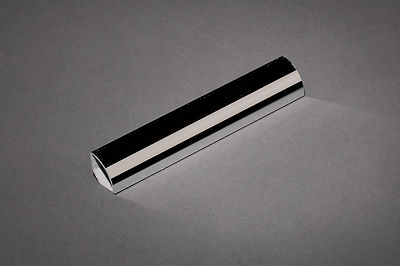 Add a caption
Quadrant Available In White Or Silver Chrome Effect
Click to edit caption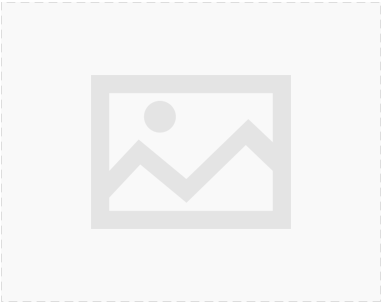 Installing Wall Panels.
For a watertight seal around a bath or shower tray, we advise using the
Clad Seal Kit
, which contains everything you need for a neat finish where there is no silicone exposed. A great way to avoid unsightly mildew growth or silicone discolouring over time . Full instructions are supplied with it. An Installation video can be viewed by clicking on the link above.
If not using sealing trim on bath or shower tray, fit panel end onto a bead of silicone on surface of bath or shower tray to create seal.
Before fitting the wall panels, install the one piece internal corner. Cut to the correct length and remove protective film before using silicone to stick into place.
Measure the height of the wall, and transfer to back of panel, marking with a straight line.
Cut panel to size.
Remove any protective film, apply a generous amount of adhesive to the back of the panel.
Run a bead of silicone into the internal corner (for watertight seal) before slotting the wall panel into trim.
Check that panel is vertically plum with a spirit level or plum line.
Use staple, pin or screw through the tongue of the panel every 30cm to secure into position.
Run a bead of silicone into the tongue of the panel to seal in a wet area, before slotting the next panel in.
Repeat steps 2 to 8 to the next corner. If it is in a wet area (bath/shower), cut an internal corner to size, run a bead of silicone into trim before slotting onto edge of panel. Run a bead of silicone into the corner, then slot the final panel with the corner trim into place.
Remove any silicone from the face of the panel straight away.
TOP TIP: For internal corners where a watertight finish is not necessary, cut the back of the trim off and discard, use a combination of double sided tape and silicone to stick directly onto the panels.
TOP TIP: There's an easy way to install panels around a window. Cut panel to correct length, slot the panel into place and use the pencil to mark the back so you know where you need to cut. Apply the adhesive and install.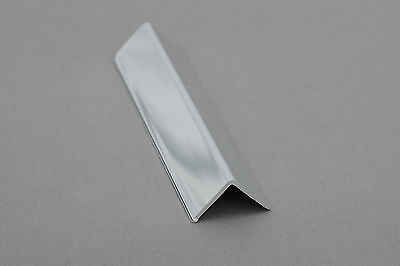 Finishing Trims.
We hope that this guide has helped you. If you require any more assistance, please don't hesitate to contact us via ebay where we will get back to you as soon as we can.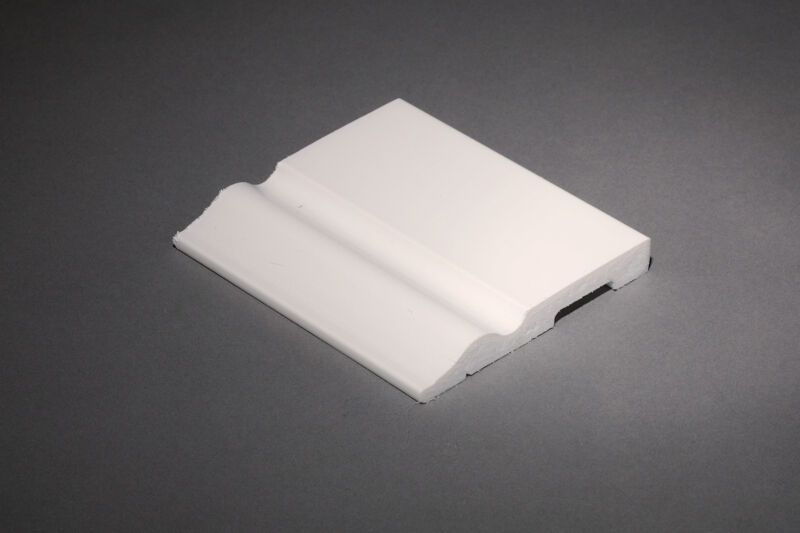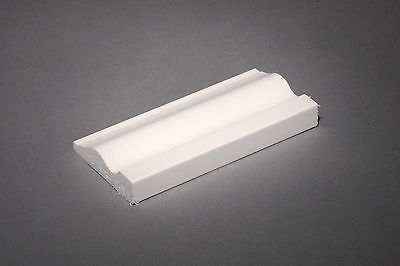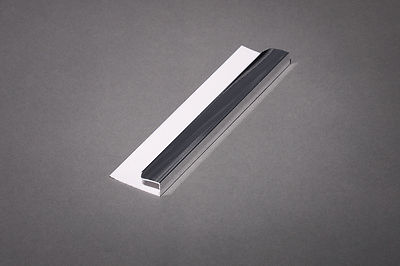 Add a caption
End Caps Available In Black, White Or SIlver
Click to edit caption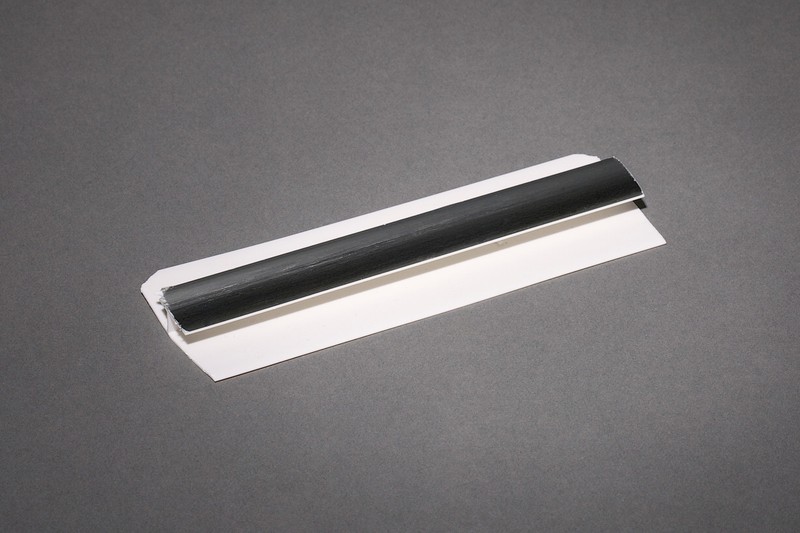 Add a caption
'H' Trim For Joining Panels To Extend Length, Or Creating Decorative Effects
Click to edit caption