Jaguar Cars - Part 3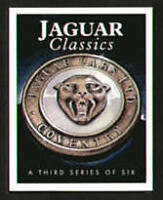 This is one of many illustrated classic car guides I've created for the community. I hope you enjoy it. If you wish to find out more about the classic Jaguar car art featured in this guide please click here.
This guide includes the following models:
Jaguar XK140
Jaguar XKSS
Jaguar MkII
Jaguar E-Type Lt/Wt
Jaguar XJ Coupe
Jaguar XJ220
Jaguar XK140

The hugely admired and successful Jaguar XK120 was replaced in late 1954 by the Jaguar XK140. Changes were limited but there was rack-and-pinion steering and the engine output went up to 190bhp with 210bhp for the Special Equipment version. The coupe body, in fixed and drophead forms, had an extended roof line to allow the fitment of rear occasional seat or allow a little more luggage space. The result for the XK 140 was a better-equipped series of cars, although the inevitable weight increase kept the top speed to around 120mph, unless overdrive was fitted when 130mph was possible.
Jaguar XKSS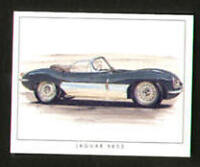 The XKSS was introduced by Jaguar in 1956 in an attempt to use up unsold monocoques. In 1957 there was a production line at Browns Lane slowly converting them from D-types, yet at $5600 no one wanted to buy them, despite being an incredible bargain (XKSS never officially sold in the UK). As a refined version of the D-Type, the XKSS featured an undivided passenger compartment, proper interior trim, full screen and a folding hood. Mechanically, it was pure D-Type with the same great performance and road manners. The factor fire at Jaguar in February 1957 halted production of the XKSS and only sixteen were built.
Jaguar Mk II
The 1960 Jaguar range saw the introduction of the MkII compact saloons following on from the MkI theme but now with disc brakes, wider rear track, increased glass area and a choice of three different sizes of XK engine. The Mk 2 became Jaguar's most successful 1960's car, particularly in 3.4 and 3.8-litre form, where the combination of sheer performance, character and value for money was unbeatable. The 3.8-litre Mk 2 had everything - sensuous looks as well as superb performance. The 220bhp engine produced a top speed of 125mph and despite having a live rear axle the car's handling was considered to be more than adequate. Total Mk II production between 1959 and 1969 totalled some 90,000 cars.
Jaguar E-Type Lightweight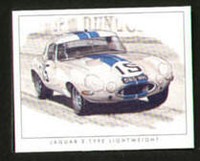 In 1963 Jaguar built a small series of racing E-types, the "Lightweight", but despite its D-type heritage the E-type was never intended as a racing car and gained a few victories, generally being outclassed by Ferrari's 250GTO on the track. 5115WK was one of the batch of twelve true factory lightweights produced and one of three run by Briggs Cunningham team at Le Mans in 1963. With an alloy monocoque and block these models were in the region of 250lbs lighter than the factory prepared steel cars with iron blocks. Powered by a fuel-injected 3.8-litre engine and fitted with a five-speed ZF gearbox the much modified lightweight E, with its aerodynamically designed rear was capable of around 170mph.
Jaguar XJ Coupe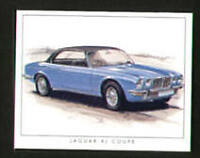 In 1975 the XJ model line was extended by adding a coupe version of the car to the range. There were two models, the XJ6C which used the standard six-cylinder engine or the XJ12C, a V12 engined model sometimes listed in the showrooms as the XJ5.3C. Both used the shorter wheelbase XJ6 chassis under a two-door, pillarless, five-seat coupe body. A vinyl roof was used for both models. As Series II versions of the Jaguar XJ, they have the higher front bumper and shallower grille style of those cards together with the new style facia (minor dials in front of driver). Produced between 1975 and 1977 the coupe XJ's are elegant motor cars in the finest Jaguar tradition. Production totals: 6487 (4.2), 1855 (5.3).
Jaguar XJ220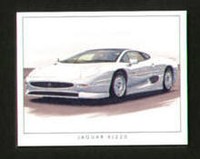 The original XJ220 first appeared at the British Motor Show in 1988 and created such an overwhelming response that it was decided to put a form of the car into production. Between the car's show debut and the production XJ220 in 1992, the concept had changed from that of a four-wheel-drive V12-engined car to a two-wheel-drive twin-turbo V6, but the result was still the fastest production sports-car in the world with a top speed of 208mph. Fitted with a V6, quad-cam, 24-valve, twin-turbo engine the "big cat" is capable of 0-60mph in just 3.8 seconds and 100mph in only 7.3 seconds. Maximum power is quoted at 542bhp at 7000rpm and 475lb ft of torque at 4500rpm.
Thank you for reading my guide and I hope you found it interesting!