EDIT in 2009
When I first wrote this in 2007, Pansh kites were cheap. Over time they have increased in price to over three times the introductory price. They are now more expensive that other higher quality brands, and hence can no longer be recommended.
The review below remains for historical interest but is now very outdated.
================================================
Legend (and Blaze) are new kites from the Chinese manufacturer PanshKites. This year Pansh have started selling power kites straight from their website at VERY low 'introductory' prices. They ship very quickly and securely, using tracked parcels direct from China. As some of these are making their way onto eBay now I thought a quick guide might help people make an informed choice.
Pansh? who?
Find all you need to know by googling for "panshkite"
Cheap??
Yes very! They used to range from £32 up to £54 on launch in spring 2006.

Prices have changed, and crept up in the middle sizes. I had tried to edit this review to keep prices updated as they changed, but due to
currency fluctuations I couldn't keep up. Hence in May 07 I stopped. Sorry.
They come in the following sizes
2m Legend
3m Legend
4.5m Legend
5.5m Legend
Their price is for a complete kite, delivered to your door from China
They include, kite, 4 lines, handles and simple bag. You will need to buy a ground stake and kite killers yourself before going out to fly.
Needless to say they cause quite a stir in the kiting community, and many people bought one on spec.
The delivery has proven to be excellent, most people report within a week. There is full online tracking and tracability of the parcels they send. If any damage has occurred in transit, Pansh have a no quibble system for rejecting the original delivery and they send a new one out no problems.
Are they any good?
Surprisingly the consensus seems to be yes! For the money they are very good value. Obviously the material and finishing is not up to Ozone, Libre, or Flexifoil, but, if you go in expecting about 60-70% of the performance of their far more expensive cousins you are likely to be pleasantly surprised.
The Legend is aimed at the beginners market and stable with very low lift but good traction. The best comparison is a HQ Beamer. Other comparable kites include PKD Buster or Peter Lynn Pepper. It comes in a staid stripe design in Primary colours, in 2, 3, 4.5 and 5.5m sizes. It's most suited to static or buggy use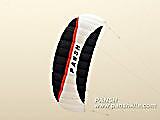 Pansh also make the Blaze is a medium lift intermediate kite suited to static, board or buggy. It comes in several colours all with striking '70's hot rod' type yellow and orange flames. The sizes are 3, 5, 7, 8.5, 10 and 12.5m (please look at my review of the Pansh Blaze)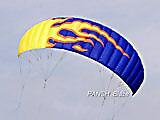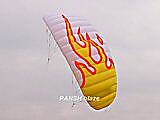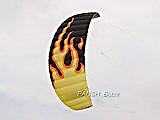 New additions from Pansh include:
Blaze II - Released 1/1/2007 - More expensive depower kite, sold kite only. Flame graphic both sides.
Airlink - Released 28/2/07 - Race style buggy kite. Again sold kite only

Ace - Released 12/5/07 - High lift kite ideal for Boarding or freestyle buggy, for experts only. A rival to Blade or Haka, at a fraction of the price
Are there any instructions or help and advice?
The kites themselves just come with a basic setup diagram that is emailed to customers, no instructions. however there is now:


What's the catch??
The early models had several problems:
Lines sent out without pre stretching, they changed length by several feet in the first use. Many people threw them away
The handles had rough burrs on the holes for the leader, which meant they quickly wore through
The original credit card payment system had many problems, rejecting most cards
HOWEVER - a thread on Pansh quickly built up on the forums at www-dot-racekites-dot-com (58 pages and still going strong), and surprising Pansh listened! Several forum members gave them improvements and suggestions which have been incorporated into late models!
You will find messages like this on the Panshkite site:
'Since 25th,May 2006, all the flying strings are pre-stretched. The sent products before this day are without the pre-stretched lines.'
Great honesty - hats off to Pansh!
The Legend has not had the brake and turning problems of the larger Blaze's and hence the Ledend kites should fly fine out of the bag.
Was this guide useful? If so please rate it YES below ...
IMPORTANT UPDATE 3/11/06
Buyers are were reporting that they are being charged an additional £27 import duty in addition to the above. This is believed to consist of:
£2.40 Import Duty,
about £7.40 VAT
TNT handling/administration charge about £15 for doing the paperwork on the import (pretty standard across all the express carriers).
UPDATE ON UPDATE FROM PANSH ...9/11/06 ;¬)
"We have never met this problem before. It was caused by the British Customs. We are really sorry for the inconvenience caused by this mistake. In addition, we decided to stop delivering packages to our British clients by TNT for a while because TNT did not deal with this problem rapidly. Start from November 6, we have changed TNT for DHL and Fedex to deliver package to England.
Now we think everything is clarified. As we have promised, we will never let our client cover any cost that should not be covered by them. We hope all the British clients can continue to trust us, so we can provide better products and better services."
What nice people :¬)