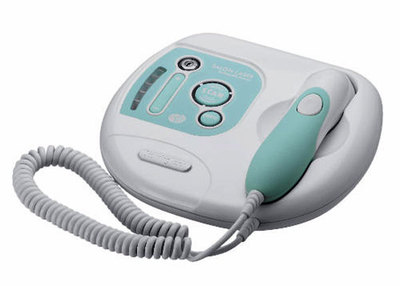 Laser Hair Removal at Home
Permanent removal of unwanted facial and body hair can be achieved thanks to the latest developments in digital and laser technology. Laser hair removal works by targeting the part of the hair follicle responsible for hair regeneration and by disabling the process of hair re-growth forever. The laser zaps the melanin in the bulge area of the hair follicle and stops it from being able to provide oxygen and nutrients to other areas of the hair. Laser hair removal is sometimes called laser hair reduction as it doesn't completely remove all hair all at once but usually after five or six laser treatments all hair in a given area of the body such as the armpits, legs, and bikini-line or facial areas can be permanently removed and skin is super-soft and hairless.
Several treatments with a laser hair remover are needed because there are 3 stages of hair growth and lasers only affect hair that is in the active, "anagen" growth phase. Lasers target terminal hairs which are long and thick, not vellus hairs which are short and more like soft fuzz on the body and face. The light energy from a laser transfers into thermal energy and targets the melanin, pigmented parts of the hair follicle destroying the cell structures around the hair and the cooling mechanism of the laser hair removal machine prevents damage to nearby cells. Laser hair removal can be used instead of old-fashioned, painful and messy hair-removal or depilation techniques such as depilatory creams and waxing for getting rid of unsightly and annoying hair from all over the body and face. Laser hair removal can leave the skin feeling silky, soft and sexy and permanently eliminate rough, annoying stubble.
How do lasers remove unwanted body hair?
The main idea behind laser hair removal is by causing localized damage by selectively heating dark target matter (the hair follicle) without damaging the rest of the skin.
Skin is basically transparent to light in the wavelength range of 600 to 1100nm so it is possible to target the hair follicle with melanin without adversely damaging the surrounding lighter skin area.
The light energy absorbed by the melanin pigment destroys the cells of the hair follicle. If enough heat is absorbed, the hair follicle is permanently destroyed, thus the hair will no longer grow.
The number of times this has to be done depends on several things like the area of the body to be treated, the skin color, quality of the hair, and growth cycle of the hair.
Since laser can only affect the actively growing follicles, several sessions will be needed to destroy the hair in all three phases of growth (growing, degradation, resting). More treatments may also be needed for finer hair and hair on darker skin.
What else do I need once I purchase the Laser?
Hair must be shaved or trimmed in between hair removal sessions. Shaving or trimming the area of body or facial hair you are treating before using a laser for hair removal prevents the hair burning. Note you must not wax in between sessions as waxing interferes with the hair follicle. There are special creams to numb the skin and reduce discomfort although strictly speaking these are not necessary. In addition, special pre / post creams are not essential and can often cause more harm than good as the skin will be sensitive after laser, meaning that it really should be left to calm down naturally. The only product we would receommend using after laser is Ultra Shave Cream. Ultra contains grapeseed oil which is a premium ingredient which soothes and heals the skin after hair removal.
What are the benefits of laser hair removal?
In comparison with traditional hair removal methods, laser hair removal is safe and convenient. Plucking, waxing and bleaching methods will have faster hair regrowth since it does not target the hair follicle. Laser hair removal is also an effective treatment for ingrown hairs. Compared to other hair removal and body and facial hair reduction methods such as waxing and plucking, laser hair removal is painless.
Laser treatments are non-cancerous since it penetrates only a few millimeters into the skin. There is minimal pain that can be controlled by using anesthetics or cooling creams.
Types of laser:
1. Alexandrite Laser - the fastest of the laser types and is good for treating large body areas in patients with fair skin. This is one of the most widely used lasers for hair removal and has a 755nm wavelength.
2. Diode Laser - the most effective for medium to dark skin types and is less effective on lighter, finer hair. It covers large areas and has fast repetition rates, allowing fast treatment of large body areas. It uses 810 nm wavelength.
3. Ruby Laser - the oldest type of hair removal laser, it works best for fine and light hair but it cannot be used on patients with darker skin. They have become less popular because of the relatively small area that they cover.
4. Long pulse Nd:Yag laser - can be safely used in all skin types, including tanned patients. Large coverage areas and fast repetition rates allow large areas to be treated quickly but causes more discomfort during treatment. It is also less effective for fine and light hair and has 1064nm wavelength.
5. Intense Pulsed Light Devices – these are not lasers, but are "laser equivalents" since they use the same concept of selective photothermolysis to remove hair. These devices are more difficult to use than lasers and require very skilled and experienced technicians to operate.
There are many factors to consider in order for laser hair removal treatments to have good outcomes. These are:
* Pulsewidth – a longer wavelength is beneficial for dark skinned individuals whereas a shorter wavelength is effective for laser hair removal treatments for patients with lighter skin.
* Spot size – the laser beam wavelength.
* Fluence- the laser energy that is expressed in Joules per square centimeter (J/cm²).
* Repetition rate- the pulse emission rate
Home laser hair reduction systems let you carry out permanent hair reduction in the privacy of your own home without paying for expensive beauty salon hair-removal treatments. With a laser hair reduction system such as the Rio Laser Hair Remover or the
Rio Scanner Laser
you can permanently reduce unsightly and unwanted hair without paying time and time again for expensive and messy creams or waxes. Laser hair removal units by manufacturers such as Rio and Tria come with full instructions, including safety features and mains adaptors.
The Rio Scanning Laser Hair Remover is reasonably effective because it lasers and removes multiple hairs at the same time (up to 20 hairs at once) but can still zap individual hairs when necessary in just a few seconds. The Rio Laser Hair Remover can destroy an individual hair in just four seconds and reduce the possibility of unwanted hair growing back. Note, however the Rio Laser is not salon strength and results will therefore be a lot slower than in a salon. A more salon comparative laser hair remover is the 40 watt Tria laser – this is 80 times more powerful than the Rio Scanner laser in terms of wattage- but this is reflected in the price!
Most Power Laser Hair Remover
Home Laser Hair Removal units are ideal for reducing and removing unsightly facial hair and underarm hair and hair on the legs, arms, bikini line, back and other parts of the body. Home laser hair removal is suitable for men and women and avoids the embarrassment and expense of going to a beauty salon every month for waxing or other hair removal treatments. . (NB laser is not suitable for dark skins – read the instructions carefully before purchase) Ensure you purchase these units from authorised sellers as the warranty is only valid when buying from an authorised reseller.