Le Creuset stoneware salt pigs are a cute yet practical addition to your kitchen. They are handy to keep salt within quick reach on the kitchen work top.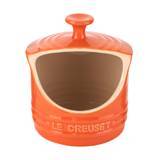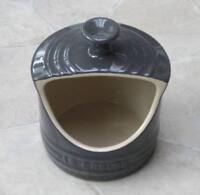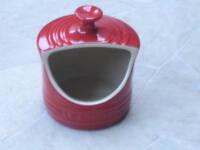 Salt Pig Orange
Salt Pig Granite
Salt Pig Red
For those who love all things
"Le Creuset
", I am sure you know by now that Le Creuset produces a lot more than just casseroles! Their range also includes practical and stylish kitchen items which are ideal for today's home cook.
One of their latest additions is the Salt pig. Made of stoneware material, a salt pig is used to hold salt, to make it easily accessible to pinch or spoon measure into dishes. The traditional 'open snout' gives just the right amount of access to grab a pinch of salt whilst also preventing it from clumping as it doesn't allow too much 'kitchen air' to get into it.
With a 0.3 litre capacity it is ideal for a regular 250g pack of sea salt. The exact dimensions are D:115 mm x H:160 mm. It is easy to clean, enameled and dishwasher safe.
Why are they getting so popular?
On modern food and cooking-related television programming, the salt pig is popular because it is considered to be more stylish than ramekins and salt shakers.
History
With its historical roots in Scotland, for centuries the salt pig has assisted cooks in preserving and properly measuring their salt. According to the writer Muness Alrubaiehis who researched the origin of the term "salt pig," the use of "pig" is found in Scots and northern English dialect meaning an earthenware vessel.
Fun Facts
The salt pig shares its linguistic roots with the piggy bank, as, says Alrubaiehis, "pig, or penny pig can mean an earthenware money-box," as in the popular "piggy bank."
One word of warning:
"don't put the Salt Pig near the kettle or the kids will put it in your tea thinking it is sugar".
At
The Hungry Cook Creuset
shop on Ebay, we currently have Le Creuset salt pigs in a variety of colours
Thanks for reading.