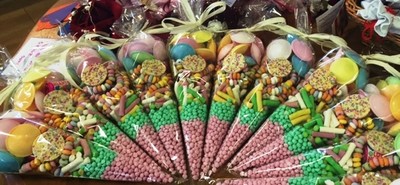 Wow your party guests with your creative flair!
Introduction
It may seem like a pretty easy thing to do – make some party cones filled with sweets for a birthday party or celebration. Well, in theory, it is... but it isn't as easy as it looks, you have to consider the placement of the sweets (you ideally want them to stay in place) along with the colour scheme and how you will decorate the cone once it is full.
Where to start
Well now you are almost there –you have your empty cone bags, your twist ties, your thank you stickers and your curling ribbon... let the fun begin!
Millions or other small sweets (such as rainbow drops which are a cheaper alternative) are better suited to the bottom of the cone padded down with a marshmallow so that it just fits snug into the cone. This helps to stop the small sweets running into the rest of the sweets in the cone.
I'd then suggest a contrasting colour of maybe a larger sweet such as Haribo rhubarb and custard.

The rhubarb and custard sweets can also be separated if you are having a particular colour theme. These are about £4.50 per tub of 600 at wholesale price or you can buy from your local sweet shop if it is smaller quantities. (About 1p each).
Bon bons will sit well on top of anything really, about 5/6 per cone. Again, either contrasting colours or stick to the same colour theme as they are available in many colours.
I would then put a sweetie necklace in near the top which cost about 12p retail finished off with 3 or 4 flying saucers to pad the top out or large marshmallows. You can get marshmallows now in bright colours (they are called paintball sweets) and are available in blue, yellow, green and pink.
If you need a lot and can get a trade account they are in bags of 150. Alternatively you can get smaller amounts from ebay or your local sweetie shop. Or check out my items as I often sell them too.
You can also get a great big bag of white mallows from discount shops which may be more cost effective for smaller amounts.
Finishing the look
Once you are happy with your filled cones, simply twist the top, then tie the twist tie around it. Then fold it in around the cone so that it isn't sticking out, making it ready for the ribbon. Tie the ribbon in a knot covering the twist tie, leaving two equal lengths of ribbon. Then use scissors to 'curl' the ribbon by pulling the edge of the scissors firmly and quickly along the ribbon. You may need to do this 2 /3 times to get it really curly.
You could add all kinds of decoration – look at my twitter page for inspiration @sweetmafia_uk
I hope you make some gorgeous sweetie cones and that they go down well at your celebration! Thank you for reading the Sweet Mafia Sweet Cone guide.