Makers and Importers Marks on Vintage Watch Cases
Many watch cases have marks on them that can tell us more about the history of the watch, even if there is no makers name on the movement. These take the form of maker's marks, which can identify who made the case, sponsor's marks on imported cases, which can show who imported the case and sent it for assay, and hallmarks, which can tell us where and when the case was assayed. I have collected here a few sponsor's and maker's marks that I have encountered most frequently on the WW1 era vintage watches that I collect and that I have been able to find out something about, I hope you find this useful.
There are more marks on my vintage watch web site, together with discussions of British and Swiss hallmarks. Link to external web sites are not allowed in ebay guides but you can find a link to my web site from "About Me" page, which you can get to by clicking the blue and red "me" next to my ebay ID.
Maker's Marks and Sponsor's Marks
Before items of precious metal (silver, gold, etc.) can be legally retailed as such in the UK they must be "assayed", that is tested, to make sure that the metal is what is stated, and marked as such. To be able to send an item for assay, a person has to be registered at the assay office and an official punch created, which is stamped alongside the hallmarks. At first the maker registered his initials at the assay office and the mark was called the "maker's mark". As trade expanded many more people, not just the maker, were allowed to register with the assay office and send items for assay, so today the registered mark is called a "sponsor's mark".
Arthur Baume

This AB mark is the sponsor's mark registered at the assay office by Arthur Baume (1888 - 1923) Managing Director of Baume & Co. Baume & Company were the importer of Longines watches to the UK and all of the British Commonwealth, and also watch makers in their own right. Otherwise unmarked Logines watches from the early 20th century often bear the mark "B & Co." for Baume & Co. next to the movement calibre number under the balance wheel. Below is an interesting Longines Borgel case which bears the AB and B & Co marks as well as the FB for Francois Borgel (see below).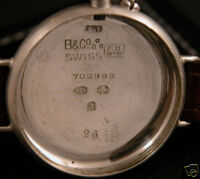 Francois Borgel
Francois Borgel was a watch case maker in Geneva. He registered his "marque de fabrique" or makers mark (trademark) of his intials FB with the key of Geneva, in March 1887. He patented his famous "screw case" watch case design on 28 October 1891 with the Swiss "Brevet" or Patent, number 4001, and in the UK on 24th November 1891 under Patent number 20,422. The Borgel case was an early attempt to make wrist watches resistant to dust and moisture. It is a one piece case with no separate back. The movement and bezel are mounted on a threaded ring which screws into the case from the front. Manufacture of Borgel cases continued after the death of Francois Borgel in 1912 under the direction of his daughter Louisa Borgel, and then 1924 the company was taken over by Taubert & Fils. Taubert & Fils was one of the finest Geneva-based case makers and specialized in water-resistant cases. They worked with many firms, including Patek Philippe and Vacheron Constantin. The pictures below show Borgel's FB-key trademark of his initials with the key symbol of Geneva, and a Borgel cased wrist watch.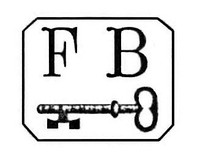 Arthur George Rendell
The AGR initials, usually seen with dots in between as A·G·R, are the registered sponsor's mark of Arthur George Rendell. Rendell's sponsors mark was first registered with the London Assay Office on 25 June 1907, following the 1907 Act "Assay of Imported Watch-Cases (Existing Stocks Exemption)" which came into force on 1 June 1907 requiring all imported watches to be assayed and hallmarked in a UK assay office. Before 1 June 1907 the hallmarking of imported watches was rather haphazard - see one of my other guides for more information about this. Rendell was an employee of Robert Pringle & Sons, one of the UK's largest wholesalers of jewellery, silverware, clocks and watches at 40 to 42 Clerkenwell Road, London.

George Stockwell
GS is the sponsor's mark of George Stockwell, described in Culme's "Directory of Gold & Silversmiths...etc." as an "importer of foreign watches". Culme also provides some details of Stockwell's firm, Stockwell & Co Ltd, who were listed in Birmingham in 1912 as 'agents to Messageries Nationales Express and Messageries Anglo-Suisse, continental, foreign and general shipping agents, special tariff for small consignments abroad".
The picture below left shows Stockwell's sponsor's mark on a watch with a London import mark (the inverted Omega on a crossed oval cartouche (the oval signifying silver as opposed to a rectangular cartouche for gold) a .925 mark showing the purity as "Sterling") and 1915 "u" date stamp. The picture below right shows Stockwell's mark on a watch with a Birmingham import mark (the triangle in an oval cartouche, with again the oval cartouche signifying silver) and a 1918 "t" date stamp. You can see that the block sticking up at the top of the GS cartouche varies considerably in width from the narrow one on the London mark to the much wider one on the Birmingham mark.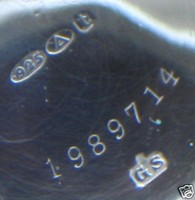 Although many Swiss made cases from the WW1 era don't have a maker's mark, the sponsor's mark and the case makers mark are sometimes seen together. For instance, below left is a picture of a case with the AGR sponsor's mark and also the FB-key maker's mark mark, and below right is a case with the GS sponsor's mark and FB-key marker's marks together.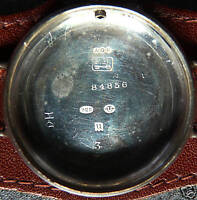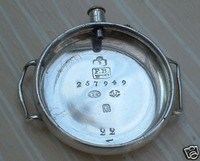 I hope you have found this guide helpful and would consider registering a positive vote for it. If you have found it unhelpful, or if you think that there is something wrong or that could be improved, then please let me know. Thanks!
There is a lot more information about the marks in cases and lists of sponsor's marks, as well as information about watch makers, watch movements, dials and hands and much more on my web site, and you can send me questions. Ebay rules mean I can't give a link to it here but you can find it by clicking the blue and red "me" next to my ebay ID and find a link to it.
Regards - David Boettcher