Morris Minor Police Car
This is one of many illustrated classic car guides I've created for the community. I hope you enjoy it. If you wish to find out more about the classic Morris Minor car art featured in this guide please click here.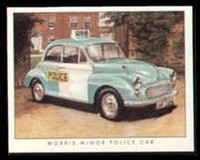 With the introduction of Unit Beat Policing in the 1960s, numerous police forces across Britain chose the Morris Minor for their Panda Car requirements as it represented the ideal small car for this type of work. Cheap to buy and maintain, they became a familiar sight across Britain, some seeing service until the mid 1970s, long after the demise of the Minor in 1971. Usually two-door 1000 saloons, the striking panda livery consisted of white for the doors and that part of the roof forward of the B-posts, while the remainder of the vehicle was finished in Bermuda Blue. Interiors were usually black and of standard design except for the special zipped headlining, which was fitted to give access to the wiring for the roof-mounted illuminated Police sign.
If you would like to see more guides on classic Morris Minor cars please click!
Thank you for reading my guide and I hope you found it interesting!