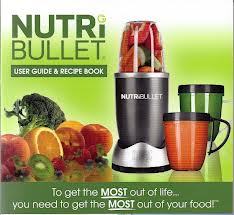 Super food extractor
Wow - ever wanted to get super healthy in a few days. Join the green smoothie revolution. Just throw in some green veg ( spinach), add fruit ( strawberries and a banana) and wham you have an ultimate super food delicious drink packed with nutrients.
Quick, and easy to use and most important very easy to clean compared other blenders. Super food on the go. Have one of these shakes for breakfast every day and you will see the benefits in days. Your skin will glow, you will sleep better and you could drop a few pounds too. Power: 600 W
Capacity: 0.68 litres
Dishwasher-safe parts
Includes 11 accessories

Liquify almost any ingredient with the silver NutriBullet, complete with a range of accessories.

The NutriBullet juicer is really easy to use. Simply place your ingredients into the tall cup and use this 600 W mixer to blitz them into a smooth mix. The powerful motor and bullet cyclonic action force ingredients through the blades so that even nuts, seeds and ice will be blended. It rotates at up to an impressive ten thousand rpm, which means it can break down stems and seeds to release nutrients.
The milling blade makes it suitable for milling grains or grinding fresh herbs, and the stainless steel design means you won't need to sharpen it.
The cups are dishwasher-safe and you can rinse the blade under the tap when you're finished.

A selection of accessories included with the NutriBullet allow you to create delicious and nutritious meals without needing to purchase additional equipment. The short cup is ideal for single servings, and includes a comfort lip ring that makes your drinks easier to hold. The handled short cup provides an even easier way to enjoy your drinks.

The pack includes two Stay-Fresh resealable lids that fit both the short and tall cups so that you can take your healthy drinks wherever you go.

This blender also includes a recipe book full of inspirational ideas. The handy Pocket Nutritionist companion guide helps to steer you through healthy eating so you can make the most of your new blender.

Stay fit and well when you bring home the silver NutriBullet.