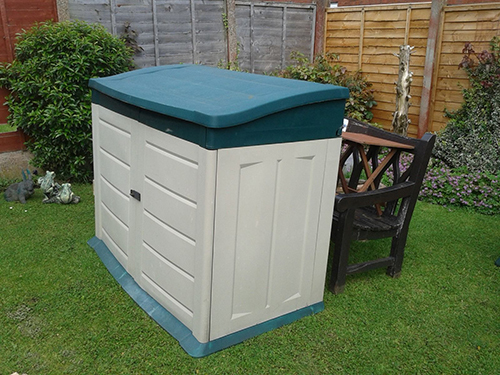 An assortment of tools and a riding or push mower needs a home by way of a garden storage unit. The most economical and maintenance-free type is a plastic storage module available in many styles, colours, and shapes. Before buying your plastic shed, get a handle on your buying possibilities, and then review listings by eBay sellers to find the perfect storage space.
Storage Chest or Box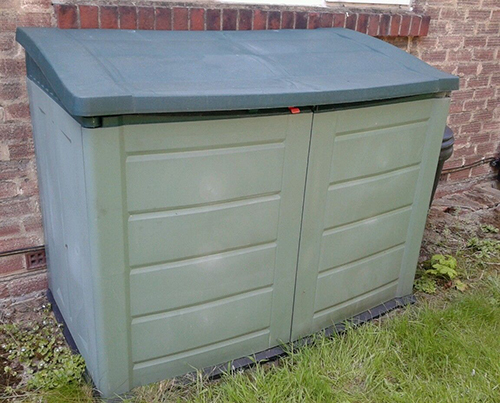 One choice when buying a plastic storage shed is a chest resembling a toy or linen chest, only it is a plastic storage unit. The chest is an ideal size for storing outdoor furniture cushions, pool supplies, garden tools, and sports equipment. Measuring 140x62x72 cm, the all-weather plastic box is beige, mocha, or another colour with a contrasting lid shade. The lift-up lid is lockable and when closed serves as temporary seating positioned on a deck or patio. The storage unit never rots and has wheels and handles for moving easily to another location in the yard. The unit comes ready to assemble without needing tools for completion.
Sheds with Shelving
When considering what type of plastic garden storage unit to purchase, you may want shelving for storing trimmers, hand tools, gloves, and other items. A tall plastic utility cabinet measuring 75x44x158 cm opens up to reveal two shelves and a sturdy bottom which supports heavier objects. Contents stay safe and dry, and you may padlock the doors for further security. Other units have three adjustable shelves holding up to 20 kilogrammes per shelf made from recycled material in a grey and black plastic.
Larger Sheds for Mowers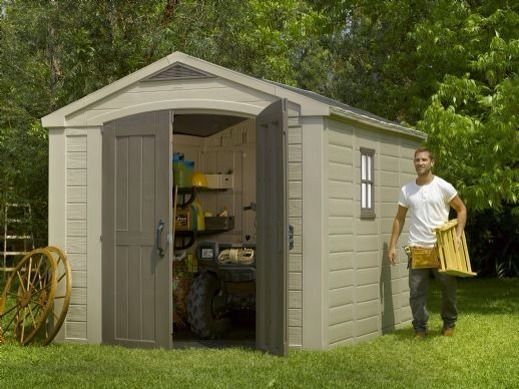 When looking at large plastic sheds, the Keter shed manufactured by Keter Plastic LTD, is large enough to accommodate a riding lawnmower. The polypropylene resin shed has double, swing-out doors with a high-arch roofline, a window, and a skylight. The maintenance-free shed is UV resistant to fading, has a woodgrain finish, and does not rust, warp, or dent. The floor panel means you do not need to put down concrete, and the gable vents help cool the building during summer. The structure reinforced with steel includes two shelves, is set up to include a lock, and has a storage capacity of 11.8 cubic metres. Look for a Keter unit with an additional access door for ease of use when removing objects, such as a stepladder or gas grill. The same unit features a window for increased ventilation. Some buyers purchase tie-downs to anchor the unit to the ground.