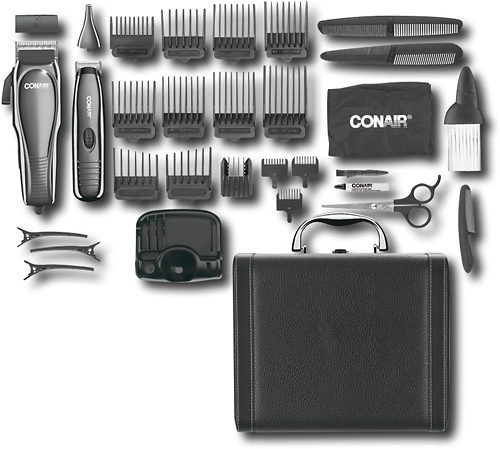 Professional Hair Cutting Kits are great for a clean, professional looking hair cut without having to go the barbers or hairdressers. Hair Cutting Kits offer an incredible range of options when it comes to getting the exact look that is required from the comfort of your own home.
All Professional Hair Cutting Kits come with clippers as standard but there are a large range of features available on the clippers and lots of accessories to tailor your hair style to just how you like it, so you don't have to wait for a trip to the barbers.
These kits are also great for grooming different hair types such as nostril hairs, eyebrows and stubble. Professional grooming is a must in the world today and eBay have a massive range of professional hair cutting kits available in the Hair Care and Styling Tools category.
What is a Professional Hair Cutting Kit?
Professional Hair Cutting Kits are essential for grooming. All of these hair cutting kits will come with a professional grade clipper. Some of these clippers will have only one grade setting which is great for trimming stubble. However, a lot of the hair cutting kits available will include detachable grade clips so it is possible to cut the hair as short as is required. The grade clips will normally range from Grade 1 to 8 – including 3 mm, 6 mm, 9.5 mm, 13 mm, 16 mm, 19 mm, 22 mm and 25 mm - every hair length is achievable with the 8 comb guides that come with these hair cutting kits.
Clippers will either be mains operated for continuous power or can be powered by batteries for ease of use around the home. The higher you go in terms of price the better the clippers will generally be, and sometimes a stubble clipper will be included within the set to help get that designer stubble look anywhere and at any time. Of course the clippers are a major part of any professional hair cutting kit, but there is a large range of accessories that are either available with the kit or sold separately. A whole range of hair cutting kits and hair cutting accessories are available to buy now or bid for on eBay.
What is in a Professional Hair Cutting Kit?
To get that exact look that you want, it is very important to have all of the tools to hand as and when needed. It is so easy to keep hair looking trim, neat and tidy with a professional hair cutting kit and can be taken and used anywhere from the home to the office. Most professional hair cutting kits will come with some or all of these accessories to help make sure there isn't a misplaced hair on your head, body or face. All of these accessories are available to buy now or make a bid on eBay.
Comb Guides
These guides allow you to select the length of hair you want left on your head. These guides normally go from Grade 1 (3mm) to Grade 8 (24mm) and are interchangeable. The comb guides are easily attached and detached and are cleaned with warm water after use.
Left and Right Ear Taper Guide
Ear Taper guides are used with the clippers to create evenly blended tapering in a short haircut.
Battery-operated Trimmer
These are great for trimming facial hair to have nice even stubble and also for rogue hairs at the back of the neck. Trimmers can generally be used for hairs all over the body.
Jawline Blending Combs
Jawline blending combs are great for cutting hair along the jawline which can be tricky as sometimes the trimmers can't go along the contours of the jaw. Cutting hair along the jawline can be quite painful as well and the jawline blending combs are great for increasing comfort.
Barber's Comb
This is a standard comb which helps to move the hair around whilst cutting. Combs are generally made of plastic and can be used while blow drying hair as well as cutting.
Moustache Comb
This is a small comb to keep the moustache in check. These small combs are great to carry around as well as for use when cutting at home.
Styling Comb
A run of the mill comb that helps to keep freshly cut hair looking neat and tidy to keep you looking your best at all times.
Scissors
Scissors are one of the most important parts of the hair cutting kit. Hair Cutting Kits come with specialist barber scissors to cut through hair with ease. Be sure to look after them and dry after cutting as the scissors can rust and be unusable.
Sectioning Clips
These clips help to pin hair into place in order to cut different sections and are great for layering and making sure a nice even cut is guaranteed.
Cleaning Brush
Get rid of all the cut hair by brushing the face and neck with a handy cleaning brush. Use talcum powder to brush under the neck and the back of the neck to remove all cut hairs.
Lubricating Oil
This oil should be applied to the skin before cutting to ensure that the skin doesn't get agitated with cutting. It also allows for the clippers and trimmer to glide over the skin and cut evenly.
Luxury Storage Bag
The bags are great for keeping the kit together and can easily fit into another bag when travelling or using changing rooms.
Most professional hair cutting kits will come with these accessories in order to help maintain your hair at home. However, these additions can also be bought separately in the Hair Styling and Tools category on eBay.
What Brand Are Available for Professional Hair Cutting Kits?
When looking for a professional hair cut at home, it is important to have the best tools for the job. eBay has a large range of professional hair cutting kits and accessories available in its listings and there should be something to suit all tastes and needs. A few of the brands available on eBay can be found below:
| | |
| --- | --- |
| Andrew Collinge | Omega |
| BaByliss | Parlux |
| Boots | Philips |
| Braun | Remington |
| Carmen | Revlon |
| Clairol | T3 |
| Corioliss | Tigi |
| ETI | Toni & Guy |
| Fransen | Tresemme |
| GHD | Trevor Sorbie |
| Hair Tools | Vidal Sassoon |
| Mark Hill | Visiq |
| Morphy Richards | Wahl |
| Nicky Clarke | |
Now you know what features and accessories you require from a professional hair cutting kit take a look on eBay and buy the perfect kit in one of the ways you can buy on eBay.
How to Buy a Professional Hair Cutting Kit on eBay
There is a good range of professional hair cutting kits available on eBay. Type in 'professional hair cutting kit' into the search bar at the top of any eBay page and a number of hair cutting kits will appear on the search page. It is then easy to buy these items in the following ways:
Bidding- Just like buying at a normal auction, bid for products with your best offer for that item. You can increase offers at any time until the listing has come to a close. The bidder with the highest bid will then be the owner of the item after payment.
'Buy it Now'- To save time, find the perfect hair cutting kit and buy it at a set price. Searches can be filtered by auction and 'Buy it Now' posts in the search results page.
Listings can be narrowed down by using the advanced search results page. Results can be narrowed down by "Any of these words," "All of these words," or "Exact phrase." Search in "All Categories" to start a search as well.
When purchasing professional hair cutting kits on eBay, make sure to research the seller and find out all of the information for the item that is being bought before actually buying the product.
A few key points to find out about the seller are:
Does the seller have a good Feedback rating about their overall service?
Has the seller completed lot of transactions?
Many eBay sellers work just as any bricks and mortar store would do and have return policies for all customers. Can you find terms and conditions?
eBay Buyer Protection covers all purchases made on eBay and will cover the cost of the item and the shipping of the item if the items aren't as described in the listing or the item doesn't arrive at all.
Conclusion
Choosing the best professional hair cutting kit for you can be quite hard as there is so much to consider including brand and accessories. It is important to consider where and how often the owner is going to use the professional hair cutting kit and what accessories are needed for their hair type and style.
There is so much to choose from in terms of accessories and brands and it is easy to find what you want in the large range of blow dryers available in the Hair Care and Styling Tools section on eBay.