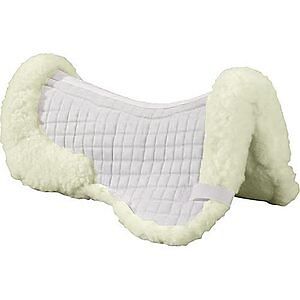 Numnahs are pads used under English saddles to improve the horse or pony's comfort by absorbing moisture. Some horses and ponies have more sensitive skin than others, making numnahs a useful addition to the tack. Besides their practical qualities, numnahs can also add a luxurious look to the tack when showing at events – particularly if they are made of sheepskin.
Sheepskin numnahs can be expensive and lots of horse-owners like to keep several for different occasions. Buying from eBay can help to keep costs down, but be careful to ensure that that the seller is offering a real sheepskin numnah rather than one made of synthetic materials, as these lack the natural advantages of genuine sheepskin. When searching on eBay, look out for titles such as 'working hunter numnah' or 'showing numnah' to source high quality sheepskin numnahs.
Advantages of Sheepskin Numnahs
Numnahs are made from many different materials, both manmade and natural. As well as being considered visually attractive, sheepskin is also regarded as one of the highest-performing numnah materials.
Density of Sheepskin
Sheepskin, where the wool remains attached to the skin, is particularly dense. This serves to relieve some pressure at points where the saddle may dig in to the animal's back and sides. This means that in certain situations sheepskin numnahs are recommended for use in situations where a horse must wear a slightly ill-fitting saddle. However, it is important to stress that a numnah should not be used long-term to compensate for a badly fitted saddle.
Sheepskin's density also helps to make it hard-wearing, improving its value for money over less expensive materials such as cotton.
Breathability of Sheepskin
Despite its density sheepskin is highly breathable. It is composed of masses of softly curled fibres that hold many microscopic air pockets. These allow the air to circulate and water vapour to be released.
Absorbency of Sheepskin
As well as allowing water to evaporate, sheepskin draws water and sweat away from the horse's back. Wool is able to hold 30% of its own weight in moisture before it begins to feel damp, which means the horse feels drier for longer.
Thermostatic Qualities of Sheepskin
Because of sheepskin's density and structure it warms up and cools down more slowly than other materials. This reduces temperature fluctuations in the horse's back muscles, reducing the risk of injury.
Some numnahs available on eBay are made up only partly of sheepskin, which is sewn to a cotton backing. While these pads tend to be more affordable, some people report that the seams can cause rubbing under the saddle, which can be uncomfortable for the horse.
Numnah Sizes
Numnahs come in several sizes, usually:
| | |
| --- | --- |
| 15 inches | Pony |
| 15.5 – 16.5 inches | Cob |
| 17 inches and over | Full size or Horse |

Points to Note When Assessing Numnahs Online
It is important to fit the numnah to the saddle rather than using the height of the horse as a guide. If buying both a saddle and a numnah on eBay but from different suppliers, it is a good idea to buy the saddle first.
Numnahs are cut to suit different shapes of English saddle, some of which have more forward-oriented flaps than others. When buying online on sites like eBay, be sure to look carefully at the images and request detailed measurements if necessary to ensure that the numnah is the right shape for the saddle.
It is also possible to buy sheepskin half-numnah's which have the look of saddle pads, lacking the lower part of the traditional numnah that sits under the flaps.
If buying a replacement numnah for an existing saddle that fits well, be careful that it is not deep-piled. Just as putting thick socks on makes our shoes tighter, placing a thick numnah under a well-fitting saddle will affect the horse's comfort.
In a situation where the saddle fits well without a pad but a numnah is still desired, a low-pile sheepskin numnah that is not bulky should mould well to the saddle and to the horse.
If the saddle has a wide head, which is the part that is in the shape of an upside-down 'u', which sits above the withers, it will probably be able to take a thicker numnah.
It can be useful to have a spare numnah in reserve, as the numnah may need to be changed depending on the activity engaged in and the level of exertion.
Styles of Numnah
General Purpose Numnah
Designed with padding to suit everyday riding, for example, lessons or short hacks.
Dressage Numnah
Specifically designed for the dressage saddle, which has a slightly different shape to accommodate a deeper seat than a regular saddle, and long flaps so that the horse can detect subtle signals from the rider.
Jumping Numnah
Similar to the dressage numnah, and tailored to help absorb shock and increase the comfort of the horse during jumping.
Western Numnah
A numnah in the style of the western saddle cloth, and usually used in conjunction with a western saddle.
Half Numnah/Pad
This is a partial numnah that is used to adjust saddle fit if the saddle is too low or too high in one area.
Buying a Used Numnah
Purchasing tack second-hand can be a way to avoid exorbitant costs, and as quality sheepskin numnahs wear well and are designed to be durable, this can be an excellent option. eBay is a great place to compare the costs and conditions of numnahs, both new and used, from a variety of sellers.
For new horse owners in particular, a used numnah could be the best way to ascertain their preference, and to discover which style works best for them.
When buying a used numnah, be sure to wash it before using it on the horse, to prevent the possible transmission of germs or skin conditions – see caring for sheepskin numnahs below.
Fitting a Numnah
Once a numnah purchased on eBay has arrived, put it on the horse to check that it fits. Make sure the numnah is pushed up into the saddle's gullet so that it does not press down on the horse's back. Also check that there is a clear margin of numnah visible around the saddle. If not, it will tend to rub the horse's skin uncomfortably.
Numnah Colours
Sheepskin numnahs are available in a spectrum of colours, and as such they often appeal to children and to those entering flamboyant events such as show-jumping. Lots of riders favour natural white or cream sheepskin, while others like to match the colour to the horse – or to the tack. While show-jumping encourages colours, other events like dressage require dark numnahs that match the saddle.
Caring for Sheepskin Numnahs
Sheepskin numnahs can be a little harder to maintain than fabric ones. However, with the right treatment a sheepskin numnah will last for many years and remain in good condition.
Before riding, check that the sheepskin is clean and dry and give it a brush to fluff up the fibres.
When the numnah needs to be washed, first brush off the surplus dirt and loose fur. Then massage fabric conditioner into the wool side. Use non-biological washing liquid as biological powders break the wool proteins down. Because powders tend stay in the wool it is preferable to use liquid detergent.
Always wash in cold water on a gentle cycle. Reshape the numnah and allow it to air dry. Applying heat will cause the skin to dry out. Use a brush to fluff the wool once it is dry.
How to Buy Sheepskin Numnahs on eBay
When buying a sheepskin numnah on eBay, if the seller hasn't provided detailed measurements you can request as many measurements from the seller as possible to help judge whether a numnah is the right size for the saddle and the horse.
To search for numnahs, type into the search box 'sheepskin numnahs'. Some buyers have a good idea of the type of product they want to buy, such as 'sheepskin numnah 17" Using the search feature will help you find exactly what you need.
When searching through listings, carefully review all the data. Make sure the item matches what you had in mind. Scrutinise the photographs available and do not hesitate to Ask the Seller a question if you need clarification on any issues or require additional details. Visit the Buying Tips page for more information.
Once you're ready to buy, you can either place a Bid, Buy it Now, or put down your Best Offer. Buying with PayPal will ensure a smoothe transaction and guarantee your security. eBay users are protected by the Buyer Protection Program.
Conclusion
Regarded as the most luxurious of all saddle pads, genuine sheepskin numnahs are more expensive than many other types, and can be harder to maintain. They are often worth the extra cost and effort though, and their popularity persists due to the natural high performance of sheepskin and its attractive appearance. Looking for sheepskin numnahs on eBay will mitigate costs while allowing the buyer to benefit from the advantages that sheepskin offers over other materials.