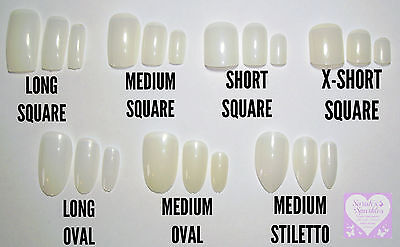 Step 1 - Choose your shape
So, before you dive into the size charts, you need to know what kind of shape and length you're after. After all, if you want a fairly short set, you don't really want to waste your time looking at the size charts for Long - Ovals, or Extra Long Squares.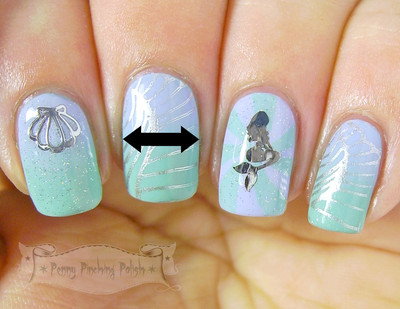 Step 2 - Get YOUR measurements
Next we need to find out how long and wide your natural nails are. The picture shows where to measure for the width. (I'm wearing polish in this photo, but it's best to measure with naked nails)


For the length, you just need to make sure that your taking it from the longest part of your nail.

There are a couple of different ways you can take your measurements............

- If you trust your hands to stay nice and steady, then just hold a soft tape measure across your nail and take them that way. (make sure that the tape measure is flush against the entire surface of the nail, and follows the curve all the way around)

- If you don't have very steady hands, then you can stick a piece of masking tape across your nail, and use a pen to mark the tape exactly where the side-walls of your nails are. Once you've made the markings, carefully peel the tape off, and stick it down on some paper, making sure that it's flat. Then just grab a ruler and measure from one mark to the other.

Write your measurements down, making a note of which finger each pair of measurements corresponds to, and which one is width, and which is length.

*ps. your measurements may seem larger than you would expect, especially the width, but don't worry. The curve of the nail makes them appear a lot slimmer to the eye.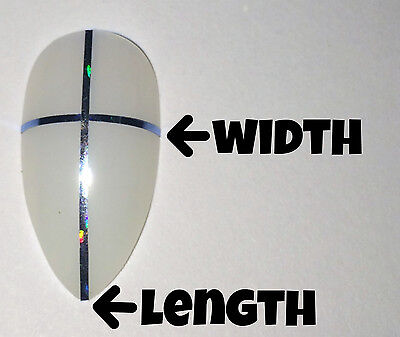 Step 3 - Compare those against the size charts
Ok, so now we have our measurements, it's time to see if those nails you're eyeing up will fit you....
The picture to the right shows where I took my measurements from. I trimmed the silver tape right up to the very edges of the nail, then flattened the tape out so I could measure them with a ruler, so the measurements should be pretty accurate. I'm only human though, so there is a small possibility that there could be a discrepancy of 1mm or so.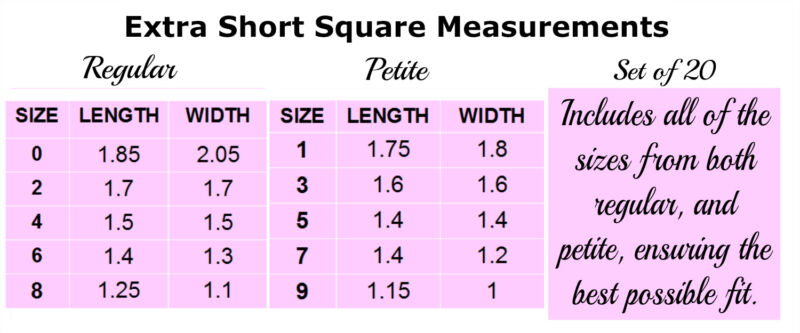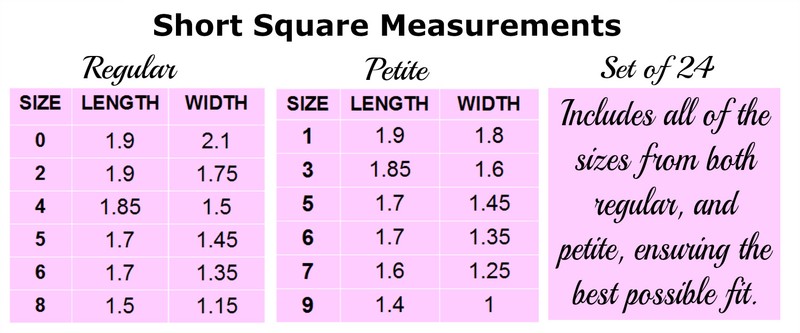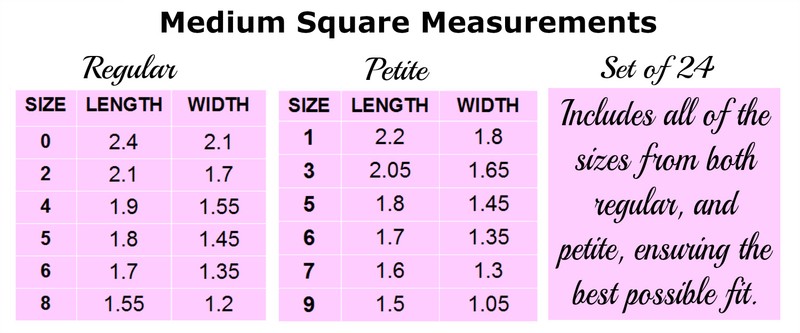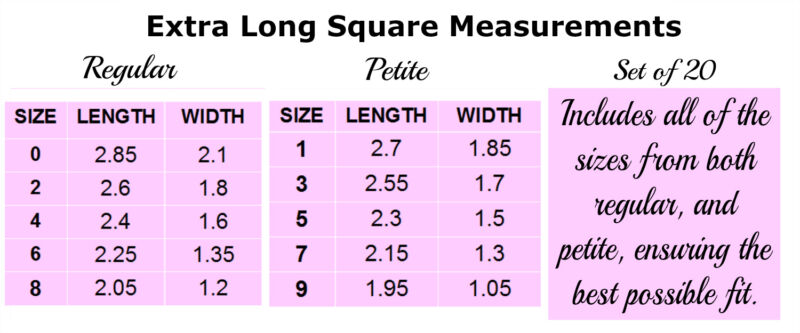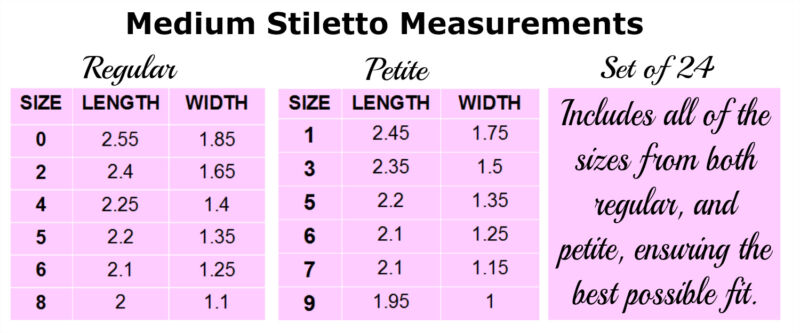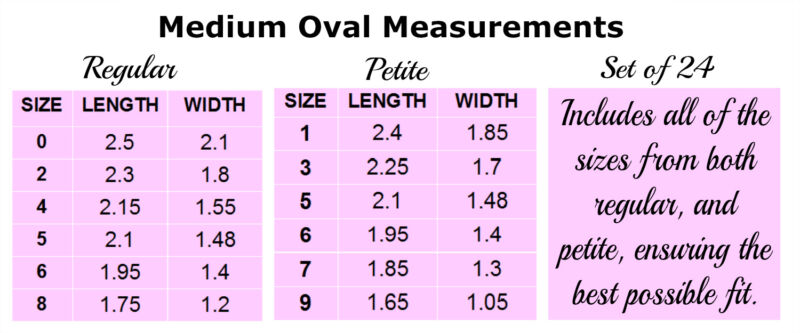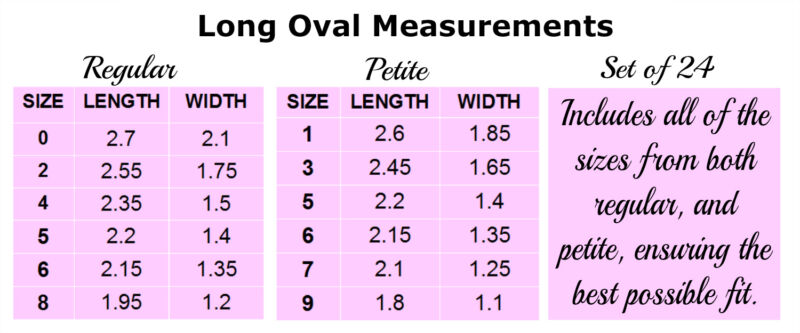 Ok, so now you know what sizes you need, you can decide which set is best for you. If neither the Regular or Petite widths are quite right, and you don't want to purchase a set of 24, then you're always welcome to ask me to create a custom set for you. Just message me, and tell me which design you would like, which shape/length option you prefer, and which numbers you need for which fingers. I'll create a custom listing for you to purchase from, and take care of everything else.


Troubleshooting
What if the sizes there are too big for me/too small for me?
I do carry 2 speciality sizes as well; Extra Small Ovals, and Extra Large Squares. So just send me a message with your measurements, and I'll match you up with your sizes. Hooray!
I'm having trouble getting my measurements/I don't really trust my measurements/Gah, that seems like a lot of hassle....?
No worries! I'm actually in the process of launching some size finders in my store, so you can just grab one of those from me, and check your sizes up close and in person. I require a £3 deposit for the size finders, but if you would like to send it back to me afterwards, I'll happily refund you that £3. Or you can keep it if you like, just let me know which when you order it.
Once they're listed in the store, I'll add a link to them to this guide. But until then, just message me through ebay messages, and I'll sort it out for you.
I hope you found this guide useful, and if you have any questions, or there's something you don't understand, please feel free to message me, I'd be happy to help.
And if you'd like to visit my store you can do so by clicking
here.