Spigot Rings - Are They Even Necessary...?
As the majority of aftermarket alloy wheels are needed to suit a wide variety of vehicles. The centre bore on the back of aftermarket alloy wheel is always larger so it can be used on many vehicles. As the hub of the vehicle takes the weight of the car on the wheels, a Spigot Ring, or centre rings is needed to centrally mount each wheel perfectly. These are generally made of hard plastic or metal and come in a variety of sizes to fit the majority of applications.

Spigot rings are needed to eliminate any wheel wobble, or vibrations that may occur from aftermarket wheels not being mounted centrally onto the vehicles hub. Not using spigot rings is potentially dangerous as the weight of the vehicle will be on the studs/bolts and they could break when driving leading to a wheel coming off!

Below we will detail the simple sizing determination and installation procedure of fitting a set of vehicle specific spigot rings to an aftermarket wheel: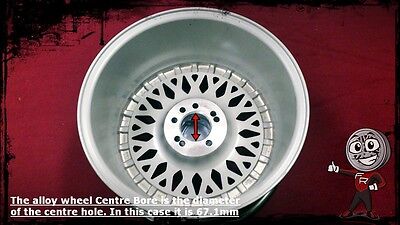 Step.1 – Determine Required Spigot Ring Dimensions
Here we have a 16" Traklite Crosstread wheel in a wider than usual 8" width and with a Positive 20 Millimetre offset (16x8+20) For demonstration sake it will be test fitted onto a 1998 Honda Civic so if we know that car has a 4x100 Pitch Circle Diametre fitment (4x100) and has a hub bore of 56.1mm. The very last piece of information we require is what the centre bore is on the back of the alloy wheel.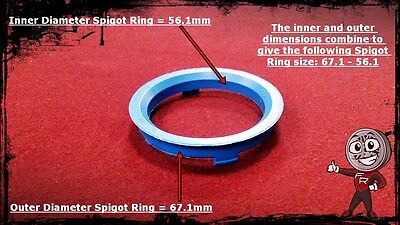 This Traklite Apex has a centre bore of 67.1mm. Armed with this last piece of information we now know that we require a spigot ring with the following dimensions. The Outer Diameter, the side that slots into the back of the alloy wheel is 67.1mm, and the Inner Diameter is the vehicles hub bore, which is is 56.1mm so we need a 67.1 to 56.1 Spigot ring.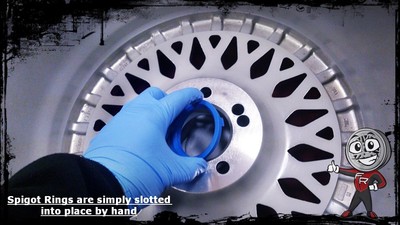 Step.2 – Install Spigot Ring
Now we have located a spigot ring with the correct dimension, all that's left to do is to install it in the centre bore of the alloy wheel. As these rings are made to tight tolerances, the thicker they are, the tighter the fit in some cases. Usually they can just be pushed in by hand. At other times they may need to be tapped in with a rubber mallet.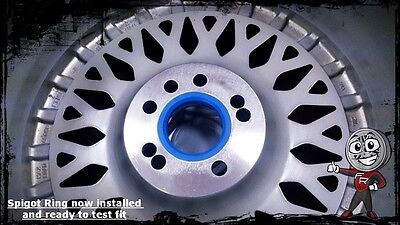 Once the spigot rings are installed flush and pushed in as far as they can go. The wheels are now ready for test fitting.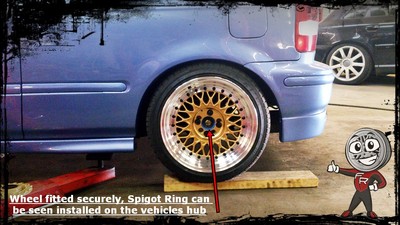 Step.3 – Test Fit
These spigot rings help to mount the alloy wheel centrally on the hub and eliminating any wheel vibrations by ensuring a tight and secure fit.
Legal Mumbo Jumbo
Funky Rims make no representations or warranties of any kind, either express or implied, as to the completeness, accuracy, reliability, suitability or availability of this Guide or the information, products or services contained in these pages or their fitness for any purpose whatsoever. Any reliance you place on such information is therefore entirely at your own risk.