Caterpillar boots are renowned for their high quality, durability, and comfort. For women, the choice is extensive and features boots in a range of attractive, comfortable, and purposeful styles. Since its inception in 1991, Caterpillar has been making work boots, walking boots, and fashionable boots, and many of its women's models are exceedingly popular. Whether you need a pair of quality work boots or a pair of comfortable, fashionable boots for a night out with friends, Women's Caterpillar boots have something for every taste.
Women's Caterpillar Boots Sizes
Getting the size of your Caterpillar boots right is crucial. Too small, and they rub and pinch painfully. Too large and your feet slip around in the boots, causing blistering, bad posture, and an uncomfortable gait. To get an accurate shoe size, measure from the base of your heel to the tip of your big toe in centimetres, and then use the chart below to convert that measurement into a U.K. or E.U. shoe size.
| U.K. Size | E.U. Size | Measurement (Centimetres) |
| --- | --- | --- |
| 3 | 36 | 22.5 |
| 3.5 | 36.5 | 23 |
| 4 | 37.5 | 23.5 |
| 4.5 | 38 | 24 |
| | 38.5 | 24.5 |
| 5.5 | 39 | 25 |
| | 40 | 25.5 |
| 6.5 | 40.5 | 26 |
| 7 | 41 | 26.5 |
| 7.5 | 42 | 27 |
When measuring your feet, remember to factor in the thickness of the socks you are most likely to wear with your boots. If your foot measurements differ, which is very common, always purchase boots for the larger foot size. Similarly, if your foot size falls in between sizes, always choose the larger size to ensure maximum comfort.
Women's Caterpillar Boot Styles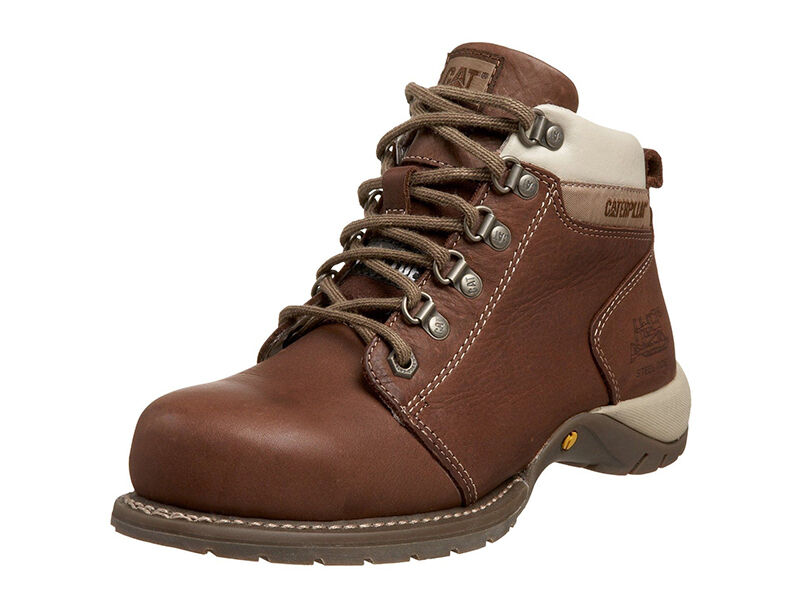 The two main styles of Caterpillar boots for women are ankle boots and knee-high boots. Women's Caterpillar boots offer a range of colours and styles, including the ever-popular and eminently practical industrial boots, to the practical but stylish ankle boots or knee-high boots. The Kitson is among the most popular Caterpillar boots for women, which is an industrial ankle boot with leather construction and a steel toe cap. The Helena is a very popular, fashionable ankle-length Caterpillar boot, with leather and canvas construction, and open side panels for breathability, along with a very small wedge heel for a feminine twist. The Claudette Fern is a popular knee-high offering, featuring an iconic engineer pattern, a white wedge outsole, and top-quality, full-grain leather.
The Caterpillar Rugged Collection for Women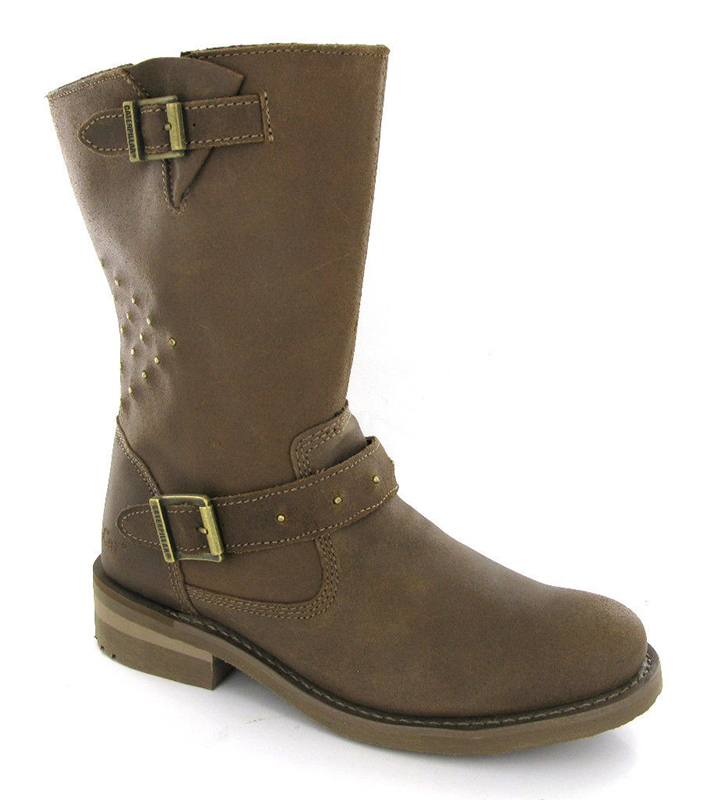 The Caterpillar Rugged Collection for women features an extensive range of practical but stylish boots. For an urban look with a 90s grunge twist, the Women's Everyday 10-inch biker boots have buckle detailing at the tops and at the ankles. With leather construction, these knee-high boots offer comfort and fashion. The Kline is a lace-up ankle boot with a lightweight wedge for a ladylike look on an iconic utilitarian style, boasting high-quality, full-grain leather construction.