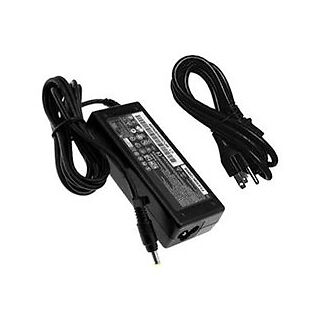 A laptop power charger comes with each new laptop system, and ideally lasts the lifetime of the computer. In the real world, however, this is often not the case. The charger can soon become a lost item, acquire accidental damage, or even get stolen. This is especially so with much of today's computer use taking place outside the home or office.
The laptop power charger is the means by which the laptop battery is recharged. For this reason it is an essential item; for those who daily rely on their laptop, losing one or having one fail entails quickly finding a replacement. There are many places from which a laptop power charger can be sourced, including computer, electronics, and office supplies stores. There are also a host of online locations, but eBay is a particularly convenient source that lists thousands of power charges for all makes and model laptops.
When a power charger no longer works or has been lost, it is essential that a customer replace the charger with another one that is fully compatible. To do so is to look after and maintain one's laptop, but to not to do so is to risk damaging the laptop.
What to Avoid
There are several types of power chargers that are best left on the shelf. It is in the customer's best interest to only choose a charger that is fully compatible with their laptop model, so as to not risk damaging their computer's circuitry. Below, are several examples of what not to buy when replacing a laptop power charger.
Don't Choose a Universal Power Charger
Although, in itself, there is nothing essentially wrong with the universal power charger, its problem lies in what it fails to provide. The charger is designed to be compatible with many different laptop models within a given brand, but the components tend to be short on specifics that some laptops require. Although normally significantly cheaper than the OEM ideal, universal chargers often display problems in their delivered voltage, their fit, their power tips, and sometimes, their price.
Although universal charges perform their role well for many laptops, they are not as universal as they purport to be. Therefore, for the customer who wishes to purchase one, it is important they be circumspect and only choose one from the most reputable manufacturers and made to the highest standards.
Don't Choose a Solar Laptop Power Charger
Solar powered laptop chargers are an efficient and green way to charge a laptop. These charges are completely different from OEM models and exhibit many great design qualities. They are purported to be safe to use with all sorts of laptops, but their compatibility with specific laptop models cannot be determined.
Don't Choose a Cheap Laptop Power Charger
It is best to avoid cheap power charges as the lower grade components are likely not to last. Additionally, cheap charges are more prone to overheating the laptop through inconsistent power inflows, such as a power surge. Although commonly adequate in the short term, such charges are not a long term solution.
Don't Choose Another Brand Power Charger
If a customer purchases a power charger that is a different brand from than their own laptop, it is unlikely to fit. If it does, it may cause problems to the laptop, particularly the circuitry if voltage levels are different. Although it may be possible for a customer to find another brand's charger that seems compatible with their laptop, there is really no advantage over choosing one from their own. The fact that it is designed for a different laptop should in itself be a deterrent.
What to Look For
One of the main features to look for when replacing the power charger, is that the new charger has the same voltage as the old one. This is essential to avoid burning the internal circuitry of the laptop which may cause irreparable damage. An obvious compatibility requirement is the adapter on a given power charger. It needs to have the same tip as the previous charger, or at least facilitate an adapter with the same fit.
Do Choose The Recommended Power Charger
A laptop power charger should be replaced with its own kind. A customer can find this information from many places, including their old power charger box, the bottom of their laptop, or the manufacturer's website. If shopping online for a new charger, this information should be found in the item's specifications. There are really very few options for the customer who wishes to make a zero risk purchase. The choice is simple, an OEM or at the very least, a generic charger.
Do Choose an OEM Laptop Power Charges
The ideal power charger replacement is an original equipment manufacturer (OEM) charger that is designed for specific laptop makes and models. All laptops have their list of recommended OEM replacement parts, and aside from the invested interests of manufacturers, there are obvious practical advantages to staying with them. Finding an OEM power charger for a specific model laptop in a brick and mortar store can be a challenge, although staff may offer to place the item on order. Online stores often carry a wider selection, and prices are competitive. OEM parts normally retail for much higher prices than non genuine, but eBay is the first place to check, as this is where large savings on OEM parts are most often made.
Do Choose a Generic Power Charger if Deciding Against an OEM Charger
If a customer wishes to purchase a power charger that is not made specifically for their laptop model, they may be safe to choose a generic charger.Compatibility is generally assured and is certainly preferable over the universal charger option. A generic charger may save the customer some of the purchase cost, but they must still ensure it is capable of supplying the laptop with the power it needs. This means further checking on the part of the customer, who must determine the wattage requirements of their laptop before they make a purchase. Power requirements can normally be found on the existing power charger itself. If this cannot be done, a customer should check the label on the bottom of the laptop or the user manual. Failing this, they should contact the manufacturer.
Assessing the Right Charger
The following simple chart is designed to help a customer make a power charger replacement choice as straightforward as possible. Making the right choice may cost them slightly more initially, but save them a lot more later on.
| Type of charger | Price | Compatibility |
| --- | --- | --- |
| OEM laptop charger | More expensive | Guaranteed one hundred percent compatibility |
| Universal laptop charger | Less expensive | Compatibility not guaranteed |
The cost of replacing a laptop power charger is largely determined by how it is sourced. The chart indicates that an OEM charger is more expensive than the universal option, and this is true in terms of their retail price. However, an OEM charger can just as often be purchased on eBay for less than a universal charger costs in store.
How to Buy Laptop Power Charges on eBay
Laptop power charges are available for all laptop brands and models on eBay. When you have ascertained the type of charger you need, simply enter the brand and model number into the search bar, such as Asus X501A power charger. Alternatively, if you wish to browse a broader selection of compatible chargers, you could search by brand name only. When you have found a few listings that you believe to be suitable, make some comparisons between these items to ensure product consistency. It is worthwhile checking photographs carefully, and noting any significant differences in terms of sale and returns policies. Email questions to the seller if you are unsure of anything pertaining to the item.
It is also wise to check if the seller has a good reputation with previous customers through their positive feedback score, and to take note if they have an eBay top rated seller certificate. This is not to suggest that you should not trust your seller, but rather to help you invest confidence in them prior to making a purchase.
Conclusion
Laptop use invariably involves having the right laptop power charger. It is one of those non negotiable items that is part of the package. Having a charger suddenly become unusable or lost can quickly become a serious obstacle in the path to completing some necessary work, carrying out online banking, or just socialising with friends. There are many places a charger can be purchased if in a hurry, but eBay is the ideal location from which to purchase laptop power charges, including many other laptop accessories.
When purchasing a laptop power charger, it is critically important that a customer choose a type that is fully compatible with their laptop. The safest and best way to do this is to choose an OEM charger that is guaranteed for the laptop it is designed for. Although cheap alternatives abound throughout the online world, the risk of laptop damage makes this option drastically less attractive.