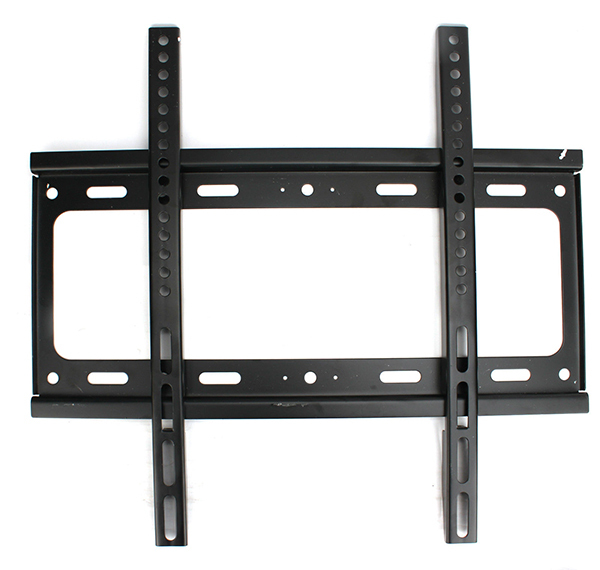 With the ubiquity of flat screen television models, all of which are likely to form a focal point to any room, systems for displaying the screen are myriad. Nevertheless, out with aesthetics, spatial restrictions are also benefited by wall bracket systems. In short, they're a real space saver. Before buying a wall bracket, however, there are a few important factors that should be taken into consideration.
Types of Flat Screen TV
Different types of television need different amounts of space between the wall and the screen. In general, LED models require less space than an LCD or plasma screen as they are thinner. Most wall brackets will specify which type of television they are most suitable for, and it is vital to buy the correct bracket as the weight and size of the screen may interfere with the stability and safety of the device.
| | |
| --- | --- |
| Plasma | Plasma televisions create the picture by sending an electrical charge to a sheet of small plasma cells. The weightiest type of flat screen TV. |
| LCD | Constructed of liquid crystal that is pressed between glass plates and backed by a fluorescent lamp, LCD televisions create a picture by applying an electrical charge to the crystal. Lighter and thinner than plasma television flat screen models. |
| LED | LED televisions are of a similar construction to LCDs, but they use hundreds of evenly distributed LEDs rather than a fluorescent light source. The lightest and thinnest flat screen television model. |
Types of Bracket
There are three main types of wall mount brackets, all of which have their advantages and disadvantages. No matter the preference for type, ensure that the bracket provides the manufacturers' recommended distance between the screen and the wall.
| | |
| --- | --- |
| Low profile | Typically, low profile or fixed wall mounts are the easiest to install a television onto and therefore tend to be most cost effective. The mounting process is almost as easy as hanging a picture, but the television cannot be adjusted after installation. The lack of movement also means that the television will have to be physically removed from the mount in order to change cables or fittings. |
| Tilting | Although a television can be as easily attached to a tilting wall mount as to a fixed mount, the vertical viewing angle of the television can be adjusted after fitting. Constructed with a centralised pivot, the mount allows for cables and fittings to be changed more easily, but the tilt feature is, nevertheless, limited. |
| Full motion | A full motion mount has, as the name would suggest, a full range of motion. Also known as a swivel mount , this type of bracket is more complicated to attach to a television due to the attached arm. Nevertheless, the viewing advantages are myriad, as the brackets allow not only a vertical adjustment of the screen, but also a horizontal adjustment. Additionally, the screen can be moved away from the wall to facilitate a complete range of movement. |
How to Fit a Wall Bracket
Always ensure that any instructions accompanying a wall bracket are followed. Although the process listed below will inevitably bear similarities, the manufacturer's recommendations should always be acknowledged in order to ensure safe and long term use.
| | |
| --- | --- |
| Find the perfect mount location | Before fitting, try various seated positions around the room to ensure that the location is perfect. Make sure that the viewing distance is appropriate for the screen size. |
| Consider the logistics of support | If possible, attach the bracket to a solid brick or block wall. If the room is panelled in plasterboard, ensure that the screws and fittings are attached to underlying studs. If at all concerned about the stability of the vertical surface, consider attaching an additional panel of wood as extra support. |
| Check all measurements | Use a spirit level and measuring tape to make sure that the fitting is perfectly level and centred. |
| Use the right tools | Only use the bits and fittings appropriate to the wall type. |
| Double check the measurements | Make sure that the marks and holes are correct, making any necessary adjustments before screwing in the bracket. |
| Secure the bracket tightly | When fitting the screws through the bracket's holes, use a screwdriver to fully tighten them. Make sure that the bracket is steady before making the final turns. |
| Complete construction | Make sure that all available components of the mount kit are fitted according to the instructions - either to the mounted bracket itself or directly to the television. |
| Make sure the fitting is flush | If the TV cords cause the screen to sit further out than preferred, consider using an HDMI lead with rotating connectors. These adapters have easy rotation, up to a 90 degree angle, which will allow a closer fit. |
Do's and Don'ts
Before considering fitting any bracket, a DIYer should consider not only how comfortable they are with the physical aspects of drilling and hanging, but also whether they are able to effectively judge the suitability of any wall or service to hold the weight of the device. Televisions are both expensive and heavy, and it may therefore be advisable to seek professional assistance.
| | |
| --- | --- |
| Do make sure to buy a bracket that is recommended for use with the television model to be fitted. | Don't attempt to 'make do' with an unsuitable bracket. Not only would a falling television and any associated damage be very costly, it could also be potentially injurious to anyone nearby. |
| Do consider the advantages and disadvantages of each type of bracket before purchase. | Don't use a bracket unsuitable for the space or spatial capabilities. |
| Do make sure that the bracket is suitable for the TV weight | Don't use a model that is too flimsy for the screen. Again, a collapse will be expensive and possibly dangerous. |
| Do make sure that there are at least two willing bodies available to help manipulate the television into place. | Don't try and hang the television without help. |
How to Buy a TV Wall Bracket on eBay
To buy a TV wall bracket, first go to the eBay homepage, opening the All Categories tab, then scroll down the page until Electronics is seen, click theSound & Vision tab and then select TV & Home Audio Accessories.. Further filters will then appear in the left hand column, so choose TV Wall Mounts & Brackets, whereby all available listings will be shown. Alternatively, use the bar at the top of any eBay page, and key in the search term "TV wall mount".
Conclusion
Flat screen televisions are almost a decorative choice in themselves. With a huge range of sizes, finishes and features, a television is an investment not only in a regular leisure activity, but also in a home's decor. Wall brackets and mounts are a vital embellishment to a theme, turning the television into wall-hung art. Wall mounting also frees up floor space and can negate any physical room limitations. When fitting any television mount or bracket, it is important to consider any recommendations suggested by the manufacturer and adhere to any instructions provided. Given the weight and unwieldy nature of a flat screen television, it is advisable to have a few extra bodies to act as helping hands so that the fitting can be completed safely and securely. A screen will generally have a recommended distance from wall to surface. Should the wires make the television to sit further out than is advised, consider using an HDMI lead with rotating connectors to allow a closer fit. The most important factor to consider before purchasing a wall bracket is the support capability. An unsuitable wall mount may not only cause damage to the device, but may even cause injury to anyone nearby if the bracket fails.