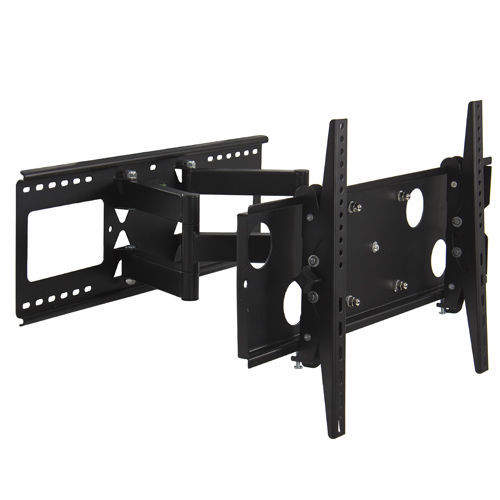 Various types of TV wall mount, or TV bracket, are available for fixing televisions to the wall rather than placing them on a TV stand. They enable televisions of different styles and sizes to be positioned in either a fixed way or one that allows varying degrees of movement.
Choosing a TV Wall Mount
Choosing a TV wall mount involves several considerations, including the television's shape and size and whether or how it is required to be moved once in place. The following article outlines some important do's and don'ts when it comes to buying the right TV wall mount.
Do Buy an Appropriate Style of Mount
There are three basic types of wall mount - fixed, tilting and articulating wall mounts. Fixed is the most basic design and does not allow the television to be moved at all - it is fixed in place once installed. Tilting brackets allow vertical adjustment, usually to about 15 degrees. Articulating wall mounts offer varying amounts of adjustment, from simple tilt and swivel mounts to fully articulating models. They may also be known as cantilevered mounts or brackets. As well as being able to tilt and swivel the screen, fully articulating mounts can be extended from the wall when in use and then pushed back to store the television flat against the wall. Some can even be ceiling mounted. The type of bracket required depends upon factors such as room layout and where the television will be placed.
When considering the room layout, think about the position of seats, windows, and furniture. Will the television be placed on a flat wall, or in a corner? At what height will it be placed? Does it need to be positioned above furniture or fixed features? If it needs to be placed quite high, then a tilting or articulating wall mount may be needed so that the television can be angled downwards. If it is to be placed in a corner, a mount with an extending cantilevered arm is required, as fixed and tilting wall brackets are designed to be fixed to flat walls, with the television parallel. When it comes to seating positions, do these ever change? Will several people be viewing the television at once, from different angles, or are there usually just one or two people always viewing from the same position? If there is only one basic seating position with a relatively straight view of the screen, then a fixed or tilting mount is probably adequate.
If the television needs to be changed often to accommodate different seating positions, for example, between a dining table and a sofa, or if there is a significant angle between the screen and seating position, then an articulating mount which can be adjusted sideways may be more suitable. Another factor to bear in mind is window position and whether or not the screen will need to be adjusted away from the light to reduce glare. When it comes to price, fixed wall mounts are usually the cheapest due to their simple design. Tilting mounts are the next cheapest and articulating mounts the most expensive. Partially articulating mounts, or simple tilt and swivel designs, will be cheaper than complex fully articulating mounts which offer a full range of movement.
Do Make Sure the Mount is Suitable for the Television Size and Weight
One of the first things to check when purchasing a TV wall mount is the size of television it is suitable for. Television size is expressed in inches. It is the measurement diagonally across the screen. Although flat screen televisions are becoming far more commonplace, they are also becoming larger, and it is not uncommon to find 50 inch screens or more. Many mounts are only suitable for smaller televisions; for example, up to around 25 inch, 32 inch or thereabouts. Others may give various ranges between around 32 inches and 70 inches. As well as the screen size, also check the maximum weight that the bracket can hold. Consult the television manual or box for its weight and always err on the side of caution, selecting a different mount if the weight is borderline. There are television mounts available for earlier styles of television as well as flat screen televisions, although these are less common.
Don't Forget to Check the VESA Compatibility
For a television to be fitted correctly and securely in place, it needs to be compatible with the mount in terms of fixtures. Televisions fit to brackets by a system of screws, and the screw pattern should match that found on the mount. Screw patterns are standardised, with most television manufacturers and models following the VESA system. Mounts with the same system are known as VESA compatible. VESA patterns vary according to the size and shape of television, with typical sizes including 100 x 100 mm, 200 x 200 mm, 400 x 400 mm and 600 x 400 mm. They are generally in a square, but in the case of rectangular layouts such as 600 x 400 mm, the first measurement is horizontal and the second vertical.
Do Install the Mount Correctly
Fixed and tilting mounts are the simplest to install, while fully articulated mounts can be quite complicated. Always follow the manufacturer's instructions, and engage the services of a professional if required. Fixtures and fittings should be included, and always use those provided. When considering where to place the television, bear in mind that the distance between the screen and viewing position should ideally be about one and a half times the screen size. For example, for a 42 inch screen the distance should be about 63 inches, or just over five feet. A screen that is too close can be uncomfortable and picture noise can be distracting, whereas if the screen is too far away it can be difficult to see and may cause eye strain. Viewing distance is also affected by whether the television is viewed in high definition (HD) or not. With regards to height, it is generally recommended that the centre is at eye level, but if the television can be tilted, it can be placed higher, with the angle aimed at eye level. Mounting into brickwork requires wall plugs and is relatively uncomplicated, depending on the type of TV mount. Mounting into plasterboard requires locating the stud wall to fix the mount to.
Don't Compromise on Safety and Quality
Always make sure the TV mount is installed correctly. Buy from reputable sellers and manufacturers, checking out product reviews and forum websites if necessary. New mounts may include a warranty, and most sellers offer return policies. Buying a new mount rather than a used or refurbished one is generally recommended.
Find a TV Wall Mount on eBay
The different types of TV mount are available for purchase on eBay. They can be located from the Sound & Vision page, which can be accessed via the Electronics & Technology tab on the eBay homepage. From the Sound & Vision page, select All Categories followed by TV Wall Mounts & Brackets. To find a particular type of mount, including fixed, tilting, and cantilever mounts, simply scroll down to the Style/Adjustment heading and select the style required. Many listings do not specify a particular style of mount, so to find more listings this selection can be left blank. However, it is often best, if possible, to specify the VESA compatibility as this will eliminate inappropriate listings; this can be done under the heading VESA Size. Brand, price, and other criteria can also be specified using the tabs. Alternately, it is possible to use the search facility at the top of the page to look directly for certain types and sizes of TV wall mounts. Try general terms such as "fixed TV wall mount", "tilting TV wall mount" or "articulating wall mount" or more precise terms such as "fixed wall mount 42" or "wall mount VESA 200 x 200".
Conclusion
There are various do's and don'ts when it comes to buying a TV wall mount. Buying the appropriate type of mount, for example, whether it is a fixed, tilting or articulating mount, is important and should be considered with regards to television placement and seating positions. Also important is that the mount is suitable for the size and weight of the television. VESA refers to the pattern of screws on the mount and back of the television, and these should be compatible for correct fitting. Finally, always make sure the mount is installed correctly, and do not compromise on safety and quality.