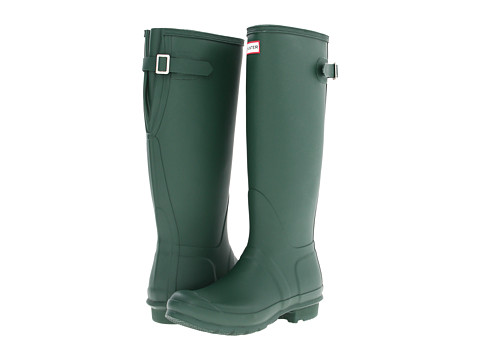 Wellington boots were developed as a modified Hessian boot in 1817. Initially, the boots were made of leather and were fitted to the leg just below the knee. Over time, the manufacturing process has changed, and now most are made of rubber and some styles has a shorter boot top. They go by the name Wellington Boots or "Wellies" for short. They are a great addition to any wardrobe and a must have as they are not only fashionable but also very practical.
Wellington boots come in a variety of colours with options for customisation. This guide discusses the different customisation options as well as sizing, benefits and concerns with using Wellington boots, and the features of a Wellington boot. In addition, this guide discusses where to find Wellington boots and how to purchase them. Wellington boots can be found at local retailers or online through Internet merchants and auction websites like eBay.
Wellington Boots History
Wellington boots keep feet warm and dry during wet or cold seasons. They are made from durable rubber or synthetic materials. Most Wellington boots are knee-length. They began as leather cropped around the leg with no tassels or adornments like their predecessor. After rubber was created and shoemakers in France took up the distribution and creation of the Wellington boot, the boot became popular amongst French farmers. During World War I, over 1,185,000 boots were made for soldiers, and there was an equally high demand during World War II. The Queen awarded Hunter Boots, in particular, a royal warrant in 1976 and 1986 for their Wellington boots.
Seasons and Wellington Boots
Choosing the best Wellington boots is easier when consumers determine what they want to wear the boots for. The weather affects which boot is best for the user. For instance, wet weather means individuals can wear Wellingtons without thick liners and keep their feet dry.
Cold Weather and Wellington Boots
For users who intend to wear their Wellington boots in cold weather, there is a variety of Wellington boots designed to keep feet warm and comfortable. Wellington boot socks are a good accessory to add to a pair of Wellington boots. Some Wellington boots come with a lining inside them for use in cold weather. The following chart describes a few of the different types of lining available in various Wellington boot styles.
| Lining | Description |
| --- | --- |
| | Synthetic rubber product used as insulation in select Wellington boots, works for temperatures 0 to -25 degrees Celsius |
| | Synthetic or natural fur provides insulation against temperatures 0 to -15 degrees Celsius |
| | Leather lining provides insulation against temperatures 15 to -5 degrees Celsius |
| Jersey | Stretchable mesh lining for temperatures greater than 0 degrees Celsius |
The preceding table defines only some of the different linings available for Wellington boots. Users should verify that the style of boot they want is available for purchase with the lining they want as not all Wellington boots have all the linings available.
Selecting Wellington Boots Based on Activity
Wellington boots are fashionable and appropriate for a variety of activities. Wellington boots for hunting have a dual density sole and increased arch support. They can be fitted and use neoprene, fur, leather, and jersey lining. Many Wellington boots have gusset fittings, and tightening straps and can be made-to-measure from some companies. Some Wellington boots have specially designed soles for accommodating activities, such as riding. They are made for gardening, dog-walking, or simply getting around town. Wellington boots can be purchased with steel toes, making them ideal for working conditions.
Wellington Boot Customisation Options
Wellington boots do not only have to be worn to work. Wellingtons come in a number of festive prints. Individuals can purchase regular Wellingtons that can cut off above the ankle, or they can purchase knee-length Wellington boots. In addition, individuals can purchase lace up Wellingtons that also can cut off at the knee or above the ankle.
Wellingtons with a bright print and a wedged heel will draw attention to the individual's legs and look fashionable with skinny jeans, a blouse, and a scarf in neutral colours. Adjustable straps and zippers allow individuals to put on and take off the well-fitted boots without hassle. It is important to determine how often the boots will be worn. Some brands of Wellington boots may be more expensive; however, the cost can even out if the individual wears them regularly.
Removable Wellington Boot Liners
Wellington boots can also be outfitted with warm wellie liners that come in a variety of fabrics and styles, from faux-fur to brightly knit fleece. Patterns range from leopard print to multi-coloured stripes. Users find these liners to be practical additions as well as fashionable. Cuffs go over the top of the boot and add colour. These liners are easily removed if water gets inside the boot.
Sizing Wellington Boots
Determining the right shoe size is important for a great fit, which will keep them from slipping off at the most inopportune moment. Additionally, shoes that are too small for an individual can cause a number of health concerns. Wellington boots are designed to be worn in the same size that one would wear a normal pair of shoes. Select a pair of Wellington boots in a normal size. The boots should fit comfortably without pinching. Some Wellington boots do not have a calf gusset, so the calf circumference will need to be measured for the proper fit. One should always measure the length of the calf to ensure the boot will not be too tall for their leg.
To measure the size of the foot, an individual will need to trace their foot on a piece of paper using a writing utensil. The pencil should remain completely upright to do this as accurately as possible. Then measure the distance from heel to toes. The following conversion chart shows how many centimetres determine the size for both UK and European boots.
| UK Size | Euro Size | CM |
| --- | --- | --- |
| 2 | 35 | 20.8 |
| 2.5 | 35 | 21.3 |
| 3 | 35-36 | 21.6 |
| 3.5 | 36 | 22.2 |
| 4 | 36-37 | 22.5 |
| 4.5 | 37 | 23 |
| 5 | 37-38 | 23.5 |
| 5.5 | 38 | 23.8 |
| 6 | 38-39 | 24.1 |
| 6.5 | 39 | 24.6 |
| 7 | 39-40 | 25.1 |
| 7.5 | 40 | 25.4 |
| 8 | 40-41 | 25.9 |
| 8.5 | 41 | 26.2 |
| 9 | 41-42 | 26.7 |
| 9.5 | 42 | 27.1 |
| 10 | 42-43 | 27.6 |
The preceding chart should be reference to help individuals determine their shoe size using centimetres as a guide. It is however not an absolute model because sizes vary by manufacturer.
Where to Get Wellington Boots
Individuals can find Wellington boots in a number of local footwear retailers. They can also be purchased online through Internet websites like eBay.
Buying Wellington Boots on eBay
When you are ready to buy Wellington boots on eBay, begin by typing "Wellington Boots" in the search bar on the homepage. This will bring up a list of results matching that term. You can also search for more specific items, such as Wellington boot liners or Wedge Wellies, if you know what you are looking for in specifically.
Sorting Through Search Results and Knowing the Seller
Buyers can customise the search results to their specific preferences, including a price filter so the results are only items that fit their budget. Buyers can also look for top-rated sellers to purchase from and look at seller profiles for customer feedback or see how well they are rated on customer service before making a purchase to after the purchase has been made. eBay makes it easy for customers to contact sellers with any questions or concerns about products that have not already been posed.
Conclusion
Wellington boots are for individuals looking to keep their feet warm and dry without sacrificing fashion in the process. Called "Wellies" for short, they were developed in the early 1800s and eventually made their way onto the feet of French farmers. During World War I, over one million boots were sold to the military. Because they are made of rubber, Wellington boots keep mud and water from the wearer's feet. They can be purchased for a number of specific purposes, such as gardening, hunting, or riding. Additionally, they come with an interior lining to help keep the boot snug on an individual's foot without sliding around. Wellington boot liners can be purchased for Wellingtons. These liners are colourful, attractive, and add warmth to the boot. They are removable for easy cleaning or drying. Wellington boots also come in a variety of styles, such as with wedged heels.
When selecting a pair of Wellington boots, users should pick them in the size they wear regular shoes. However, sizing changes slightly from one manufacturer to another, so users should be aware of that prior to purchase. Wellington boots can be located at local retail establishments that sell footwear such as Joules. They can also be purchased conveniently online through Internet merchants and auction websites like eBay.