he UK's incessant wet weather means our windscreen wipers work overtime, so replacement blades are frequently needed. But which are the best wipers to beat the downpours? In general, the best types of wipers are flat-bladed. The long metal shaft running the full length of the rubber blade keeps an even pressure across the screen, reducing smears. The sprung blade also means flat wipers are more compact, allowing car manufacturers to tuck them behind the trailing edge of the bonnet. This keeps them out of the airstream, and improves aerodynamics. So the choice between flat-bladed and conventional wipers is easy. We tried 10 of the top sellers to decide which is best.
---
Bosch Aerotwin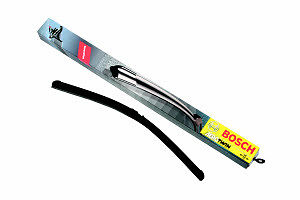 Price: £24.26
eBay score: 5 out of 5
German manufacturer Bosch has made this area of the market its own, and it's our top pick. The ready-fitted clip is one of the sleekest on test, it was the quietest on the dry screen and impossible to fit the wrong way round despite an asymmetrical spoiler blade. Only a few fine lines in the high-speed wipe test spoiled what would otherwise have been a perfect score, but this is still our favourite.
---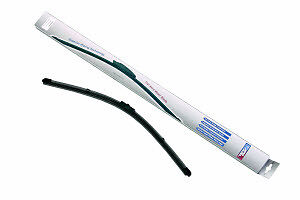 Price: £17.50
eBay score: 4 out of 5
Own-brand offering from online retailer Wiper Blades is a cost-effective alternative to our winner. It starred in the wipe test, had clear instructions, and its clip was small. There's an asymmetric spoiler and the design means it can't be fitted the wrong way. Only a noisy result on the dry screen put it behind Bosch.
---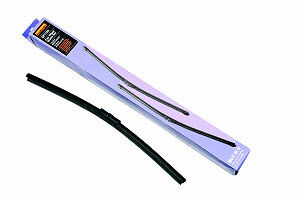 Price: £27.99
eBay score: 4 out of 5
You might think the instructions here would not be very clear, given thousands of motorists pay Halfords to fit blades. But these were among the best. The clip was compact and can't be fitted the wrong way, even though the spoiler is symmetrical. Fine lines and small smears in the wipe test mean it has to settle for third.
---
---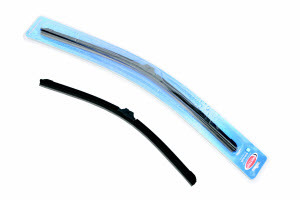 Price: £16.21
eBay score: 3 out of 5

Like others here, this set can be used to retro-fit flat blades to cars that did not have them originally fitted. The result is one of the largest adaptors on test. It also arrives separate from the blade and needs fitting, but at least it's ready-selected. Instructions are a bit basic, but it performed well on the wet screen, leaving only fine lines at the top. A keen price makes this a good budget option.
---
---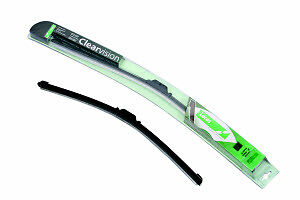 Price: £18.15
eBay score: 3 out of 5

Despite having both graphic and written instructions, the Lucas product fails to mention the need to rotate the blade to both remove and fit it. Thankfully they do make it clear which way it should be fitted, as it has an asymmetric, if shallow, spoiler. The blade itself has a graphite coating, but that did not help in our screen tests. It was mid-pack in the dry, but a missed band in the wet marked it down in our final rankings.
---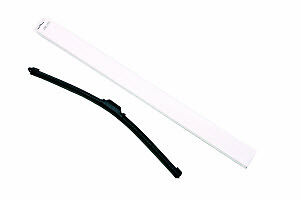 Price: £17.33
eBay score: 3 out of 5

Bulb retailer Auto Bulbs Direct has ventured into the wiper market, and it's something of a work in progress. These keenly priced blades have since been branded as Clear View, which is no bad thing as the trade packaging and lack of instructions do them no favours in this company. A shame, as the wipe was fine with just a few lines, although there are quieter options.
---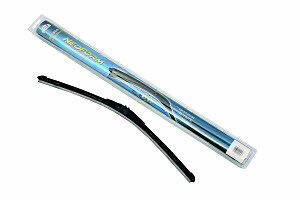 Price: £19.38
eBay score: 3 out of 5

Trico has gone its own way with the clip design on the Neoform – it's three times the length of most rivals, although it's shaped to match the blade's symmetrical spoiler. The instructions are simple and effective, even though another blade is pictured. The biggest problem for the Neoform is the wipe. Too much was missed to compete with the best.
---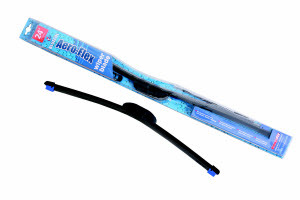 Price: £17.60
eBay score: 2 out of 5

Anti-freeze specialist Bluecol still has a few things to learn about wipers, as these retro-fit blades come with no fewer than six adaptors. Plus, you have to go online or use an in-store guide to find the right one. They're also tricky to fit, with slightly obscure instructions. They worked okay on the screen, but were noisy and coverage was patchy.