Nothing puts a smile on you face like a great sports car – especially if you can put the roof down while you enjoy driving it, too. These models may not be the most practical or fuel-efficient cars, yet choose the right model and you shouldn't have to pay too much in running costs or maintenance.
Stephen Errity, production editor of Auto Express
picks his 5 best performers for around £10,000.
And if you've £100,000 just lying around, check out our guide to the
Best Supercars
.
Mazda MX-5 (2005-present model)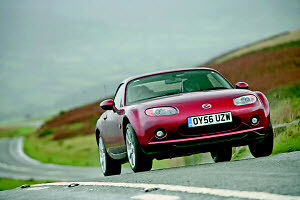 eBay loves: Great handling and excellent reliability
Watch out for: Tiny boot and noise at high speeds

If it's driving enjoyment you're after, the MX-5 can't be ignored. And while the majority of cars are soft-tops, a hard-top version is available. The Mazda's best trait is its excellent handling. However, even under the insulation of a folding metal roof, the cabin can get quite noisy – this isn't the most refined car to drive. The MX-5's popularity means there are plenty of good examples to choose from on the second-hand market. If you want to spend less than £10,000, don't be scared of choosing an older, higher-mileage example, as this car is generally very reliable. Practicality usually isn't a priority with cars like this, but a few weekend bags can be a squeeze for the MX-5's 150-litre boot.
---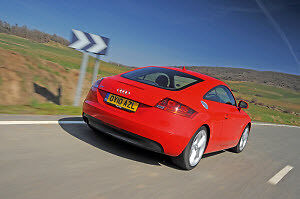 eBay loves: Classy looks & image with great performance
Watch out for: Feels a bit dated next to some rival models

This second-generation TT is starting to show its age a bit these days, but a classy, upmarket image and typically good German build quality ensure it's always high on the list for sports coupe buyers. The standard 2.0-litre turbocharged petrol engine and manual gearbox are both good, and the TT will cover the 0-60mph sprint in an impressive 6.6 seconds. It's also available as a convertible model if you like to have the wind in your hair every now and then. But it doesn't handle as well as the Porsche Boxster and is a little cramped inside – the coupe's two rear seats in particular are only suitable for small children.
---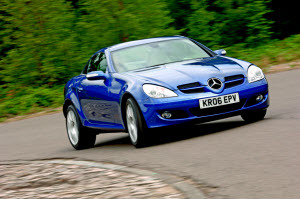 eBay loves: Neat styling, smart interior finish
Watch out for: Poor manual gearbox, high running costs

The stylish SLK has been a big sales success for Mercedes. The neat design means even older examples don't look dated next to newer rivals, and this is also true for the well finished cabin, which has stood the test of time. This car boasts one of the best folding metal roofs of any convertible, and refinement is good even when it's lowered. There are some issues with the SLK, however. Smaller-engined models can be costly to run and it's probably best to avoid the manual gearbox, which lacks the slick, precise shift action you'd expect. There's a wide range of cars on the market, with a choice of the 1.8-litre engine (which should return 32mpg fuel economy) or the larger and pricier 3.0-litre.
---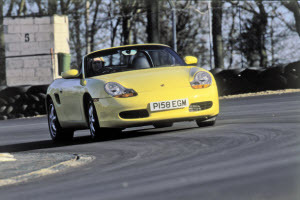 eBay loves: Affordable for a Porsche, with great handling
Watch out for: Poor standard equipment and pricey to run

If you want the most bang for your buck in this class, you needn't look much further than the Porsche Boxster. It looks similar to the company's flagship 911 model, while being much more affordable to buy. Although the Boxster's been around for 17 years, little has changed design-wise, and this first-generation model is nearly as appealing as the current car. The engine range comprises 2.5 and 2.7-litre flat-six petrols. They're not hugely powerful for a sports car, but thanks to its mid-engine layout, the Boxster handles superbly and rides well. Two boots (one front and one rear) give added practicality. Inside, the seats are supportive and it doesn't become too blustery with the roof down.
---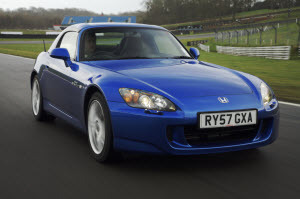 eBay loves: Extremely good fun to drive and very reliable
Watch out for: Not hugely common on the second-hand market

If your idea of the perfect sports car is one that requires the driver to work hard, then the Honda S2000 is for you. Recalling the brand's classic, high-revving sports cars of the 1960s, the S2000 has 2.0-litre petrol engine that thrives on revs. It sends 237bhp to the rear wheels and keeps going to a 9,000rpm redline. Equal front-rear weight distribution gave great handling, but cars built before 2004 could be a bit twitchy, especially in the wet. This was tamed on later versions, which are well within reach of a £10,000 budget. Reliability is superb, as long as the car has been looked after, so don't buy anything without a full service history.