What is a thermopot?
Essentially, a thermopot is a container which keeps water warm. Some do this simply and some have more elements of control but their purpose is to provide warm to hot water on demand, up to their capacity.
Thermopots are more efficient than kettles and use less power. The great thing about them is that hot water is readily available without waiting for a kettle to boil. Usually, their low power rating means they take longer than a kettle to boil, typically 20 to 25 minutes from cold to boiling in a 3.5 litre capacity thermopot. However, a thermopot isn't a one trick pony like a kettle. It can do things no conventional kettle can do.
Intelligent Controls
A thermopot can heat water to a pre-set range of temperatures and then keep the water warm at that constant temperature for as long as you wish.
It can also re-boil to 100C at the press of a button, from any start temperature.
Better thermopots have a sleep timer so you can "sleep" the thermopot overnight and have it re-boil your water any number of hours forward you choose, up to a one day cycle. For example, you go to bed at 11pm and put the thermopot in sleep mode for 7 hours. The thermopot will power down after about 30 seconds and then awake and re-boil your water at 6 am the folowing morning, so it is ready for you when you get up.
You can also just leave it on overnight and your water will keep warm at minimal cost throughout the night; very useful for those with babies getting up at unsociable hours, or anyone working night shift. No matter what time you get home, warm water will be waiting for you.
Top range thermopots have an LCD display showing a constant read-out of the water temperature and at least 3 pre-set temperatures. The thermopot in the images has 5 pre-set temperatures of 98C, 85C, 60C, 50C and 40C.
Ideal temperatures
Conventional wisdom is that water has to be boiling to make a good cup of tea. If you think about it for a minute, if all you have is a normal kettle, you have no way of knowing an ideal temperature because you know the kettle is ready when it starts to boil. Therefore that's the ideal temperature for tea. Has been for centuries. Erm no, not really.
A temperature of 85C is just as good as 100C for tea and you won't scald yourself trying to sip it. Months of testing and trialling different types of tea has not changed our view on this. It is definitely ideal for instant coffee too, black or white. The factory default temperature setting is normally 85C and is great for nearly all your drinking needs. For hot chocolate you might want to push it up to 98C and then re-set at 85C once your water is poured.
Lower temperature settings of 60, 50 and 40C are ideal for warming food, such as baby food jars and tins. You can also use the water for cleaning at the lower temperatures.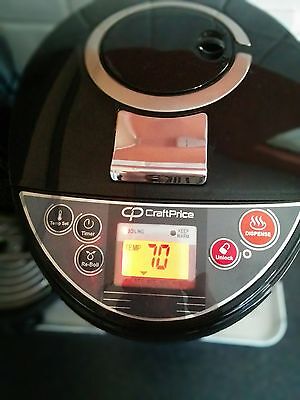 Tip: Set your own temperature
If you would like your water at a different temperature than the 5 pre-sets or boiling, then you can do this as follows :
Let's say you have the temperature set to 85C but you would like to drink your drink at 90C. What you do is press the Re-Boil button once (LCD will change to Red backlight). Your thermopot will then start to boil your water contents. Watch the temperature gauge and when it reaches 90C, then press the Re-Boil button again. Your thermopot will then switch back to Keep Warm mode (Green backlight) and you have your perfect temperature water.
Add a caption
5 temperature pre-sets are ideal for a variety of uses
How do you pour the water out of a thermopot?
Most good thermopots have 2 safety locks (1 manual and 1 electric), either of which have to be pressed before any water can be dispensed from the pot.
The featured thermopot has an electric safety lock/unlock button which must be pressed before water can be dispensed. It also has a manual lock so that water can be dispensed even if there is no power connected to the thermopot.

There are 3 ways generally of extracting water from a thermopot.On some models, there is a microswitch just behind the pouring spout, which will start to dispense water once a cup is gently pressed up against it.
There should also be a "Dispense" button on the control panel which needs to be pressed to release water from the pouring spout.
Finally, there is a manual plunger button to dispense water if there is no power connected to the thermopot, for example if it is put on a meeting table where there is no power.The water has to be dispensed using one of the first 2 methods within 10 seconds of pressing the unlock button, otherwise it will lock again for safety reasons.
Add a caption
A low output 680W element keeps the water at a constant temperature
Do I also need a kettle ?
The simple answer is no. Anything your kettle can do, the thermopot can do and then some. A thermopot is not a speed kettle so it would not match one for speed of boiling, but it would beat it in the cost and economy department. It is insulated with an inner and outer shell and retains heat much better than any conventional kettle in the world today. It has a re-boil function which will allow you to fully boil water to 100C at which point it will switch to keep warm mode (Green backlit LCD) and allow the water to cool over time to the pre-selected default temperature.
It really is very easy to understand and use, but the best way to make the most use out of it is to empty your kettle, clean it and put it away, or sell it on eBay. A thermopot will do everything you need water for to the point that a kettle is really redundant and so 1900's.
However, if you want just a small quantity of hot water on demand you might want to have a look at an
Instant Kettle here
.
Safety features
Thermopots normally just continue to work year after year, but like all products if they are subject to misuse, they can fail. To alleviate some of these situations, most thermopots have a few safety features included. The featured thermopot has an auto cut off if there is no water in the inner chamber, or the level is too low to pour, or the top is not closed properly. Follow any instructions in your thermopots operating manuals to take your unit out of any error state, or recover from an auto cut off.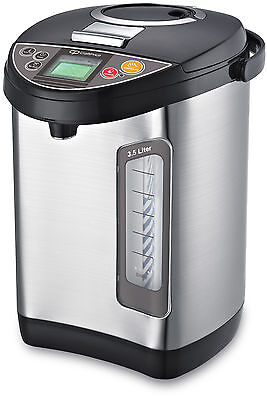 Is it for me ?
If you want the convenience of not waiting for water to boil then yes.
If you have difficulty lifting a kettle to pour hot water, then yes.
If you want to save some money by not reboiling half full kettles for a cuppa, then yes.
If you have a family who are always using the kettle, then yes.
If you have an office or a meeting room which requires hot water, then yes (use the carry handle to take it there unplugged).
Small staff room needs hot water on demand to save time? Then yes
If you need to replace your kettle and are looking for a great stylish alternative, then yes. It is not much bigger than a normal kettle, so is just a small footprint in your kitchen or office.
If you have already got one ? Well, yes. Buy one for your friends or family so they can experience the benefits you are enjoying.
Have the Jones's got one? Probably not as they still think a kettle is a smart buy. Get one and be ahead, unless of course they read this guide.