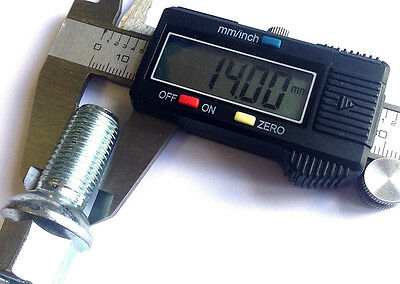 What is the M number for?
When buying alloy wheel nuts and bolts you will quickly find you need to know the thread size for your car. There are many variations and the first thing you will need to know is the thread diameter, this is the M number, eg M12 or M14.

The M number indicates the thickness of the thread. An M12 bolt has a thread diameter (thickness) of 12mm and as you can probably guess an M14 is 14mm.

Most car manufacturers will use either M12 or M14, however some models may even go up to M16 (usually for heavier vehicles). It is the same whether it is wheel bolts or nuts.

If you do not know what thread diameter your car requires check our guide to common thread sizes for the info you need. In most cases the items on eBay will show you what you need in the compatibility tables in the listing description.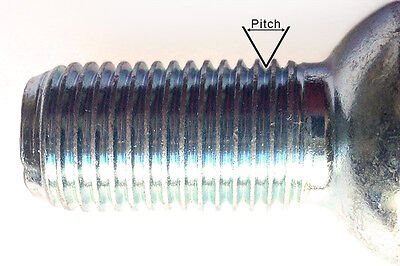 What is the thread pitch?
Now you know the diameter of your alloy wheel nuts and bolts, you need to make sure you get the correct thread pitch. When searching for nuts and bolts you will see the M12 followed by something like 1.5 (M12x1.5). This is the pitch and it is just as important to get right as the thickness. If you get the wrong pitch the nuts or bolts will pinch when tightening and not fully engage.

Pitch is the distance between the peaks and troughs of the thread. Like the M numbers there are common standard thread pitches, usually either 1.25, 1.5, 1.75 or 2.0 and again our guide to common thread sizes will show you what your car make and model will need.

What is Hex?
Hex is one of the more obvious specs when looking and wheel nuts and bolts. The head is a hexagonal shape and the Hex number refers to width of the head. The most common sizes are 17, 19 and 21mm. There are other sizes, such as 22 and 27mm which some Land Rovers and other cars have but these are far less common.

In some cases when fitting aftermarket wheels you might have to check the width of the bolt holes. If the wheels are multi-fitment they will have 8 or 10 holes and because of this the holes are narrow and you will need what is known as a Tuner or Slim nuts or bolts. These are round and not hexagonal.