Art can come in a variety of shapes, forms, colors, sizes, and types. One of the more popular forms is dolls, and a
reborn doll
artist is an artist who assembles, paints, and forms an aesthetic doll to look as if it is a newborn. To possess the ability to create reborn dolls, it requires great skill, tedious handwork, and the artisanship of a true artist. The top reborn doll artists display all of these qualities and more with all of the works that they create, which you can find at a variety of brick-and-mortar retailers and online at
eBay
.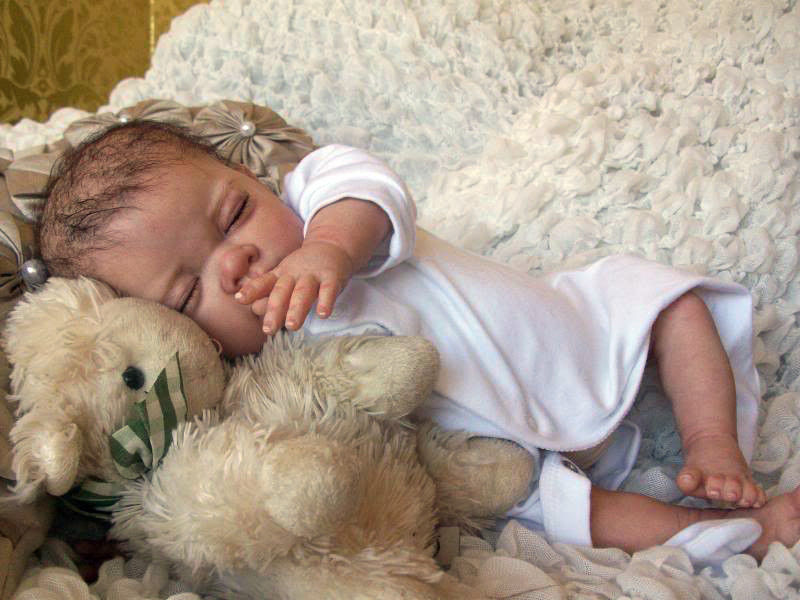 1
Terri's Tiny Tots
Terri Crisp is the reborn doll artist behind the company named Terri's Tiny Tots. As a child, she adored dolls of all kinds, ranging from vintage Barbies to Shirley Temple dolls. Growing up, she took on a passion for crafting and painting, soon becoming a reborn doll artist. All of her works are on display on her website, where she offers advice and information about her work.
---
2
Eden's Little Ones
At Eden's Little Ones, the artist Sabriam Loll creates her own reborn dolls. After encountering her first reborn doll at the age of 11, Loll had a fascination for such art and began carrying her own reborn doll with her everywhere she went. Wishing to bring the joy of newborn babies to others, she began creating beautiful reborn dolls for sale.
---
3
Kinderbug Nursery
Sonja is the artist behind Kinderburg Nursery, where she resides in Long Island, NY. Also known by the name Ladybug Lane, she chose the name Kinderbug for her reborn doll nursery. From her home studio, she creates, sells, and displays all of her main works on her Kinderbug site.
---
4
Andrea's Dream Babies
At Andrea's Dream Babies, Andrea gives every man and woman the opportunity to hold the baby of his or her dreams forever. With multiple directions on her site, she gives tutorials on how to paint with a reborn style, displays her very first two reborn baby creations, and provides many different customization options on rooting and reborns.
---
5
HunnyBuns Nursery
At HunnyBuns Nursery, Stephanie Sullivan Tackett transforms ordinary dolls into beautiful, realistic collector's babies. After discovering reborn doll art on eBay, Tackett committed herself to this style since 2002. She had trouble finding her niche in art until this discovery, ultimately fully committing her time and effort to her newfound passion.
---
6
My Silent Angels Nursery
As a young child, Paula Hart's passion was baby dolls. Growing up as an artist, Hart discovered the art of reborn dolls and found herself filled with fascination. After the passing of her first newborn baby, the idea of recreating her precious child became more of an incentive for her and she created My Silent Angels Nursery.
---
7
Deborah's Magical Creche
Deborah Whitehead is a profound reborn doll artist from Deborah's Magical Creche, based in the United Kingdom. She provides followers with updates on hit counts, the latest reborn doll that she is working on, and much more through her website.
---
8
Exceptional Reborn Nursery
At the Exceptional Reborn Nursery, Jackie Surtees has been creating reborn dolls since 2002, when she was first captivated by this new type of art. Selling many of her reborn babies on eBay, there are photographs of her past works on her website as well, along with tutorials, and her other interests, including graphic design, crocheting, and miniature sculptures.
---
9
Lasting Memories Reborn Nursery
Specializing in reborn doll repairs, custom reborns, portrait reborns, and ethnic reborn babies, Debra Jadick is the professional reborn artist behind Lasting Memories Reborn Nursery. Making wonderful reborn creations since 2007, Jadick won many awards for her fine and beautiful artwork.
---
10
BunkerBabies
Jennifer, a licensed cosmetologist and stay-at-home mother, finds joy in creating reborn dolls for her company BunkerBabies in her spare time. Shocked at their realism and beauty, she only discovered the art of reborn dolls through her daughter in 2003. After 4 long and hard working months, she had her first created newborn and continues her passion.
---
How to Buy Reborn Dolls on eBay
When you find yourself fascinated by the idea of
reborn dolls
and wish to own or even create one for yourself, there is a variety of completed and ready-to-be-created dolls available on
eBay
. Upon arriving on the site, you can enter the name of the reborn doll you are interested in purchasing in the search field found on every page, and then filter your results until you find the reborn doll for you. With skill, the right
artistic tools
, and a passion for reborn dolls, you have the ability to make something as beautiful as these newborn replicas.