Traditionally, families had two sets of cutlery: one for everyday use and one for more formal occasions. The formal cutlery often consisted of silver or it may have even featured gold plating, which in turn required special care and damaged easily. In contrast, most everyday cutlery consisted of
stainless steel
because of its durability and strength. However, many stainless steel designs are elegant enough for use at the most formal of events, while still holding up for everyday use. There is a wide range of cutlery sets available, so knowing what each looks like and offers is a good idea before making a decision.
| | |
| --- | --- |
| 1 | Amefa Monogram Harley Cutlery Set |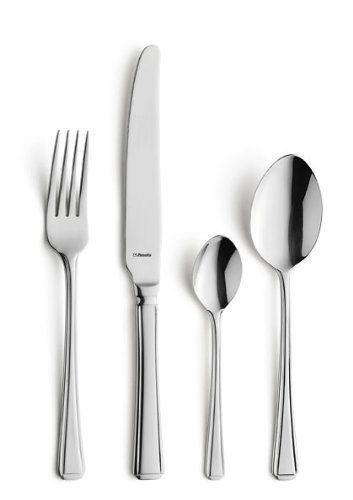 The Amefa monogram line of cutlery hits the sweet spot between affordability and a dependable and stylish set of cutlery for the table. The Harley design is Art Deco with simple lines. The handle edges and square corners evoke an image of a 1920s marquee, and are a wonderful addition to any tablescape.
---
| | |
| --- | --- |
| 2 | Viners Angel Cutlery Set |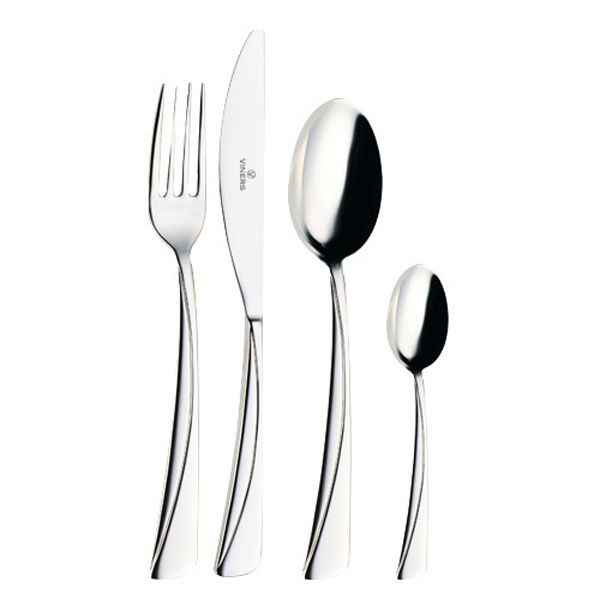 This cutlery set is a part of Viners Elements collection. The Angel set has slightly curvy handles for an interesting twist on traditional straight handles. To further this asymmetrical look, each handle features a curving line from the lower left corner to the top left. This provides a sense of movement and pairs well with square plates or other modern table elements.
---
| | |
| --- | --- |
| 3 | Ginkgo Sea Drift Hollow Cutlery Set |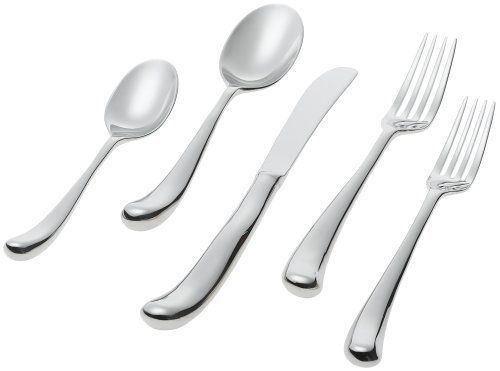 Ginkgo provides a very unique option with their Sea Drift cutlery set. The business end of each piece is simple and traditional, but the handles supply an understated elegance. Each handle curves slightly to the left or right, depending on which side of the plate the piece fits on.
---
| | |
| --- | --- |
| 4 | Tiny Dining Junior Cutlery Set |
This cutlery set is ideal for small hands. The small-sized pieces help children learn to eat with proper cutlery and makes for a much simpler transition to adult cutlery later than do bulky plastic spoons. With all stainless steel, a buyer can also have the peace of mind that it is virtually indestructible.
---
| | |
| --- | --- |
| 5 | Judge Windsor Cutlery Set |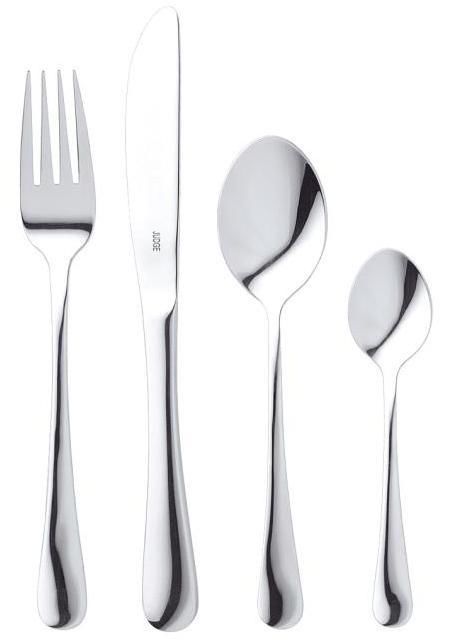 Judge offers a simple yet beautiful set of cutlery with the Windsor style. Handles are slightly round at the end and taper on the way up to the service end of each utensil. Each piece has a mirror finish, so that it shimmers and shines in the light.
---
| | |
| --- | --- |
| 6 | Laguiole Dubost Cutlery Set |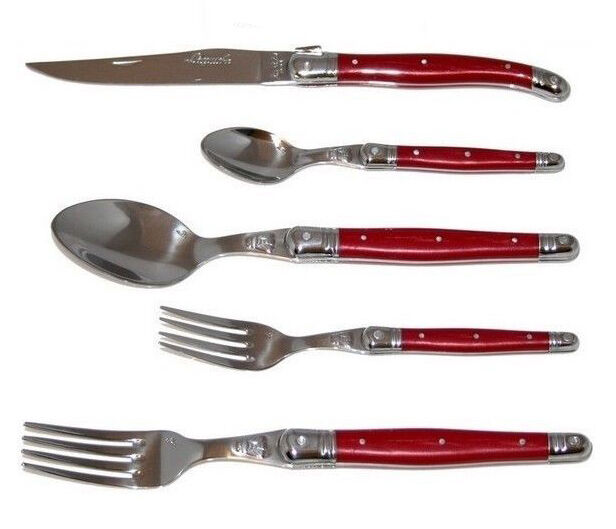 The Dubost line of cutlery from Laguiole is a classic option for any home. The handles feature a slice of ABS plastic riveted on that mimics the look of classic horn or wood cutlery. Additionally, the line uses a higher gauge of stainless steel than most other manufacturers, making them even more durable.
---
| | |
| --- | --- |
| 7 | Jamie Oliver Cutlery Set |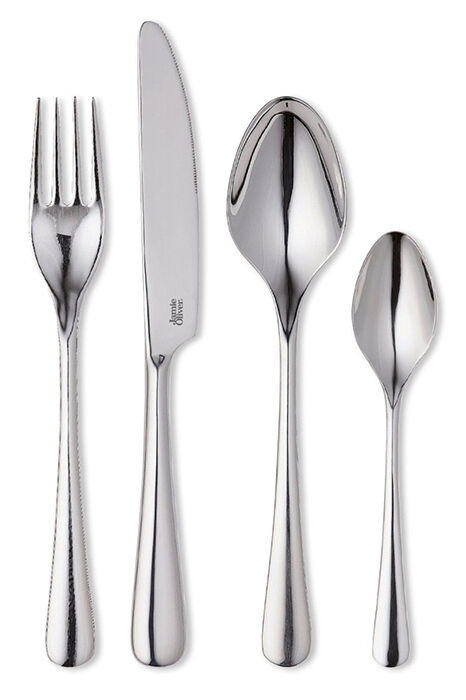 Jamie Oliver presents a slightly oversized cutlery set for any table. The stainless steel has a mirror shine. The service end of each piece is slightly tapered, rather than the very rounded look most traditional cutlery has, which adds a hint of modern design to the otherwise simple and elegant set.
---
| | |
| --- | --- |
| 8 | Oneida Sheraton Cutlery Set |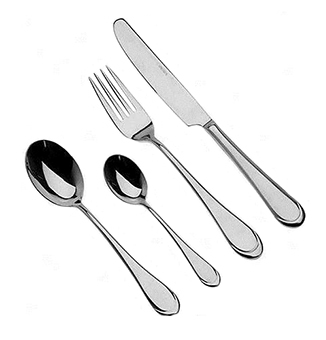 Oneida is known for its regal cutlery design, and the Sheraton line does not disappoint. Each handle is slightly rounded with a crown design at the tip. Travelling up the handle, a double border design separates the service end from the handle. Each piece shines brightly.
---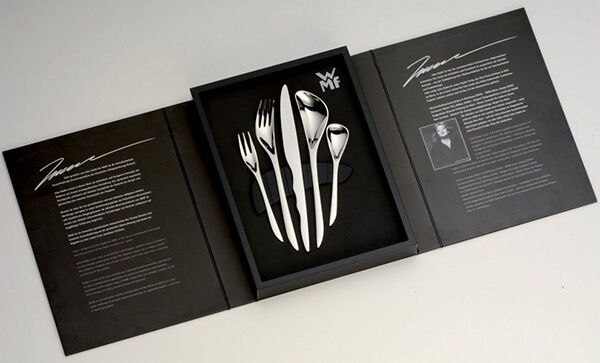 The WMF Zaha cutlery set is wildly unique. The handles are simple with a curved taper at the end reaching towards the plate. The real star of these polished pieces is the service ends. Each fork has an asymmetrical shape which curves towards the plate. The bowls of each spoon are almost triangular.
---
| | |
| --- | --- |
| 10 | Premier Housewares Lucienne Cutlery Set |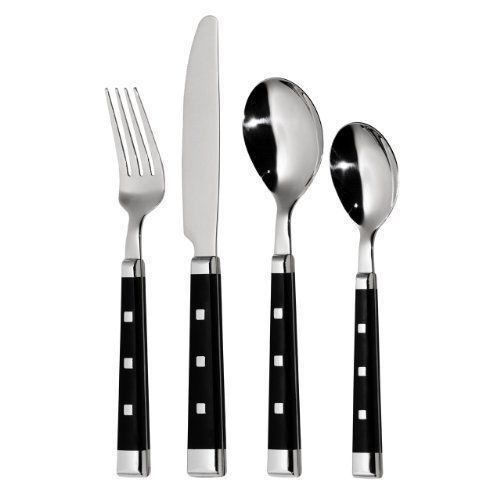 This square design from Premier Housewares brings a contemporary touch to the table. The handles of the Lucienne cutlery set are long and straight with defined corners. Square rivets hold on a plastic accent piece, capped at each end by a square of polished stainless steel.
---
How to Buy Stainless Steel Cutlery Sets on eBay
Shopping for stainless steel cutlery on eBay is as simple as typing your keywords into the search bar on any eBay page. This returns a list of results that have your keywords in their header. Shoppers can narrow down results by making selections based on category, condition, price, and more. If you cannot find the product you are looking for immediately, saving your search allows you to receive an email when future matching listings become available. Stainless steel cutlery is durable enough for everyday and can be elegant enough for the most formal dinner. Just ensure the set you purchase has enough pieces for each person and that you love the design.