Circuit building games are fun, innovative and educational. They give kids an early introduction in how electricity works, and they provide a safe environment for basic electronic experiments. These top 3 kits have received various awards for their ingenuity, safety and educational value. They come with instructions portraying highly elaborate circuit maps and provide many hours of entertainment.
Elenco Snap Circuits SC-300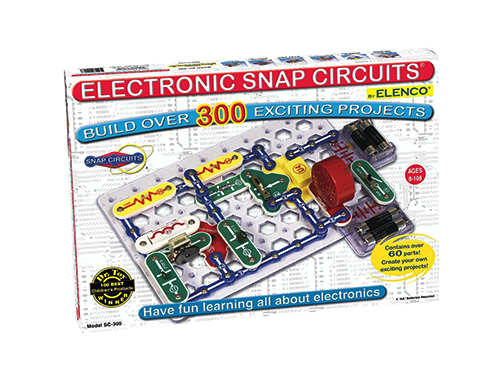 One tier up from the Snap Circuits SC-100, the Snap Circuits SC-300 contains 60 different pieces that can be combined in 300 different ways. Users can even turn their SC-100 into a SC-300 with an upgrade kit. The pieces are colour coded, which makes them easy to recognise during assembly. The instruction manual clearly describes each combination possible with this building game. Available both in hard copy and online, it also contains coloured schematics that match the coding of the pieces. The SC-300 even allows users to create advanced electronic circuits. With the parts available in the set and a little aid from the instruction manual, a child can create a radio, a doorbell, or a burglar alarm.
Elenco Snap Circuits Extreme SC-750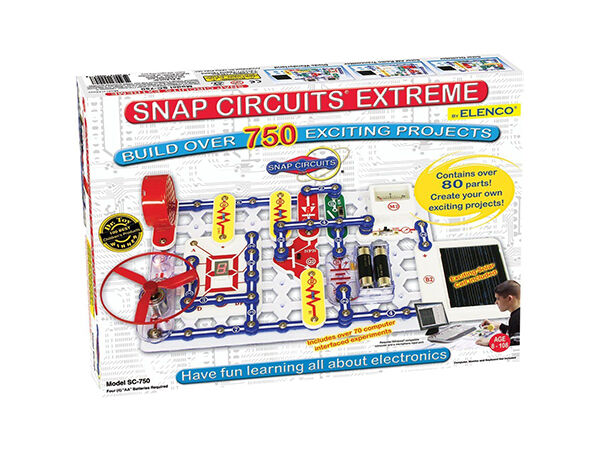 Those who wish to take Snap Circuits to the extreme can do so with the SC-750. One level above the SC-300, the Snap Circuits Extreme SC-750 contains 20 additional parts. Again, users with the 300 set can buy an upgrade kit. The additional pieces increase experimentation possibilities to 750. Parts include a photoresistor, a power amplifier, a variable capacitor, analogue meter, and much more. The experiments become even more advanced as the manual now contains schematics for a sound activated switch, a lie detector, an adjustable light controller, and a rechargeable battery. All experiments are arranged in an ascending order based on difficulty, and they allow your child to learn and gradually improve their skills.
Elenco Snap Circuits Lights
The Elenco Snap Circuits Lights creates a better image for electronics by providing experiments with a powerful visual effect. This kids' educational toy set promises over 175 exciting projects, with many associating music and lights with electronics. Children can keep their creations as decorations and use them to illuminate their room. The lights can create a beautiful colour organ controlled by an MP3 player, voice, or touch. The recommended age is 8 to 15 as in all other Elenco Snap Circuit sets. Though this set might look flashier, its educational value is not compromised. Each experiment provides a more difficult task, and they do not fail to amaze with their complexity.