Edinburgh glassware has more than a hundred years of recorded history. Glass was produced in that region even before the Edinburgh and Leith Glass Company was established, but the term Edinburgh glassware usually refers to glass produced after 1867. The company created various decorative drinking glasses, decanters, bowls, baskets, and bells. When buying vintage Edinburgh glassware, always consider condition, authenticity, and the possible collector's value.
Collections and Value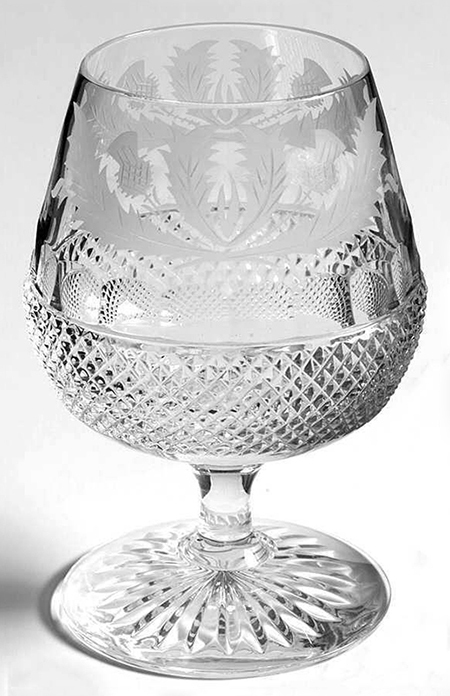 The Edinburgh factory has produced many different glass series, but only four count as collectables as of 2014. The Star of Edinburgh range features a starburst pattern and offers sets of liqueur, port, sherry, claret, white wine, and champagne glasses. It also includes two different types of goblets, a tall hock, and three different tumblers. The same starburst pattern also sees use in various purpose decanters. Next, Edinburgh Crystal Thistle has a vintage look with a stippled body and a thistle theme. This line offers drinking glasses for all purposes and includes some unique additions, such as whiskey jugs and extra-large ships decanter that can hold 1.6 L. Another collectable series, the King James series has a look inspired by 17th century glassware. Long necks and long stems are its defining characteristics. Whole sets can be quite hard to find. Finally, the Lochnagar line is one of the oldest, and it is a representative of true Victorian glassware. Designed during the rule of Queen Victoria, these glasses have a unique swirling pattern.
Condition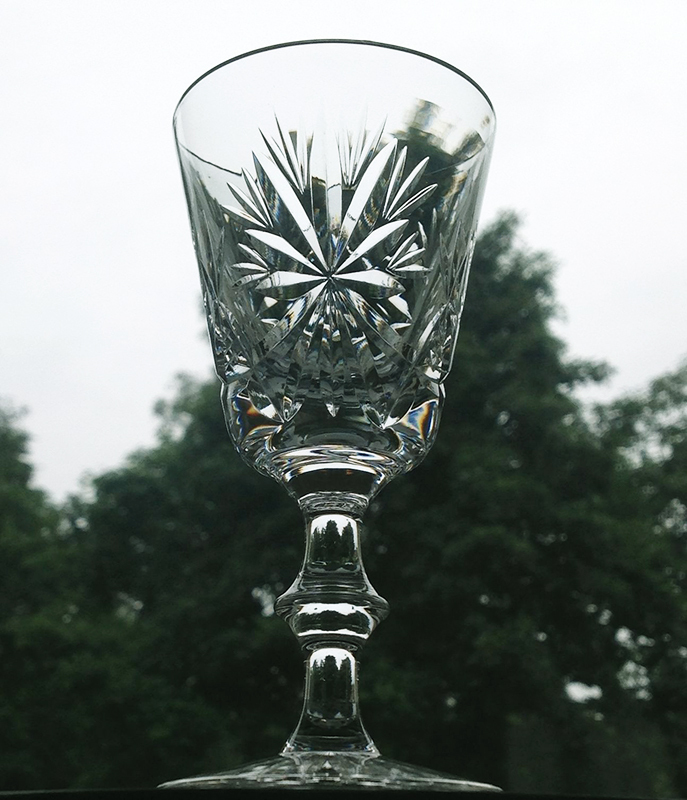 Glass can be very fragile, so it might be tough to find vintage glassware in perfect condition. Ask detailed questions and carefully inspect the items or photos of them. Look for chipped glass or cracks near the top. Crystal glasses are thinner near the top, so the upper edges are most fragile. Additionally, the bottom of champagne and wine glasses may have chips. However, whiskey glasses are more durable, as they come with a thick base, and the glass walls are thicker when compared to other glassware.
Authenticity
Edinburgh glassware produced between 1867 and 1955 was branded with the seal of "Edinburgh and Leith Glass Company, Scotland". The mark has the insignia "E&L" with the words "Edinburgh Crystal" written inside a circle. All marks are acid-etched, and there are slight variations in the letters. Edinburgh glassware produced near 1955 may have the text "Made in Scotland" instead of "Edinburgh Crystal". After 1955, the company changed its name to "Edinburgh Crystal, Scotland" so the seal is entirely different. The mark reads "Edinburgh" in the middle, and the words "Made in Scotland" surround it in an elliptical shape. Bear in mind that some of the designs produced after 1955 may not count as vintage, but their value will increase over time since the factory stopped producing glass in 2006.