Jo Malone creates high quality scented candles that do more than just smell lovely. They create the perfect ambiance in any room and can leave you feeling uplifted and positive. In order to select the perfect Jo Malone candle, buyers should consider their favourite scents.
Vanilla and Anise Jo Malone Candle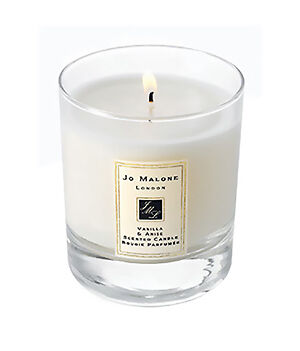 The Jo Malone vanilla and anise scented candle is more than your average vanilla candle. It combines the scents of vanilla orchids and vanilla bourbon with a star anise top note for a heady combination that is not overpowering. It is soft and sensual, with the ideal strength to make a room smell luxurious. The scent is fresh and modern, and lingers in the air for hours. The vanilla and anise scent is also available as a Jo Malone perfume and body cream. Its packaging makes it a beautiful statement piece or gift.
Nectarine Blossom and Honey Jo Malone Candle
The Jo Malone nectarine blossom and honey scented candle is an indulgent addition to any home spa ritual. The scent is sweet, playful, and lifts and lightens the mood. Its heart note is acacia honey, a sweet and creamy nectar scent with a floral, waxy allure. The fragrance has velvety, pulpy, delicious peach scents as the base note. The top note is cassis, which adds an enticing dark note to the otherwise light characteristics. This candle offers a cosy feel and has a lovely lingering scent.
Blackberry and Bay Jo Malone Candle
The Jo Malone blackberry and bay candle has a lovely scent that brings the rich, woody outdoors into the home. It has a heart note of vigorous bay leaves and a base note of cedar wood, which gives the candle a mossy and balsamic depth that makes the fragrance intense, yet soft. The blackberry top note is tart and lively, which keeps the fragrance slightly fruity. The blackberry and bay scent is also available as a cologne and Jo Malone body lotion.