Cantilever TV mounts
, or full-motion television wall brackets, maximise the range of motion for an installed television. They allow the screen to be tilted up, down, and to each side, and also allow it to be extended and turned in various directions. Like any TV wall mount, these must account for the weight and size of the TV. They should offer the tilt and extension needed for the desired viewing angle. They also must have the correct VESA mount to ensure safe attachment of the TV to the bracket, as well as appropriate systems for managing cables. Taking these issues into consideration, here are five top cantilever TV wall brackets to maximise flat screen enjoyment.
| | |
| --- | --- |
| 1 | Vogel's Cantilever Wall Bracket 1245 |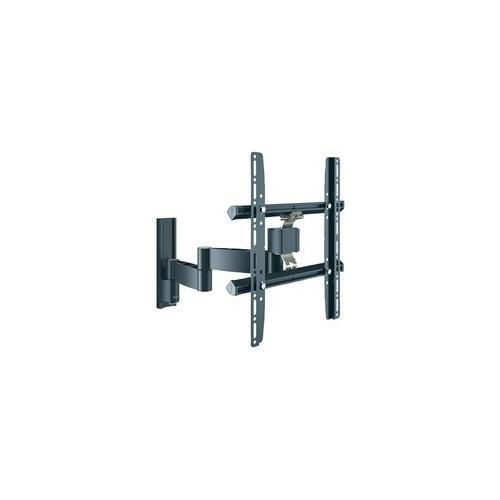 The Number 1 brand in the EU is Vogel's, so what better place to start? Vogel's 1245 Cantilever Wall Bracket accommodates 32-55 inch LED, LCD, and plasma televisions weighing up to 30 kg. It uses a double arm VESA mount instead of a central VESA mount bracket that is sturdy enough to handle the wide variation in weight among the different TV types. Plasma TVs weigh as much as 90 per cent more than LED televisions of the same size and both dramatically outweigh LCD TVs. This TV wall mount is a good choice for a household that can foresee upgrading a television and do not want to install a new wall bracket. The mount tilts 10 degrees up or down and turns 90 degrees right or left. The arm extends a maximum of 53 cm.
---
| | |
| --- | --- |
| 2 | Designer Habitat Ultra Slim Cantilever Swivel and Tilt Wall Bracket |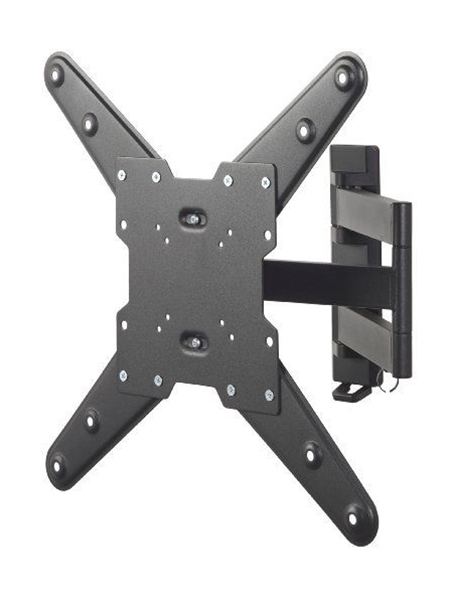 Designer Habitat's Ultra Slim Cantilever Swivel and Tilt Wall Bracket uses a large VESA mount to fit LED TVs, LCD TVs, plasma and 3D televisions with screens from 26 to 55 inches. The mount is drilled to seven VESA mount standards; included adaptor plates fit two more. Any flat panel television weighing 40 kg or less with those VESA mounting patterns may be safely attached to this reinforced steel, TV wall mount bracket. This cantilever tilts 15 degrees up and down and may be locked at its best viewing angle. It angles 90 degrees left or right. The maximum extension is 51 cm. Folded, it occupies a depth of only 5.6 cm, providing a very slim profile that is especially desirable for mounting ultrathin LED TVs.
---
| | |
| --- | --- |
| 3 | OmniMount OS120FM Full Motion Wall Mount |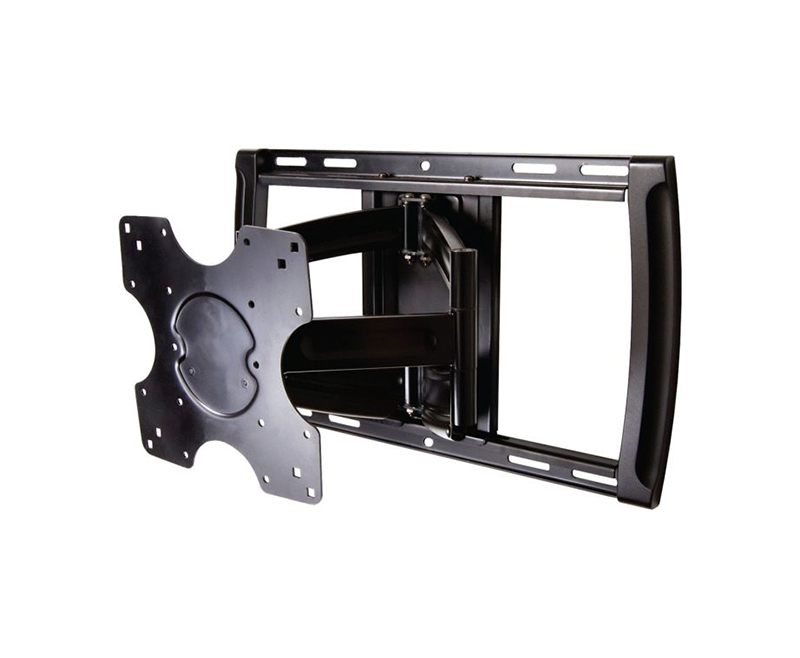 OmniMount's full motion wall mounts take a different approach to lateral motion. Instead of the common elbow-hinged arm, it uses a wall channel along which the television bracket slides. The bracket also pans from left to right and tilts 10 degrees up and 3 degrees down. This makes for a low profile. The television on its VESA mount folds against the 3 cm TV wall mount, though the bracket extends 42 cm. This gives the bracket a sufficiently broad profile to supports heavy televisions. The OS120FM can support 42-70 inch TVs weighing up to 54 kg even on stud-constructed walls. Product numbers indicate the weight capacities of OmniMount brackets. The OS120FM can support a 120 lb television (54 kg), the OS60FM supports a 60 lb (27 kg) television, and so on.
---
| | |
| --- | --- |
| 4 | Logik LCLD11X Full Motion TV Bracket |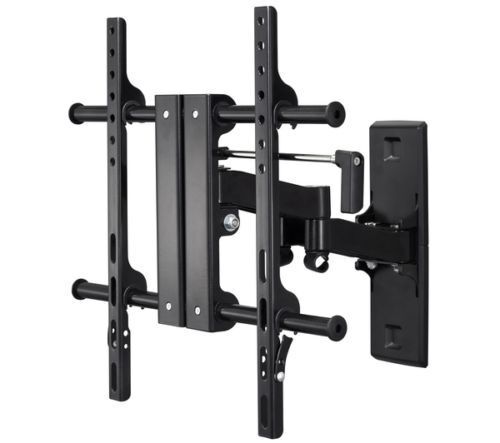 The Logik LCLD11X Full Motion TV bracket fits 23 to 42 inch flat screen TVs that weigh up to 50 kg. The sturdy black metal TV wall mount can rotate the television screen 60 degrees to the right or left and tilt as much as 15 degrees downward. The large VESA mount may be visible when used with televisions smaller than 33 inches. The metal wall mount holds the TV securely even when extended fully to 46 cm. Flat against the mount, the TV front is less than 8 cm from the wall.
---
| | |
| --- | --- |
| 5 | Sanus Systems VLF311 Full-Motion TV Bracket |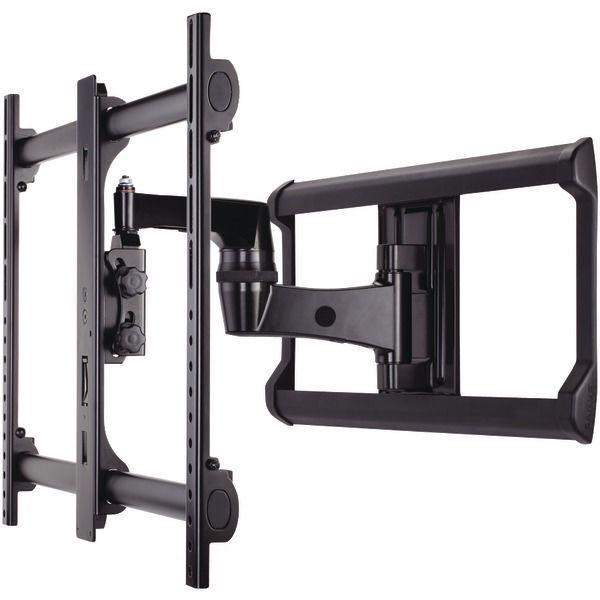 The Sanus VLF311 Vision Mount Full-Motion TV Bracket is a super slim design that mounts a large screen TV just 3 cm from wall. It can handle heavy equipment, nonetheless: it takes 37 to 84 inch TVs weighing up to 57 kg. From that super slim profile, the arm extends up to 26.1 cm, with a swivel of 33 degrees right or left and a 10 degree downward tilt. The television also shifts right and left on the wall plate to maximise placement relative viewers. This discontinued model is still widely available. The direct replacement is the Sanus VLF311-B2. The VLF311-B1 accommodates smaller TVs, from 37 to 65 inches.
---
How to Buy Cantilever TV Mounts
The most important considerations in selecting a cantilever TV bracket are the size and weight of the television to be mounted, the VESA mount required, and the motion desired. Different cantilever TV brackets offer different ranges of motion up, down, outwards, and sideways. Wall construction also may be considered. Large or vertical wall brackets allow heavy TVs to be mounted even on stud walls. Look for any of these top five cantilever TV mounts on eBay. If you want your TV mount tomorrow, choose listings marked Premium Service. These Sellers have committed to express delivery of their products when requested and free standard domestic shipping. Getting a cantilever TV mount can be quick and easy when you shop on eBay.