Men's dressing gowns
today include many that have barely changed from those worn for decades and others that use new fabrics with new decorations. Warm season dressing gowns include natural fibre robes in cotton and silk. The prints are often traditional stripes, checks, or paisleys. Cold weather fabrics include Coral and other fleeces. These ultra warm dressing gowns, with or without hoods, keep the winter at bay. Those who enjoy their gym memberships may also enjoy towelling dressing gowns, some of which may be personalised. Among new designs are those with decorations to represent a passion: a comic, a team, or a television show. These top five dressing gowns include the best selections for every man.
| | |
| --- | --- |
| 1 | Towelling Dressing Gowns |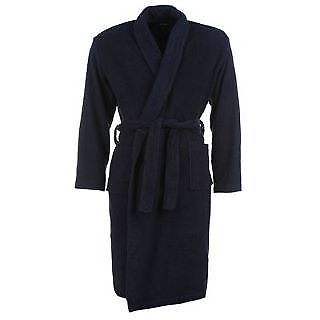 Towelling dressing gowns have grown in popularity as men are more willing to bring this echo of the gym or spa into the home. All-cotton towelling is the most absorbent for the man who likes to step out of the shower straight into his dressing gown. Many gowns have a percentage of the less absorbent bamboo or viscose to create a more luxurious feel. Synthetic fibres are the least absorbent. Cut-loop cotton towelling is a luxurious, high absorbency choice. Men's towelling dressing gowns may have hoods, be personalised, and are often white or deep colours such as wine or navy. Popular brands include imports like Ralph Lauren and Jockey. Lengths range from mid-thigh to ankle-length. Measure the density of towelling by grams per square metre: The median for towelling is 500 gsm, comparable to a standard bath towel. Luxury towelling weighs in at 600-900 gsm.
---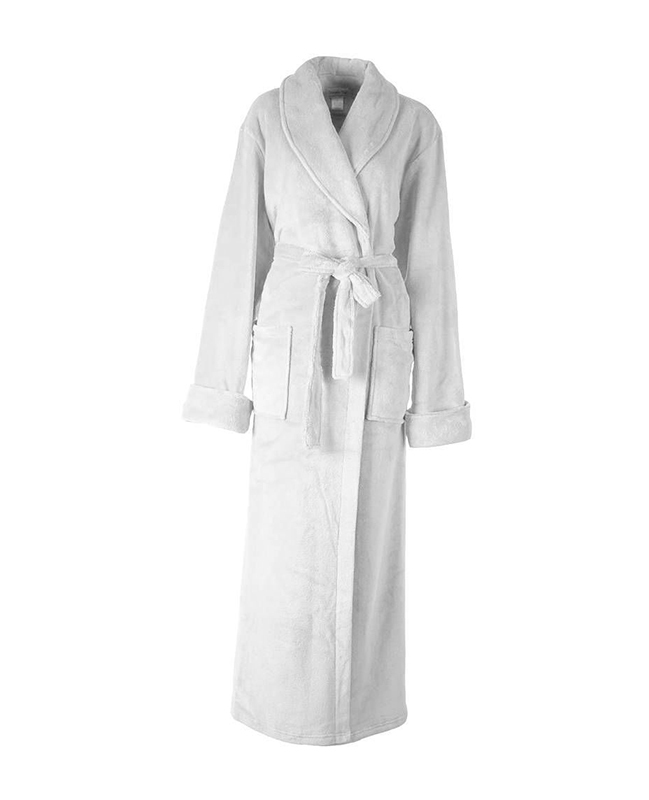 Some fleece dressing gowns have traditional shawl collars; others have hoods. Either way, these are warm and cosy wraps for cooler weather. They commonly fall to about the knee; a few fall to the ankle. Colours are solid, striped, and checked. Ambassador Coral Fleece is a double-sided leopard print, but blanket-weight Coral fleece makes a warm winter dressing gown. Popular brands of fleece dressing gown include Tom Franks, Harvey James, and Rocha John Rocha.
---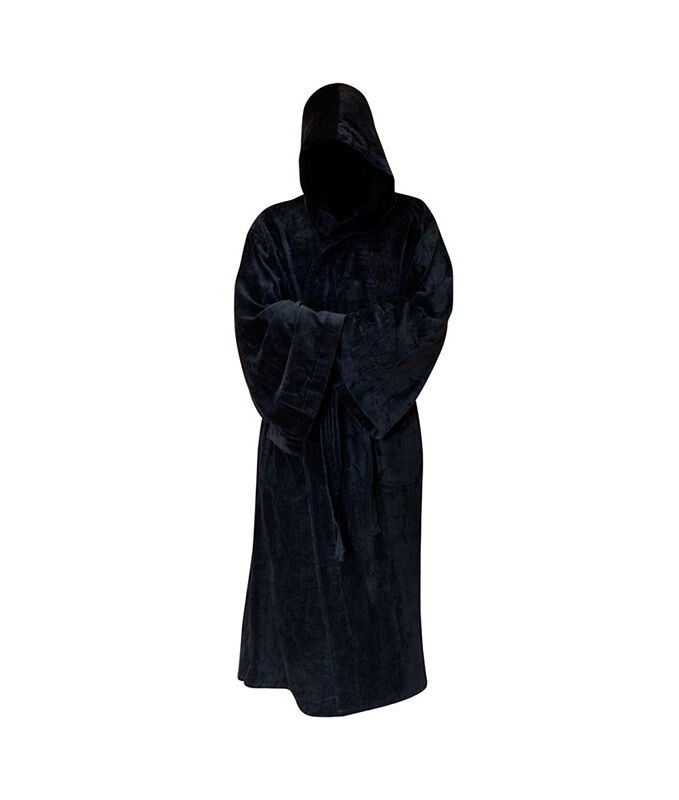 Hooded dressing gowns come in virtually any fabric although most use cool season materials. In a draughty home, or when moving from a steamy bath to a cooler bedroom, they keep chills from the head and neck. Most hooded dressing gowns are made from fleece or towelling. Some are made from thick, spa towelling and may offer personalisation.
---
| | |
| --- | --- |
| 4 | Football and Character Dressing Gowns |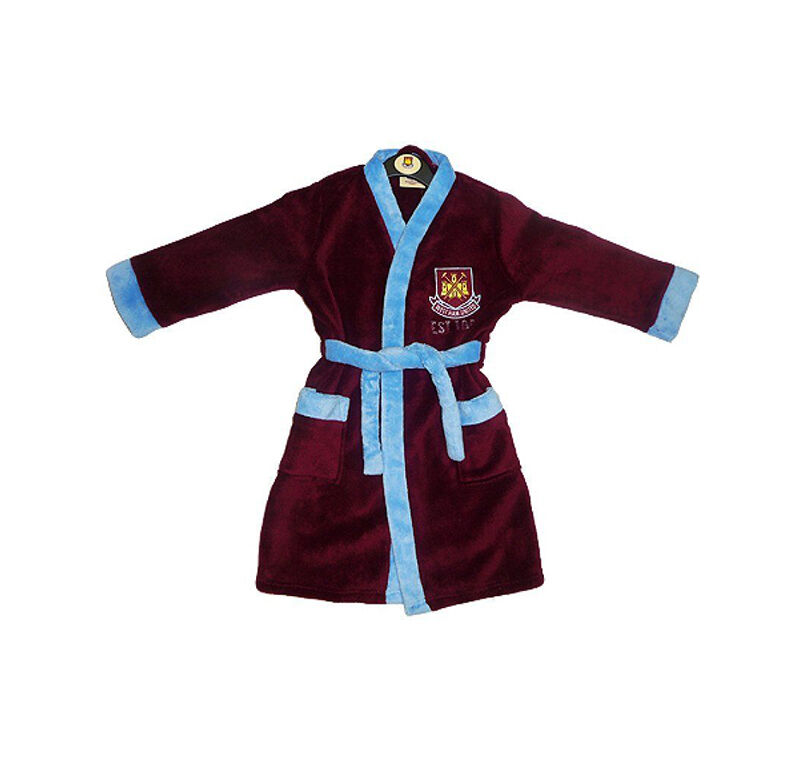 Just as a man might wear a rugby or football shirt, these dressing gowns make a statement. Insignia mark favourite football club dressing gowns, including Liverpool, Chelsea, and Barcelona. Film and comic fans can choose among vintage or "dark" Batman, Superman, Spiderman, Rocky Balboa, and a host of Star Wars dressing gowns. These include robes based on Darth Vader, a Jedi knight, Chewbacca, or Yoda, complete with ears. To help a true fan honour the 50th anniversary, there are several Dr. Who dressing gowns. Choose the Fourth Doctor in brown terry with a striped "scarf" collar, a warm Tardis Police box in blue cotton velour, or a Dalek with silver jacquard "armour". These dressing gowns representing favourite teams and characters can be fun wardrobe items.
---
| | |
| --- | --- |
| 5 | Silk and Cotton Dressing Gowns |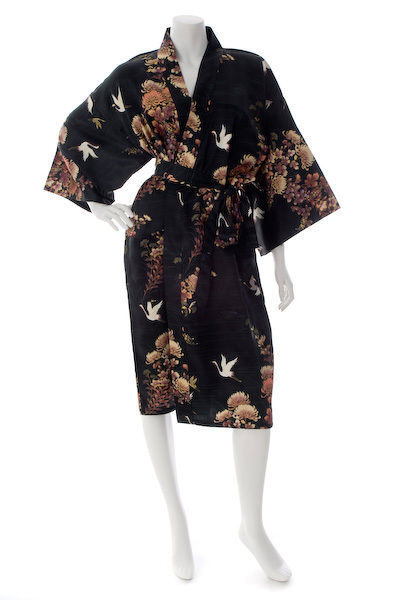 Natural fibres make comfortable dressing gowns, often in the traditional designs for which they were originally used. These kinds of men's dressing gown range in price from very reasonable to some of the most expensive in the market. Derek Rose is a traditional choice for moderately priced lightweight cotton or silk dressing gowns. Cool weather natural fibres are cotton flannels and worsted wools in solid colours, tartans and traditional striped patterns. Derek Rose features shawl collars and pockets on medium to long robes. Silk dressing gowns from such shirt makers as Turnbull & Asser and Sean O'Flynn are the kind of purchase that a person may not be able to afford if he has to ask the price. However, many handsome silk dressing gowns from China and Japan echo traditional European designs or bring samurai style to the English home. Chinese silk dressing gown designs include heavy fabrics embroidered with large dragon patterns. Japanese silks are typically lightweight. Wherever the garment is made, one of the most prized and comfortable silks is mulberry silk, the traditional fibre made when silkworms are fed a diet exclusively of mulberry leaves.
---
How to Buy Dressing Gowns for Men
You can find all of the top five men's dressing gowns in popular colours and patterns on eBay. To locate the desired item, start by keying priority terms into the Search window, such as " Fleece dressing gowns". You can then filter the results for colour, size, and other characteristics, then choose the dressing gowns you wish to buy. If the same Seller offers more than one that you want, it is often possible to save on shipping. Get all the great dressing gowns you want today on eBay.