Ice makers
produce large amounts of ice in a short time period, making them convenient
appliances
for offices, restaurants, and homes. The most common items on the market are small countertop ice makers, though under-counter products that attach directly to water mains are available, as well. Ice makers vary in the cube sizes they produce and the rate at which they produce ice. Manufacturers create these items with a variety of additional features, such as notification lights for low water or ice, and removable ice trays. Buyers should compare top products on the market to find an ice cube maker that is suitable for their needs.
| | |
| --- | --- |
| 1 | Polar Countertop 10-kg Ice Maker |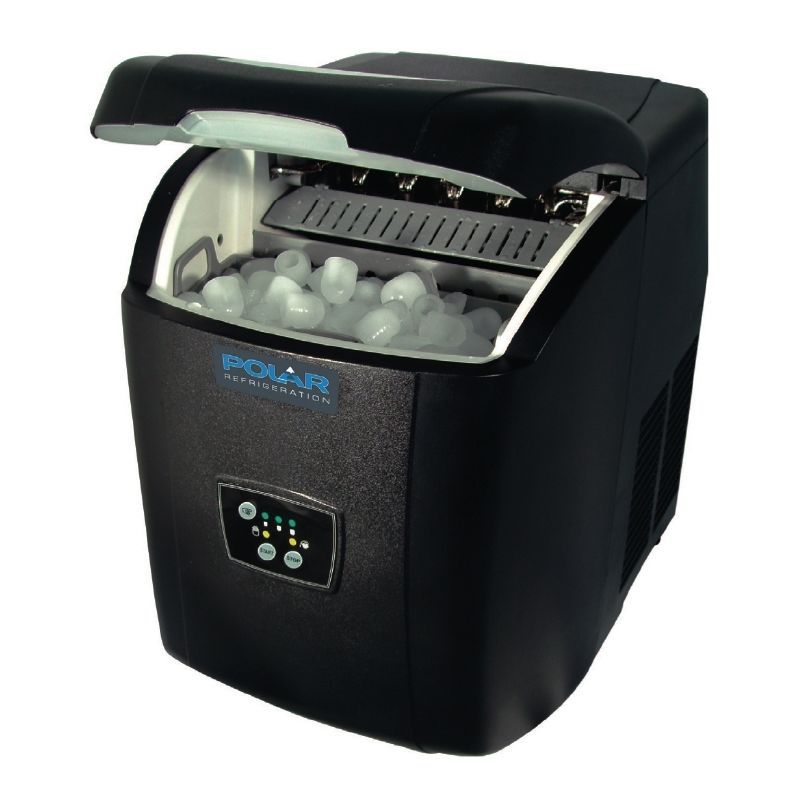 Polar creates two popular countertop ice cube makers,, including the 10-kg countertop ice maker and a 15-kg unit. The 10-kg unit is capable of creating three different ice cube sizes, including small, medium, and large. Like other countertop units, the Polar ice maker does not require a water connection or any type of drainage. The ice cube bin holds up to 1 kg of ice cubes, and the water tank measures 2 l. The total unit measures 30.5 cm wide by 38 cm high by 38 cm deep. It comprises ABS plastic with a matte black colour, and an included ice cube scoop makes serving the ice cubes easy.
---
| | |
| --- | --- |
| 2 | TecTake Deluxe Ice Maker |
The TecTake Deluxe Ice Maker produces as much as 15 kg of ice in a 24-hour period. It features a compact and attractive design that is available in three colours, including silver, black, and red. The TecTake ice maker creates cubes in small and large sizes, and it produces a batch of ice in as little as six minutes. A transparent window helps owners see how much ice is in the chamber, and a warning light informs users when the water reservoir is low. The unit features a removable ice cube tray that enables owners to quickly remove all cubes from the machine, and an included scoop makes serving small amounts of ice easy.
---
| | |
| --- | --- |
| 3 | Andrew James Ice Cube Maker Machine |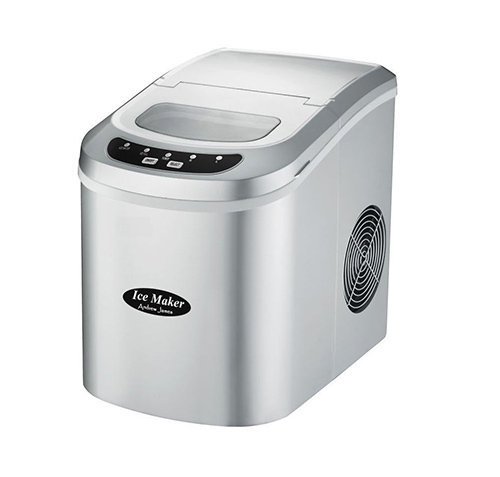 The Andrew James Ice Cube Maker Machine is a countertop unit that produces 12 kg to 15 kg of ice in a 24-hour period. A see-through window allows users to see the amount of ice present in the machine, and the easy operation of the machine makes it suitable for almost any home or office environment. The Andrew James Ice Maker measures 28 cm high by 37 cm wide by 37 cm deep. The machine is capable of producing ice cubes in two different sizes. It has a 2.4-l water tank, and no drainage or plumbing is required for the machine.
---
| | |
| --- | --- |
| 4 | Polar Stainless Steel Under-counter Ice Maker |
Buyers looking for an ice cube maker with greater output and storage can purchase the Polar Under-counter Ice Maker.. This stainless-steel unit produces 20 kg of ice in a 24-hour period, making it suitable for use in commercial environments like bars and restaurants. The unit measures 38 cm wide by 59 cm high by 48 cm deep. It has a high level of insulation to keep power use to a minimum, and the stainless-steel design ensures the unit can hold up over many years of use. The unit includes a flexible BSP hose to connect it to water mains, as well as an installation kit to help users set up and begin using the device.
---
| | |
| --- | --- |
| 5 | Palm Springs Premium Countertop Ice Cube Maker |
The Palm Springs Premium Ice Cube Maker is a compact countertop unit that produces 15 kg of ice cubes in a single 24-hour period. It features an intuitive control panel with an LCD display to help owners determine when the machine is low on water or when the ice tray is full. The ice maker has a storage capacity of 1.5 kg, and it can produce ice in as little as nine minutes. Settings are available for three different ice cube sizes, including small, medium, and large.
---
How to Buy Ice Makers on eBay
Sellers post listings for a broad selection of ice makers on eBay. These may be countertop or under-counter products. An easy way to begin shopping is to enter "ice maker" into the search field on any eBay Web page. You can refine listings by adding terms or by clicking on relevant category links. Once you locate desirable items, take a moment to review information about the seller. Look for eBay users with a high positive feedback rating and many completed transaction for a positive buying experience. Ice makers are convenient for use in homes, offices, and commercial environments. Compare the size, features, and performance of top products to find the best ice maker for your needs.