Power inverters
convert the electricity in a 12-volt direct current battery system to 220-240 volt alternating current that is the same as most home wiring configurations. Consumers use power inverters in cars, trucks, campers, and motorhomes to provide AC current to run home appliances, computers, TVs, and other electronics that run on household current. A power inverter that produces 1000 watts can run a number of devices simultaneously for camping, beach parties, or powering electrical tools. Power inverter buyers can benefit from comparing the top brands and the specs of each. Buyers may have to hunt for power inverters in local stores; however, buyers can find a good selection of power inverters online from sellers on eBay.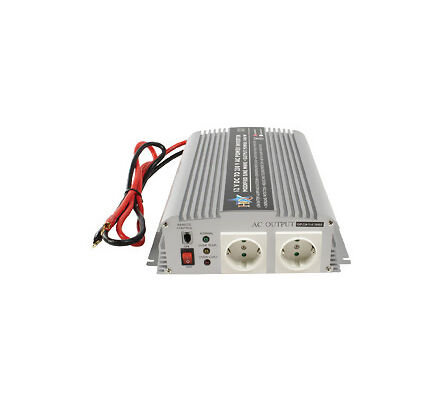 The HQ 1000W power inverter has two universal 230-volt outlets with an output frequency of 50Hz. Equipped with an on/off switch, the HQ unit has LED displays and alarms for overheating, a circuit overload, and a short circuit to protect the converter unit from failure that could damage connected appliances. The HQ inverter offers a direct connection to a 12V car battery with screw type connectors that hold an eyelet style lead attachment.
---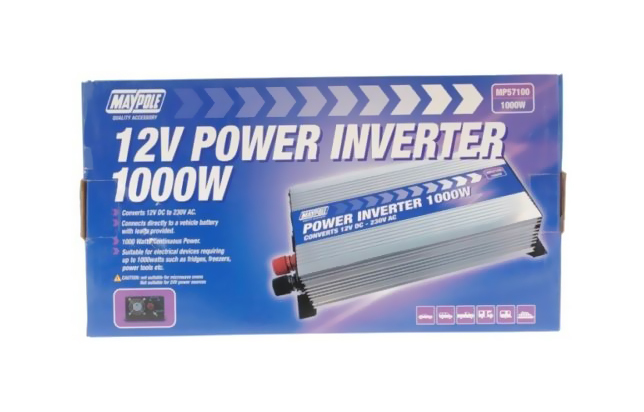 Maypole markets power inverters from 150 watts up to 1000 watts. The bright aluminium casing houses a high performance cooling fan to keep the inverter running at the optimum temperature. Connecting directly to the battery with clip leads provided, the Maypole 574100A 1000W inverter has a low battery voltage alarm to prevent discharging the vehicle's battery past the point of useful life. Rated to withstand a 2000-watt peak power surge on startup, the maypole unit produces 230 volts of continuous 1000-watt power at 50-60Hz.
---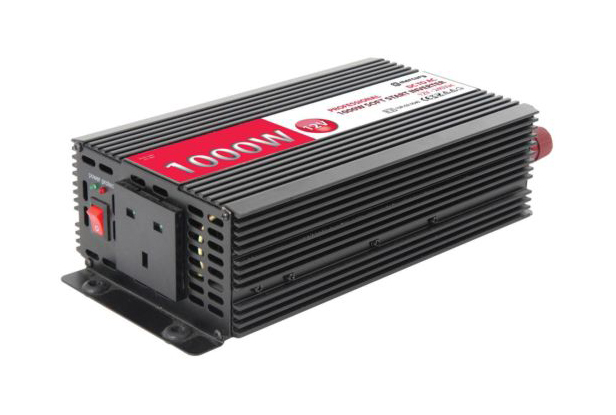 With a host of safety features, the Mercury 1000W power inverter is ideal for rugged use. Connecting to the vehicle battery with 1-metre leads, the Mercury inverter has reverse polarity for protection in the event of an accidental crossing of lead wires. The 651.666UK unit sounds a low battery alarm when 10 volts of battery power remain and then shuts the inverter down if voltage drops below 9 volts or exceeds 16 volts. The 240V AC power connection is a standard UK 3-pin configuration rated at a frequency of 50Hz.
---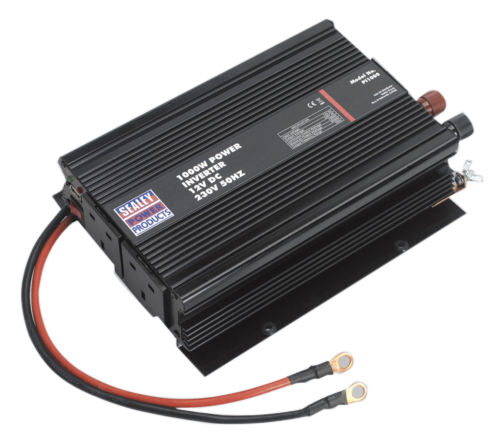 The Sealey PI1000 power inverter easily powers a television, laptop, small refrigerator, and power tools drawing less than 1000 watts. Equipped with battery terminal leads for direct connection to the vehicle battery, the 230V, 50Hz output is available from two 3-pin outlets with standard UK plug configurations. The Sealey PI1000 also includes a 2.0 USB port for recharging phones, digital cameras, and other small personal electronics. The unit automatically shuts down when sensing a voltage overload and has a low battery alarm to alert the user the vehicle's battery has reached minimal voltage.
---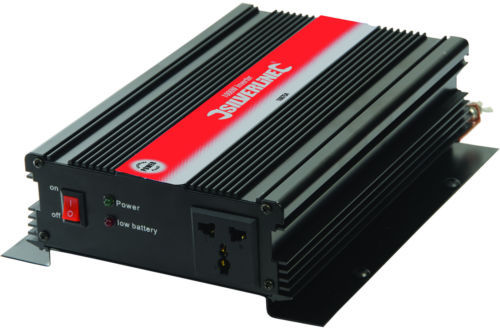 With a universal 3-pin connector the Silverline 168754 1000W power inverter accommodates UK and European style power adapters. Screw on type battery leads connect to the inverter for under bonnet battery hookup. Output voltage from the Silverline 168754 is 230 volts with a frequency of 50Hz and the unit shuts down automatically when source battery voltage drops below 10 volts.
---
| | |
| --- | --- |
| 6 | Sterling Power SI121000 |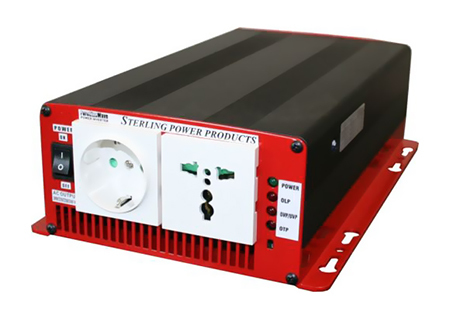 Sterling Power produces a large selection of 12-volt and 24-volt power inverters with the SI121000 unit as one of their best 12-volt units. Equipped with 24-karat gold battery connections for better conductivity and corrosion protection, the SI121000 provides 230-volt output at 50Hz. The adapter outlet is a universal design to accommodate UK and Euro power plug adapters and safety features include automatic shut off for overload, low voltage, and high voltage conditions.
---
How to Buy 1000W Power Inverters
Shopping the
eBay
marketplace for the top brands of power inverters saves buyers from having to search around town to find the unit that best suits their needs. Entering power inverter as the keywords in any eBay search bar returns a list of all matching items when you click the search button. Buyers shopping for a specific brand can enter a brand name like Silverline power inverter to see just the products from that manufacturer. Buy with confidence from eBay sellers by reviewing individual sellers'
feedback
ratings to see how previous buyers rated their satisfaction with the seller. Then complete your eBay purchase safely and securely using PayPal to fund the transaction. Having a power inverter under the bonnet or in the boot can be a useful vehicle accessory when you need a 220-240 volt connection while on the road.