Braces
, otherwise known as
suspenders
, are a functional fashion trend out of the early 1800s, serving the same purpose as a belt in a similar way. Like the belt, suspenders hold up a person's pants in a similar way. However, suspenders do not require belt loops, making them more versatile, and feature an over-the-shoulder design, keeping pants up at all times. Whether they are for someone who is losing weight and cannot afford to purchase new clothes or just prefers their clothes to be loose and baggy, suspenders are a great way to keep pants held up to where they need to be. Moreover, finding the right braces is easy when considering the top 6 braces for men and their benefits.
| | |
| --- | --- |
| 1 | Sendro Grey, X Shape, Heavy-Duty Braces |
The Grey X Shape Heavy-Duty Braces from Sendro are 40-mm wide, comfortable, heavy-duty suspenders. In addition, even though they are men's braces, women can wear them, as they are practically unisex in design. The wide bands on these suspenders ensure comfort. Moreover, the strong silver clasps are durable and go great with trousers, jeans, shorts, and suits. These elastic, one-size-fits-all suspenders are fully adjustable.
---
| | |
| --- | --- |
| 2 | Formal Tailor Clip-on Braces |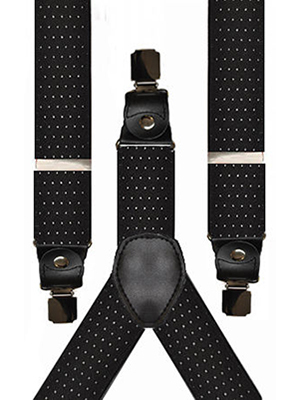 Formal Tailor's 3.5-cm Clip-on braces are a practical and fashionable pair of suspenders. Comfortable and durable, they feature 3.5-cm wide straps as well as sturdy silver clasps. Available in a wide variety of colours, including black, white, various reds, blues, and pink, buyers have many options for their wardrobe. These clip-on braces go best with heavy fabrics, such as denim. The Y-shape design, adjustable elastic bands, and extra clasp provide the necessary support.
---
| | |
| --- | --- |
| 3 | Taffymorgans Black Biker Scooter Rock Goth Trades Heavy-Duty Braces |
The Black Biker Scooter Rock Goth Trades Heavy-Duty Braces from Taffymorgans are 5 cm wide and a perfect alternative to a belt, providing comfort and support without the need for a belt loop. They feature heavy-duty, elastic bands that are adjustable and reach a length of nearly 122 cm. With the crossover back design, the 5 cm wide, heavy-duty adjustable straps, and the durable clips that attach to the waistband, they guarantee to do their intended job and provide the necessary support.
---
| | |
| --- | --- |
| 4 | Black Tape and Tools Men's Work Fashion Braces |
The Black Tape and Tools Men's Work Fashion Braces are the perfect accessories for any handy man. People who work with tools and enjoy fashion are likely to find these suspenders appealing, as they sport fashionable tool-related design and are especially heavy-duty. Not only do they serve the purpose of holding up trousers, but they also go great with a tool belt. This allows the user to attach the suspenders to the tool belt to better distribute the weight and alleviate pressure on the hips. The 122 cm elastic straps are adjustable, come together with a leather reinforced crossover, and feature heavy-duty clips for optimal support.
---
The Y Shape Braces from Sendro are heavy-duty braces that last. They feature 40 mm wide straps for comfort, go great with trousers, shorts, jeans, and suits, and have a unisex design, making them great for both men and women. Finally, they feature solid, sturdy silver clasps, as well as bands of adjustable elastic. This makes the suspenders great for anyone of any size, ranging from thin and tall, to plump and small.
---
| | |
| --- | --- |
| 6 | Brimarc Work Fashion Braces |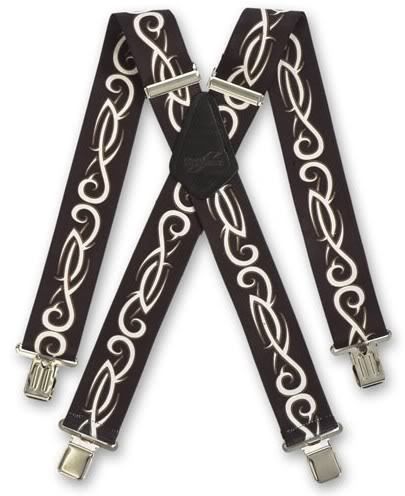 The Work Fashion Braces from Brimarc are a comfortable option for the working man. With 5-cm wide straps, a leather cross over, and durable clips, these suspenders prove to be both stylish and practical. The wearer can attach a tool pouch to the braces for added efficiency or can go without for more formal occasions. The braces feature elasticated straps, which are fully adjustable up to 122 cm, making them well-suited for all sizes and body types.
---
How to Buy Braces for Men on eBay
Buyers looking to invest in some
braces for men
can browse the selection on
eBay
. Simply enter the keywords "braces for men" to see available items. You can further refine your search by entering specific keywords, browsing the various categories, and using the search filters. When shopping for braces on eBay, it's best to purchase from trusted sellers, as they have proven their integrity by selling high-quality products. Be sure to check seller feedback to ensure the seller is trustworthy, and do not be afraid to contact the seller with any questions or concerns you may have. Men's braces are both practical and fashionable solutions to holding up one's trousers. Any man can easily find a quality pair of braces on eBay.