The 18650
rechargeable batteries
are
Li-ion batteries
. They typically measure 18 mm thick by 65 mm long and possess a capacity between 2200 and 3400 mAh (milliampere-hour). These 18650 batteries are available in protected and unprotected forms. Unprotected products do not have any shutoff mechanisms or other safety features, so owners should practise caution when charging them. Improper handling of 18650 batteries can result in damage to the batteries and electronic devices, as well as harm to the user. Buyers should also note whether the battery has a flat-top design or a nub on the end of the unit, as this affects the battery's compatibility with products. Buyers should consider the top items on the market to find suitable 18650 rechargeable batteries for their needs.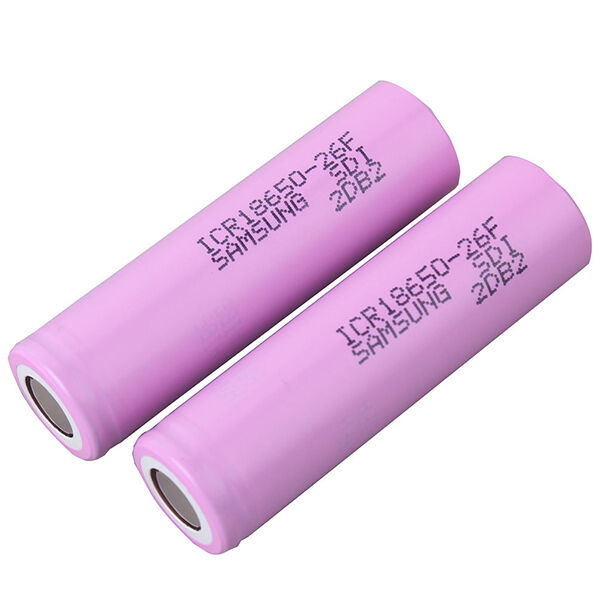 Like other 18650 products, the Samsung 2600 mAh carry a 3.7-volt charge. They weigh only 28 g, which means they are one of the lightest options for rechargeable batteries. The high mAh makes them suitable for use in power tools, torches, and other common household electronics. Buyers should be aware that these batteries have a flat-top design with no nub, so it is important to check compatibility before buying.
---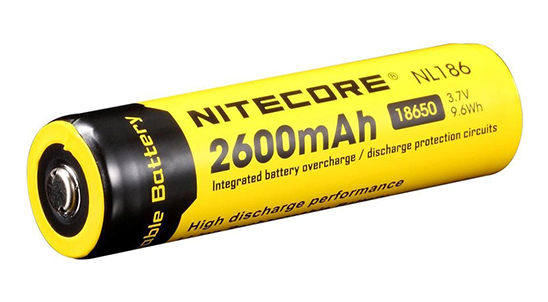 The Nitecore 2600 mAh batteries are capable of over 500 charge-discharge cycles. They hold a long charge, which makes them suitable for high-drain devices. Nitecore places emphasis on safety in its battery design. They feature a nickel-plated S.S. protector at both ends to resist impact and improve conductivity. A built-in PTC (positive temperature coefficient) prevents current surges that can lead to overheating or an over-discharge. The batteries also possess a valve that releases pressure when temperatures rise rapidly. This protected design helps prevent high temperatures that lead to risk of fire or explosions. Because of their safety features, the Nitecore batteries are more expensive than other options.
---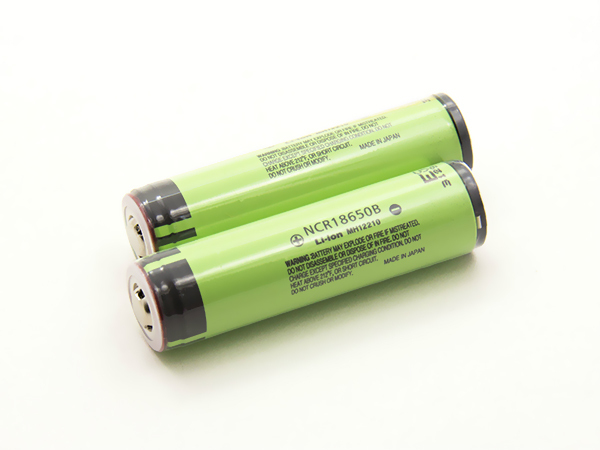 The Panasonic NCR 3400 mAh batteries are notable for their capacity rating, which is among the highest on the market. This allows them to run for long periods without a recharge. Panasonic produces these batteries in Japan, and the products have a green label with a black top and text. They are an average size at 18.37 mm thick and 65 mm long, and they weigh 45 g each. The batteries have a flat-top design.
---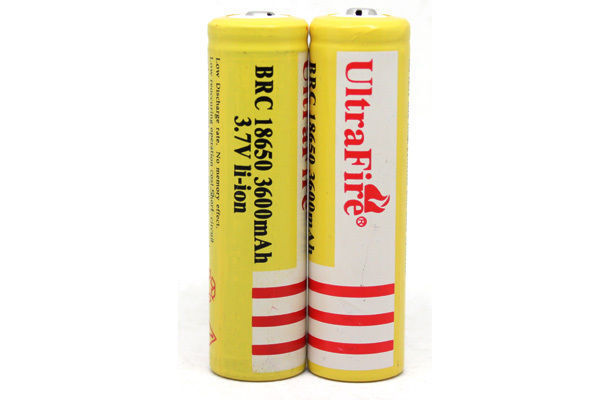 UltraFire's 3600 mAh batteries are high-density products with a notably high mAh and a long battery life. The batteries work well in high and low temperatures, making them suitable for use in a broad range of electronics. They are recognisable for their black and white label with red brand name and stripes, and they have a nub design. Like other 18650 batteries, the UltraFire 3600 mAh batteries sell in packs of two.
---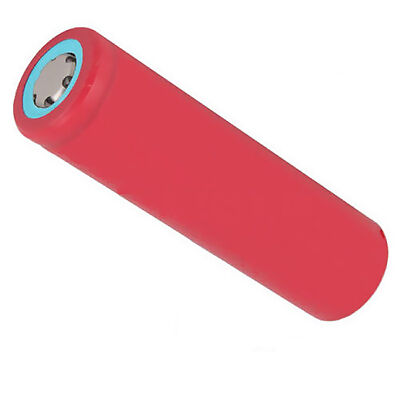 The 2600 mAh batteries from Sanyo measure 70 mm in length, which makes them slightly longer than the average 18650. They weigh 48 g each, and they have a black and white label with purple text. These batteries use a protected design that makes them suitable for first-time users, and a nub is present on the end of each battery.
---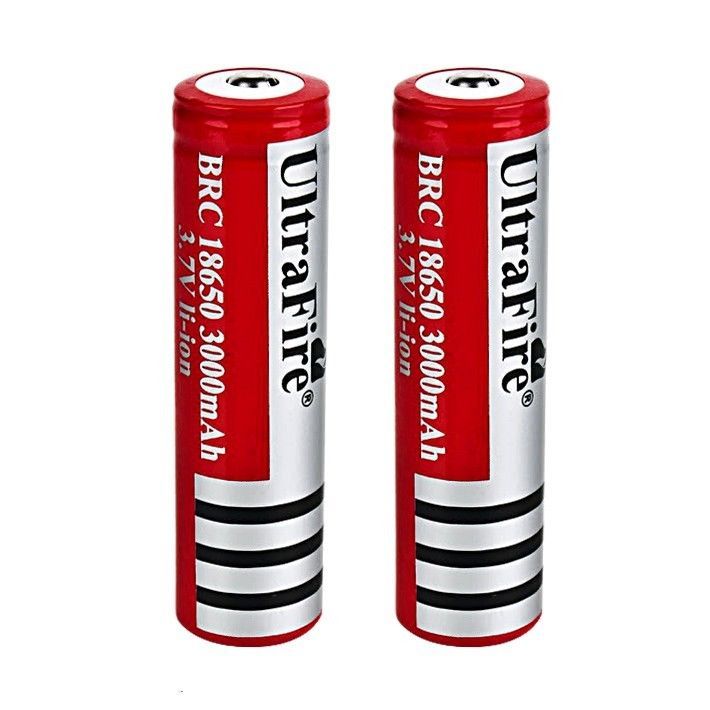 The UltraFire 3000 mAh is a 3.7-volt battery with built-in overcharge and discharge protection. The batteries work great for cordless vacuum cleaners, cordless screwdrivers, and other common small household appliances and tools. The high mAh capacity provides many hours of use from a single charge. The UltraFire 3000 mAh batteries are also inexpensive, allowing buyers to pick up multiple packs at an affordable price. As with other popular 18650 batteries, buyers can shop for a two-pack with a charger. The charger plugs into a wall outlet, and owners can use it to charge the UltraFire batteries roughly 500 times.
---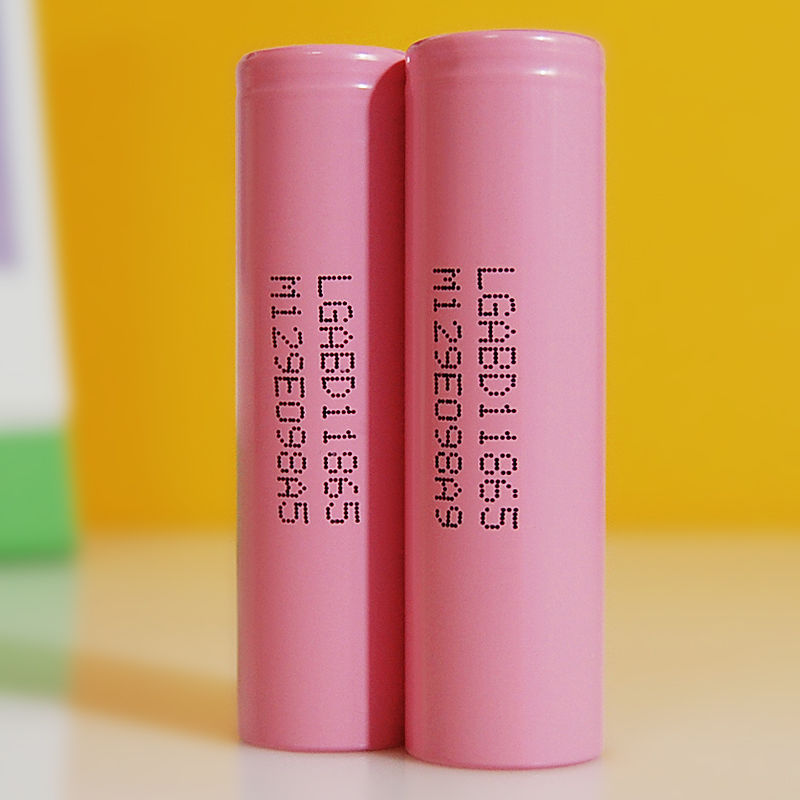 LG creates many popular electronics. Its 3000 mAh batteries produce 3.7 volts and weigh 47 g. LG makes these batteries in Korea with a distinctive pink label. The batteries charge quickly, and owners can charge them over 500 times. Buyers should note that these batteries have a flat-top design. They are also unprotected, so users should possess experience working with rechargeable Li-ion batteries before using the LG 3000 mAh.
---
How to Buy 18650 Rechargeable Batteries on eBay
A broad selection of
18650 rechargeable batteries
is available from the sellers on eBay. You can shop for products on the site by entering keywords into the search field or by clicking on category links. Once you find the batteries you like, take the time to review information about the seller. Rechargeable 18650 batteries are useful in a variety of modern electronics, and they are available from several different sellers. Compare items from LG, Panasonic, Samsung, Sanyo, and others to find the best batteries for your needs.