In the throes of an especially cold winter, ponds can accumulate a thick sheet of ice that is virtually impossible to break through with normal tools. To either protect a pond or the surrounding wildlife, an effective
pond de-icer
is a necessary tool. When a pond is covered in ice, toxic gases caused by the breakdown of organic materials can build up, reducing the amount of oxygen in the water. With this lack of oxygen, fish and other organisms can die; due to the small hole that pond de-icers create, users can effectively replenish their pond with a suitable amount of oxygen. Due to the many benefits that deicers present, including boat dock protection and healthy water maintenance, it is important for consumers to find a quality de-icer that is perfect for their wants, needs, and budget.
| | |
| --- | --- |
| 1 | Hagen Laguna Power Pond Heater De-Icer |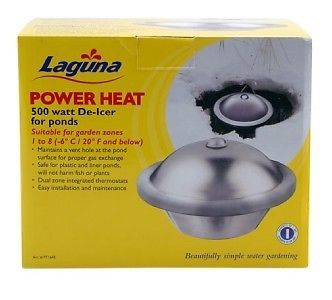 As a pond de-icer that is completely safe for the plastic and liner garden ponds, the Hagen Laguna Power Pond Heater De-Icer provides consumers with a safe and effective product that does not harm either fish or plants. Furthermore, this de-icer keeps an small area in the pond continuously thawed while its 15-watt heating element immediately melts new snowfall as it reaches the pond surface. With the Hagen Laguna de-icer, consumers can also utilize an LED pilot light that notes when the heater is on, a thermostatically-controlled on/off feature that prevents overheating, and a 22-foot power cable.
---
| | |
| --- | --- |
| 2 | Allied Precision Industries P7521 Floating Pond De-Icer |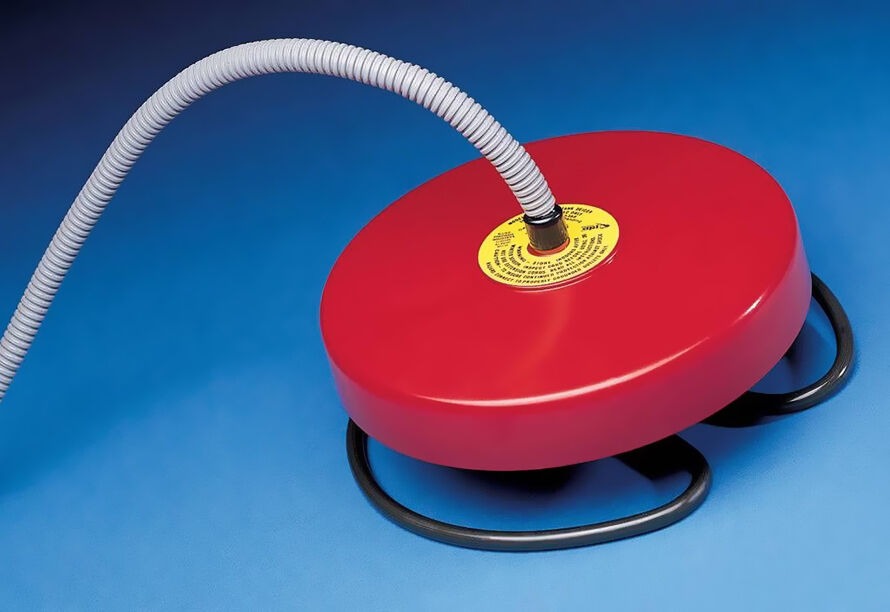 Featuring a strong and durable 1,500-watt stainless steel heating element, the Allied Precision Industries P7521 Floating Pond De-Icer is ideal for consumers who need to keep a larger portion of their pond free from ice. As a floating pond de-icer, many consumers do fear that their product might sink, causing damage to the device or to the foliage and fauna, but with the rugged enclosure float of the P7521, consumers can feel safe knowing that their de-icer is continuously working. Furthermore, this de-icer also features a thermostat positioned above the water to prevent overheating, over temperature protection, and a 15-foot cable.
---
| | |
| --- | --- |
| 3 | Farm Innovators P-418 Premium Cast Floating Pond De-Icer |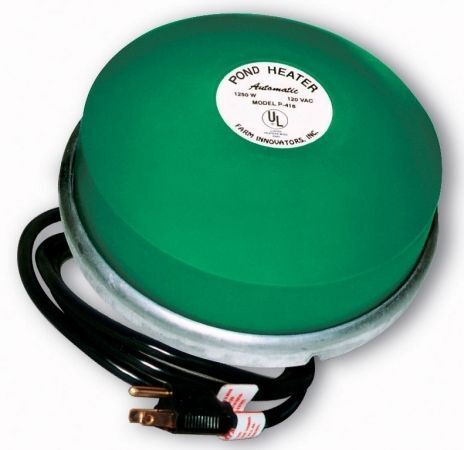 No matter how cold the temperature becomes, consumers can count on an ice-free pond with the Farm Innovators P-418 Premium Cast Floating Pond De-Icer.. With a 1,250-watt heater that is plant- and fish-friendly for ponds between 50 and 600 gallons, this thermostatically-controlled de-icer maintains an effective venting hole that is large enough for adequate oxygen replacement. The P-418 de-icer also utilizes a patented, cast aluminum casing to prevent accidental burns while optimizing heating efficiency.
---
| | |
| --- | --- |
| 4 | K&H Perfect Climate Submersible Pond De-Icer |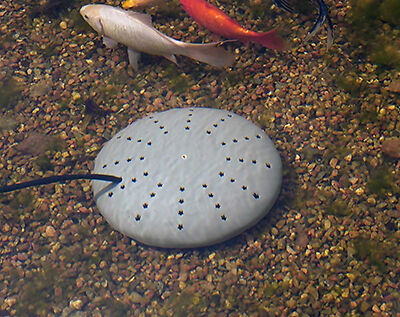 When consumers need a consistent and reliable de-icer for their small or pre-formed ponds, the K&H Perfect Climate submersible pond de-icer utilizes a small power consumption of 300 watts to keep any 300-gallon-or-less pond completely free of ice. Not only is this de-icer energy-friendly, but it is also safe for pond linings, fish, and other materials found in most garden ponds. Additionally, consumers can use this de-icer as either a submersible or a floating device.
---
| | |
| --- | --- |
| 5 | API DT15 3-in-1 De-Icer |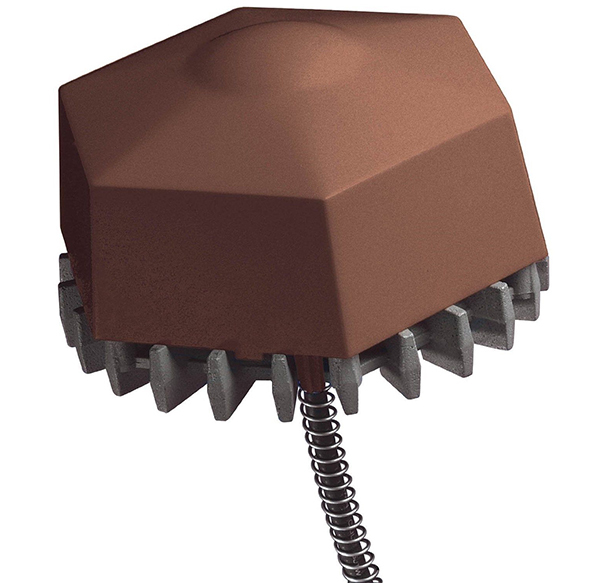 Providing consumers with three different applications to fulfill all of their de-icing needs, the API DT15 3 In 1 De-Icer effectively serves as a floating de-icer, a submersible de-icer, and even as a drain plug de-icer. Furthermore, the durable, finned, cast aluminum base that features a Teflon coating allows for energy conservation as well as a strong construction that can easily last all winter. Lastly, this de-icer provides consumers with several thermostats to always ensure a safe, optimized temperature control.
---
| | |
| --- | --- |
| 6 | Allied Precision Bucket Utility De-Icer |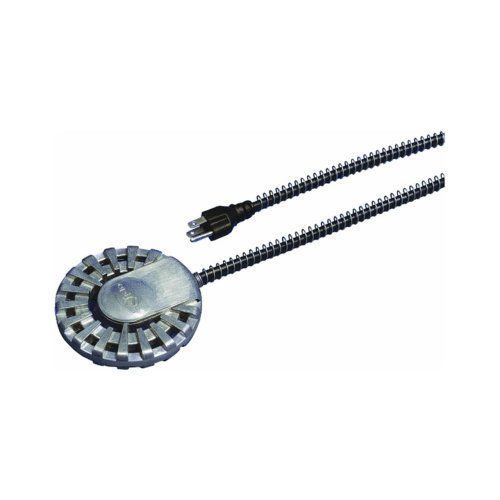 For consumers who do not want their de-icer to actively work within the vicinity of fish, foliage, or pond linings, the Allied Precision Bucket Utility De-Icer provides maximum protection while still preventing ice from forming. This 250-watt de-icer utilizes a sturdy, aluminum base with a large surface area to keep the unit cooler, multiple thermostats to maintain optimal efficiency, and a 10-foot heavy duty cord with an anti-chew protector.
---
| | |
| --- | --- |
| 7 | API 250D Pail and Birdbath De-icer |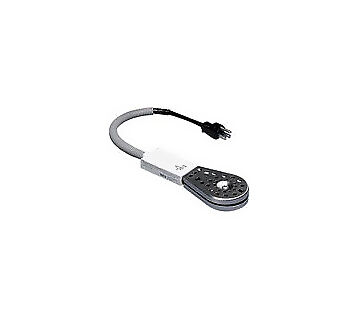 Sometimes consumers only need to de-ice smaller areas, and with the API 250D Pail and Birdbath De-icer,, they can continuously ensure ice-free pails, pans, buckets, and bird baths. This submersible de-icer can effectively work on up to 15 gallons of water and includes a stainless steel guard, six-foot cord, and a built-in thermostat.
---
How To Buy
With a quality pond de-icer, consumers can prevent "total winter kill" by maintaining a suitable level of oxygen in their ponds. At the same time, de-icers protect pond banks and edges, prevent damage to boats, and attract waterfowl that are often desperate for some open water in an icy winter. Fortunately, you can discover a whole range of pond de-icers on
eBay
at competitive prices. To find your next pond de-icer, simply locate the eBay search bar and enter keywords specifically relevant to the de-icer that you want. Additionally, you can filter your results based on price, condition of the product, and location of the seller by utilizing eBay's
advanced search features
. Once you have found an attractive de-icer, thoroughly examine the product description, and if you ever have a question, you can always
ask the seller
before finalizing your purchase.