Gym bags have features which include adequate dimensions to fit them into lockers and pockets with enough ventilation for sweaty gear.
Gym bags for women
are colourful and bright but functionality remains on par with men's gym bags. Gym bags are top ranked because of high-quality design, high function, sturdiness to withstand rough handling, and allowing users easy access to various essential items such as cell phones. Consumers purchase gym bags from sporting goods stores or departmental stores, but searching online stores such as eBay gives them access to the best brands from the world over, at reasonable prices. Before making a purchase, buyers should check out the top products.
| | |
| --- | --- |
| 1 | Women's Adidas by Stella McCartney |
Women's Adidas gym bag by Stella McCartney,, 21.6 cm deep by 47 cm high by 29.2 cm wide, is made of 100 per cent plain weave nylon. It features a padded internal compartment for a laptop, a zip pocket, a zippered shoe compartment, and three slip-in pockets for storage. Dual handles, a shoulder strap, and the Adidas by Stella McCartney silicone logo comprise the exterior design elements.
---
| | |
| --- | --- |
| 2 | Lululemon Work It Out Duffel |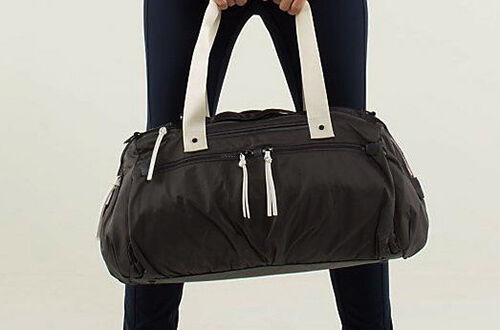 Made using water-resistant polyester and polyurethane, the Lululemon Work It Out duffel bag is ideal to carry gear during wet weather. Removable shoe pouch and ventilated external pockets for sweaty gear ensure remaining items are clean. A quick-access pocket for a cell phone, an exterior padded pocket for a laptop, a removable laundry bag, interior mesh pockets, and an adjustable shoulder strap are other features of this gym bag, rated to hold up to 22 kilogrammes.
---
| | |
| --- | --- |
| 3 | Sweaty Betty On The Go Luxe |
Sophisticated design with a quilted front panel is the salient feature of the lightweight Sweaty Betty On The Go Luxe bag.. Made from woven polyester fabric, this bag is easy to clean by simply wiping it down with a damp cloth, and it dries easily. Two inner mesh pockets, a yoga mat holder, a bottle holder, and an inner zippered pocket with waterproof lining to hold sweaty gear provide ample storage.
---
| | |
| --- | --- |
| 4 | Adidas Women's Studio Power Team Bag |
Manufactured using 100 per cent polyester-coated twill fabric, the Adidas Women's Studio Power Team bag is 25 cm high by 50 cm wide by 25 cm deep. Three inner compartments, two front zippered pockets, two mesh side zip pockets, and a removable shoe compartment provide storage. Dual handles, a detachable padded shoulder strap, and a polyurethane zebra-print band around the duffel impart a classy look.
---
| | |
| --- | --- |
| 5 | Fitness Sports Store Pink Sports Gym Bag |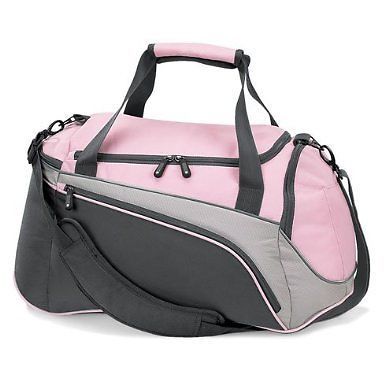 Lightweight at 840 grams, the Fitness Sports Store pink gym bag is 60 cm long by 28 cm wide by 28 cm high. Made from ripstop polyester with 600 denier tensile strength, reflective accents on the exterior enhance its chic look. The detachable, adjustable webbing shoulder straps, section for wet gear, padded base, side zippered pockets, and internal pockets for toiletries and other personal effects provide adequate storage.
---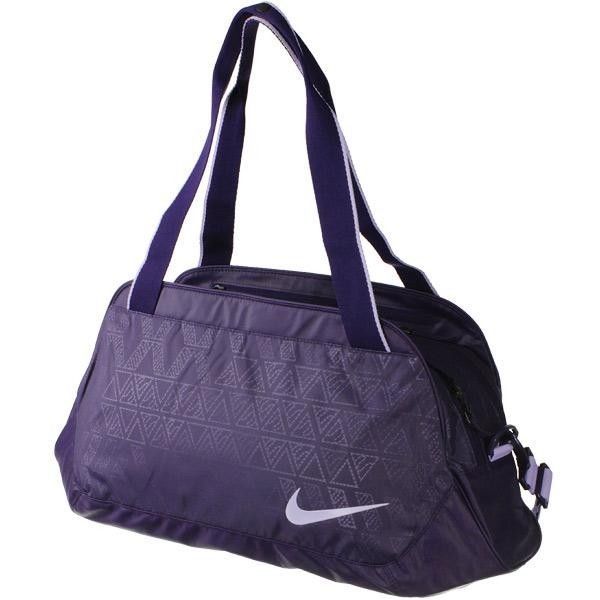 The <Nike C72 Legend 2.0 is manufactured using 100 per cent recycled polyester with water-repellent coating and screen print for style. Measuring 58.4 cm long by 21.6 cm wide by 26.7 cm wide, this medium-sized Nike C72 duffel has a secure dual zip main compartment, a pocket for a cell phone, and multiple pockets for other personal belongings.
---
| | |
| --- | --- |
| 7 | American Apparel Nylon Pack Cloth Gym Bag |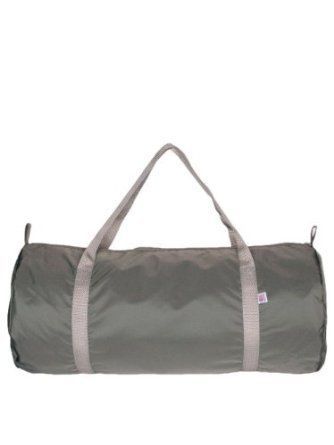 The 100 per cent nylon American Apparel pack cloth gym bag is water resistant. With 50.8 cm length and 22.9 cm height, this versatile bag is available in several colours, including green, blue, and red. It features dual nylon webbing straps in a contrast colour, making the bag look striking.
---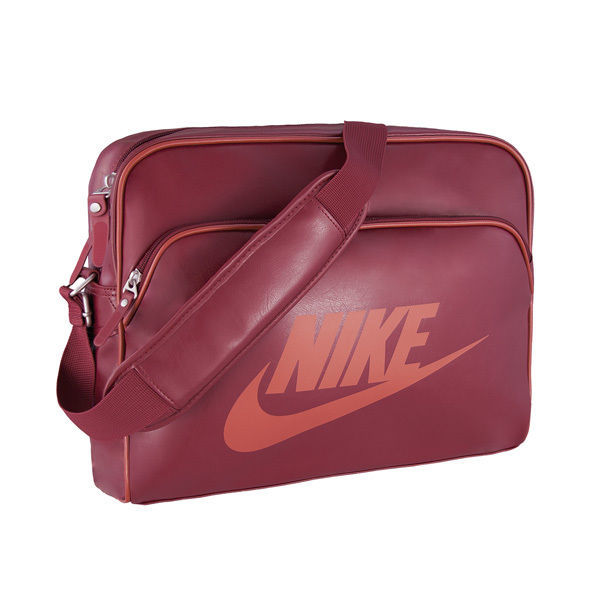 Made of 100 per cent polyurethane, the Nike Heritage SI bag is 40.5 cm wide by 30.5 cm high by 13 cm deep. This space has pockets to hold personal belongings and it features a larger central compartment. An external zippered pocket is for quick access items, and the padded shoulder strap is adjustable.