In the past few years, portable
AM/FM radio
s have surged in popularity. From mums watching kids at the playground, to grandfathers following the afternoon races, people enjoy
portable radios
for many purposes. Rather than using a mobile phone to stream music, many people choose to own a portable radio for simplicity and convenience. Finding the perfect AM/FM radio depends on personal preference. While some radios have superb styling, others boast a streamlined design or excellent sound quality. Fortunately, there are hundreds of varieties of radios available. Regardless of the type of specifics, knowing the top models and their specifications helps to make buying a portable AM/FM radio easier.
| | |
| --- | --- |
| 1 | Sony ICF-S10MK2 Pocket AM/FM Radio |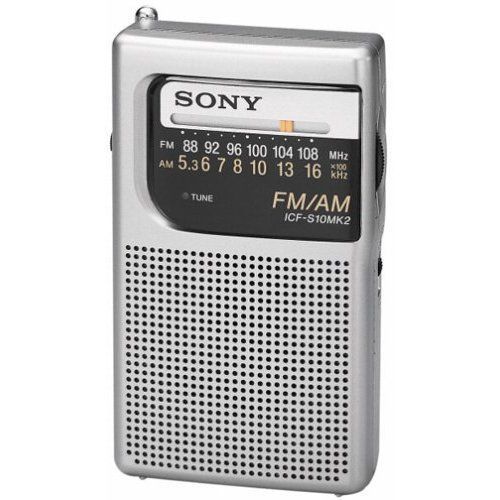 The Sony ICF-S10MK2 pocket AM/FM radio is a classic portable radio. Made with high-quality speaker components, the Sony ICF offers an excellent listening experience. The radio has an extendable antenna to enhance range and quality, as well as a port for an external headphone. With a signal range of 530 to 160 MHz for AM, and 87.5 to 108 MHz for FM, the ICF-S10MK2 suits most consumers.
---
| | |
| --- | --- |
| 2 | Travel Easy Portable Pocket Worldwide FM/AM SW Radio |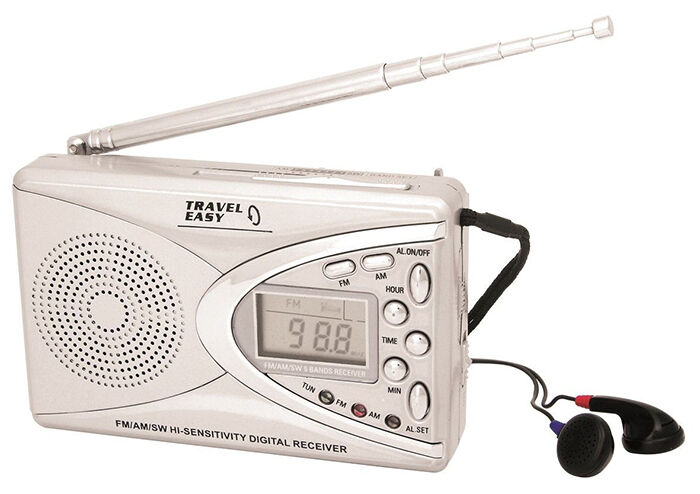 The Travel Easy Worldwide FM/AM radio is a popular portable radio. Lightweight and compact, the radio fits easily into jacket pockets and comes complete with earphones, a carry case, and two AA batteries. The LCD tuner display ensures radio station tuning is perfect, and the inbuilt alarm is an added bonus. With large tuning buttons, expandable aerial, and a handy carry strap, the Travel Easy Worldwide FM/AM radio suits a wide range of consumers.
---
| | |
| --- | --- |
| 3 | Sony SRF-S84 FM/AM Radio Walkman |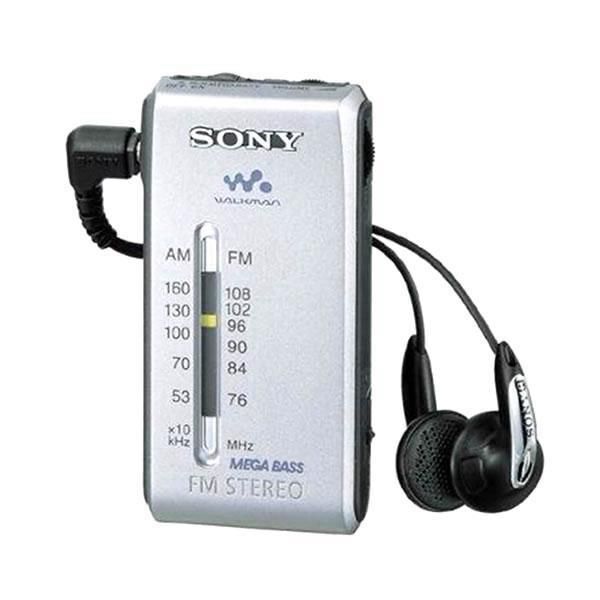 The petite SRF-S84 Radio Walkman delivers big sound for an extra-small device. Measuring 7.6 cm long by 2 cm deep by 3.5 cm wide, the device features a Mega Bass button that increases speaker output and adds to the appeal of the radio. Powered by a single AA battery, the Sony Radio Walkman is perfect for those wanting a smart, no-frills portable radio. Easy to use and economical to operate, the SRF-S84 comes complete with Fontopia headphones.
---
| | |
| --- | --- |
| 4 | Pure One Mi Series 2 Portable DAB Digital and FM radio |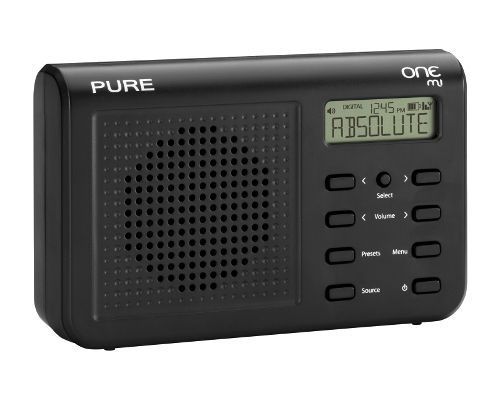 The Pure One Mi Series 2 boasts DAB digital and FM radio and comes with an LCD display. Available in black or white, the One Mi Series 2 measures 15.5 cm long by 10.0 cm wide by 3.8 cm deep. It also comes with a fully extendable antenna.
---
| | |
| --- | --- |
| 5 | Sony 2 Band Receiver Portable AM/FM Transistor Radio |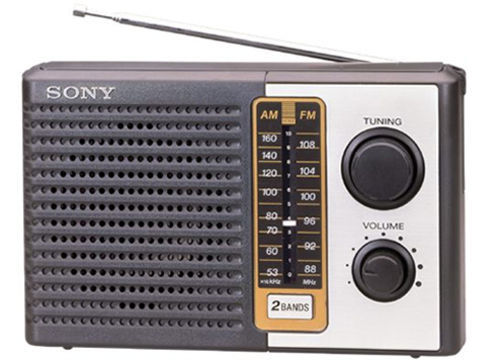 The Sony 2 band receiver portable AM/FM transistor radio is a modern take on vintage design. The ferrite antenna ensures excellent reception, and the input jack is suitable for earphones and additional speakers. The beige accents on the frequency indicator and dials for tuning and volume make this Sony radio a minute example of 1950s design.
---
| | |
| --- | --- |
| 6 | Sony Pocket Size Portable AM/FM Radio with Built-in Speaker |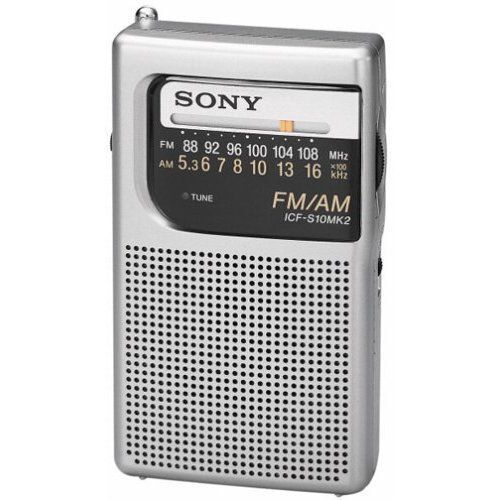 Sony delivers another excellent portable radio for consumers with this pocket size radio. The analogue tuner makes finding AM and FM frequencies simple, and the small size (7.1 cm wide by 11.85 cm tall by 3.0 cm deep) means it is easy to carry for runners, walkers, and mums with kids and prams.
---
| | |
| --- | --- |
| 7 | Sony Walkman Compact Portable Lightweight AM/FM Stereo Radio |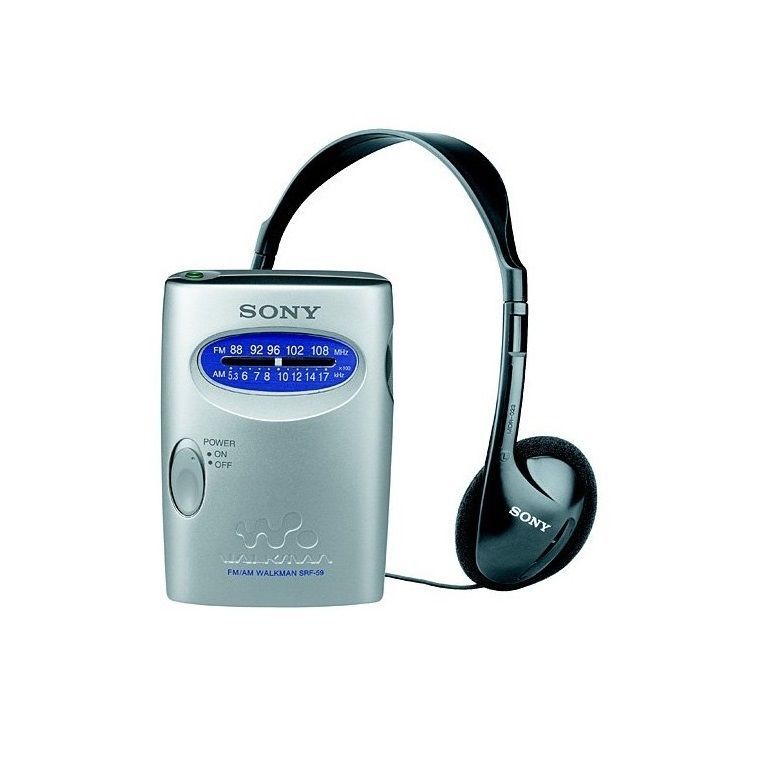 Designed for the active person, this portable lightweight AM/FM stereo radio from Sony is perfect for runners, joggers, and cyclists. Complete with a belt clip and open-air radio headphones, the radio operates efficiently on a single AA battery.
---
| | |
| --- | --- |
| 8 | Philips AE1530/00 Portable AM/FM Radio |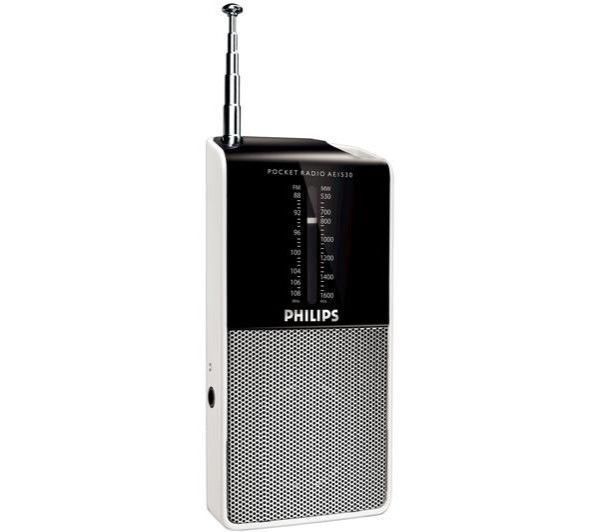 Philips delivers an excellent portable radio with the AE1530/00. The classy black and silver appearance sets it apart from more sedate all-silver options, and the placement of the earphone jack on the side of the device makes it perfect for use with bum bags and belt clips.
---
| | |
| --- | --- |
| 9 | Roberts Radio Classic R9954 3-Band Portable Radio |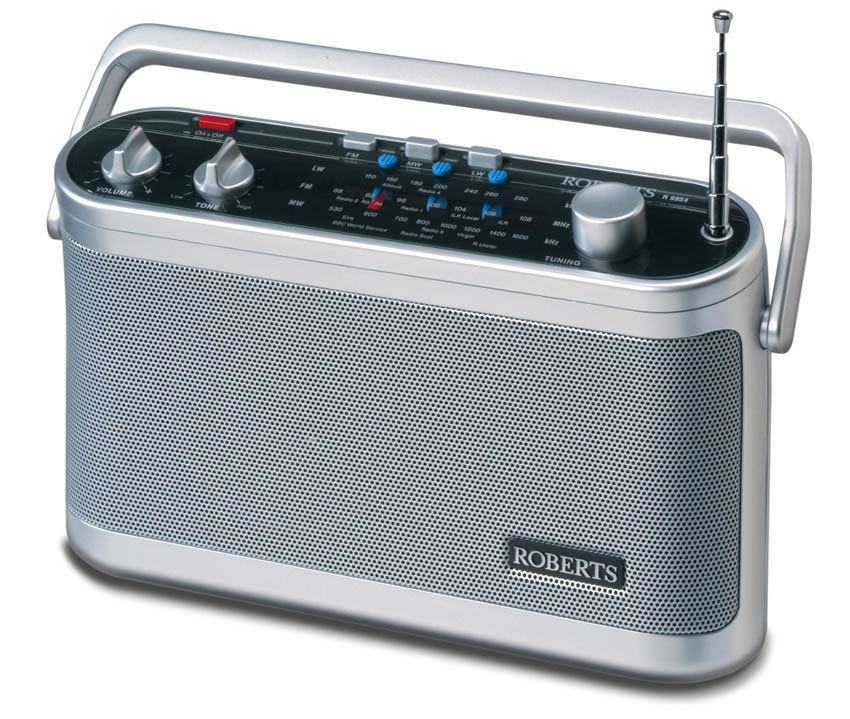 The Roberts Radio Classic R9954 appeals to consumers looking for a retro-styled portable radio. Rotary buttons for tuning and volume control harkens back to the 1950s, and the three favourite station markers make finding preferred stations simple.
---
How to Buy Portable AM/FM Radios
Knowing where to find the best selection of portable AM/FM radios is the first challenge facing potential purchasers. Fortunately,
eBay
has a wide selection of top portable radios. Rather than spending hours looking for the perfect portable radio, consumers using eBay find the shopping experience pleasurable and simple. Not only does online shopping allow shoppers to remain in the comfort of their homes, it provides them with a large selection of products with the click of a mouse. The eBay search tool enables shoppers to filter search results by price, new or used condition, colour, and location of available radios. Accessories, such as headphones and external speakers, are also available from eBay.